Model airplane kits
- building your own vs. modern pre-builts
Traditional balsa model airplane kits are still favoured by those aeromodellers who enjoy the building side of the hobby as much, or even more so, than the flying side but such kits have taken a beating in recent years, with the advent of foam RTFs and good quality ARFs.
But with that said, there is growing evidence now that traditional model plane kits are making a comeback, as modellers who bought foam Ready To Fly rc airplanes as an easy introduction to radio control flying are seeking more satisfaction by getting in to the building side of the hobby.
A traditional model airplane kit typically comprises the plan and building instructions, all the balsa and ply wood needed to construct the airplane and most, if not all, of the hardware needed such as servo linkages, control horns, undercarriage parts, motor mount, fuel tank etc.etc.
The components of the plane such as wing ribs and fuselage formers may already be cut out either by CNC machine or, more commonly these days, laser. If the parts are not pre-cut then the outline of each one will be printed on to sheet wood and it's your task to accurately cut them out with a sharp modelling knife. Certainly CNC/laser-cut kits are the nicer option!
Strip balsa will also be included in the kit for use as wing spars, leading and trailing edges, fuselage longerons etc.
Below is a photo of what you can expect from a typical balsa kit...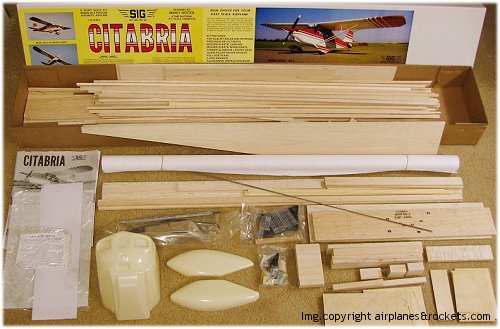 Incidentally, despite its often soft feel, balsa is actually a hardwood and is ideally suited to model airplane kit construction because of its excellent strength to weight ratio. Thin model-grade plywood is also commonly used in certain areas of a model airplane construction, where more strength is required such as engine bulkheads (firewalls) and landing gear plates.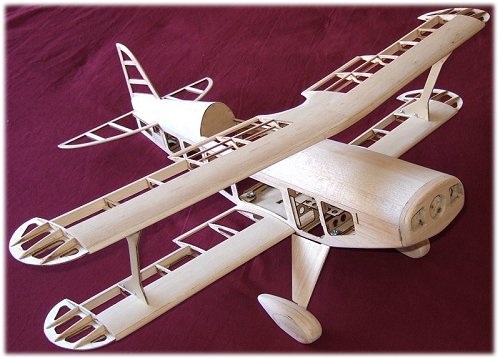 Above: a traditional balsa and ply kit, my Jamara Pitts S2B.
Model airplane kit construction takes place over the plan which must be laid out on a flat modelling board.
Typically the balsa components are held in place with pins until the glue sets, so the board needs to be soft enough that a pin can be pushed in to it. Sheets of two or three inch thick insulating foam used in the construction industry make ideal modelling boards, but an alternative is to have a flat steel sheet and use powerful Rare Earth magnets to hold the parts in place, instead of pins.
Different glues are used when building model airplane kits and the type of glue depends on the joint and the wood type/hardness, as well as the builder's personal preference. White wood glue (PVA), aliphatic resins and cyanoacrylate (CA) glues are commonly used on balsa to balsa joints, but where stronger joints are needed such as landing gear plates and engine bulkheads then two-part epoxy resin is common.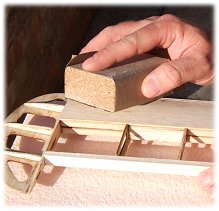 Once all parts of the plane (wing, fuselage, tail etc...) have been built then the wood needs to be carefully sanded to a smooth finish, particularly the joints. Any unwanted holes and other imperfections can be filled with lightweight filler and then sanded to shape.
For many, including myself, sanding is the worst job of all but it's worth taking the time because any lumps and bumps in the airframe will show through the covering and potentially spoil the look of the finished model.
When the construction and final sanding of the airplane parts is complete, the parts are then covered in some kind of covering film, a common choice being a heat sensitive film which is applied using an iron.
The heat melts the adhesive backing which sticks the film to the balsa, then the iron or a heat gun is used to shrink the film over the model.
There's a definite skill to using such coverings and the manufacturer instructions regarding iron temperature settings should be followed carefully; if in doubt, practice on some spare balsa first!
Heat-shrink covering is a relatively modern invention and traditionally balsa model airplanes were (and still are in some cases) covered in lightweight tissue paper (or even silk) with a liquid such as 'dope' applied to the airframe to stick the tissue. Dope is then applied to the entire covered surface and as the dope dries it shrinks, tightening the tissue as it does so.
Many builders of small scale model airplanes still use this method but these days ultra lightweight iron-on coverings are available to replace the tissue and dope method.
Balsa/ply ARF RC airplane kits
If you want a gentle introduction to traditional model airplane building techniques then an ARF (or ARTF) - Almost Ready To Fly - kit might be the answer.
ARFs are 90% finished, including the covering, and they are mostly of balsa and ply construction. All you need to do is some final assembly (hardware) work and install the engine/motor and radio gear yourself. The photo below shows how a typical ARF kit is, fresh out the box:
ARF kits have become very popular in recent years and there are some excellent quality kits out there - and some very bad ones too!
The majority of such kits (good and bad) come from the Far East; if you're going to buy an ARF then do some thorough research before you buy - internet forums are invaluable places for finding out about a certain kit.
The influx of high quality ARF rc airplanes in to the hobby in recent years has been largely blamed for the demise in traditional kit building by aeromodellers, but ARF planes are an excellent solution to those modellers who want to fly a traditionally built balsa/ply plane but just don't have the time to build one themselves.
Read more about ARF rc airplanes.
Foam Ready To Fly RC planes
Although there is a very wide selection of traditional balsa model airplane kits available, and an even wider selection of ARF ones, nowadays however it's quite normal for model planes to be constructed from foam; typically most electric powered RTF (Ready to Fly) rc airplanes are made this way and in the last few years there has been a huge surge in the number and variety of foam rc airplanes available.
Foam airplanes are very convenient and are cheaper to buy, simply because manufacturing costs are lower. The type of foam used in model airplane construction is very durable and so the plane can withstand bumps and knocks greater than a balsa/ply airplane can. For these reasons foam rc airplanes are very popular with newcomers to the radio control flying hobby.
The downside to 'foamies' is that because foam is a relatively soft material, it's easily damaged by careless handling. The so-called hanger rash is a common issue with foam planes!
Other RTF planes
Not all RTFs are foam, or electric. There are traditionally constructed glow plug powered ones out there too, for example the Alpha Trainer DSM2 and NexStar Select 46 both shown below:
Model airplanes like these let the beginner own and fly a brand new, traditionally constructed balsa rc airplane without having to build it!
Admittedly the range of traditionally built balsa/ply IC (internal combustion) rc airplanes is very limited, but they are available if you shop around.
Read more about RTF rc airplanes.
Balsa vs. Depron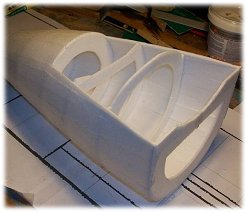 Although balsa wood has long been the main material used in model plane kit construction, there is a growing number of aeromodellers who are using Depron foam.
Originally manufactured for floor insulation for the construction industry, the qualities of Depron were soon noticed by modellers who quickly discovered its suitability for modelling. The rigidity and ultra light weight of this foam sheet make it an ideal substitute for balsa and as one of my forum members has repeatedly shown, it really is good to work with and very versatile!
The Depron strength to weight ratio is good but it's not as good as balsa, and so Depron is limited to the smaller/medium scale models rather than large scale ones, and is only suitable for electric powered (EP) aircraft.
RC airplane construction accessories
Various modelling tools and accessories are needed to construct a model airplane from a kit, such as modelling knives, pins and small clamps, modeller's vice and covering accessories as well as various adhesives.
As mentioned earlier a modelling board is also essential, this needs to be something rigid and completely flat. This latter point is so important because any warps or bends in the board will get transferred to the airplane during construction, and that's really not good!
Well hopefully this page has given you an introduction to model airplane kits and traditional construction methods vs. modern day ones.
I can personally recommend building an rc airplane from a kit, the feeling of self-satisfaction at the end of the job is enormous.
If you're looking for a project to undertake during the long winter months (traditionally that's when aeromodellers build their planes), then consider building your next model plane instead of rushing out and buying one that's already made. You won't regret it!

Discuss model airplane kits in the forum.
Related pages

Vintage rc airplanes.

ARF rc airplanes.

RTF rc airplanes.

Follow my Jamara Pitts S2B build.