Nitro RC boats - if speed is your game!
Nitro rc boats provide much excitement and exhilaration on a pond because of their speed, and a fast-moving nitro boat throwing up a huge rooster tail is a great sight!
Incidentally, the term nitro is just another name for the correct term glow plug powered.
Whereas electric rc boats are simpler to run and cheaper to buy, a nitro radio control boat will likely give you a bigger thrill on the pond.
A typical (unmodified) medium sized nitro entry level sport rc boat can achieve speeds of around 30mph, which is pretty quick on a stretch of water. More powerful models can get up to 50mph, and fully race-tuned boats even faster.
For a first time nitro rc boat though, don't rush out and buy the fastest or largest thing you can lay your hands on - one with a length of around 24-30 inches and with a medium sized motor, say around the .12 - .16 mark, will be plenty fast enough for you to have heaps of fun with. These are commonly known as 'sport' boats.
The Formula Fastech from Pro Boat, shown below, is an example of such a boat:
This kind of sport rc boat is designed for ease of use over anything else and is the best kind of rc boat to get you started quickly in the hobby.
Nitro rc boats are available here.
Of course, if you do want to go for something a bit sexier there are always options. RC air boats and unlimited hydroplane racing boats are available in nitro versions. It may be that you like the idea of running a scale boat anyway i.e. one that has been modelled from a real-life boat, such as the U-1 Miss Elam, shown below...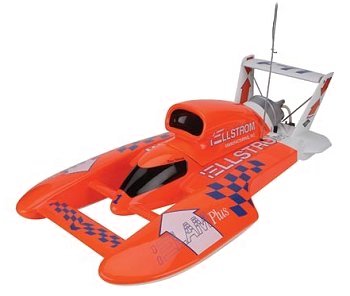 Below is a short video of a nitro Miss Elam on the water...
RTR nitro rc boats
A nitro boat which comes RTR, or Ready To Run, such as the two shown above is the best option if you're not bothered about building a model boat from a kit, as these will get you onto the water as quickly as possible.
An RTR rc boat, as the name suggests, comes with nitro motor and radio control gear fully installed and the boat body is pre-finished, other than maybe leaving you to add the decals supplied. The only thing you will need to buy are the essential field equipment items to start and run the engine, and batteries for the radio gear.
RTR nitro rc boats can be made from fiberglass or tough ABS plastic (more commonly). Either material is very tough but lightweight - less weight obviously greatly decreases drag on the water, which translates into more speed.
Nitro vs. electric power
The gap between nitro rc boats and electric boats has narrowed in recent years, as electric power has more or less caught up with nitro - not only in boats but in all radio control vehicles and aircraft.
Top quality electric brushless motors and Li-Po battery packs have given electric models huge amounts of power. But it is fair to say that nitro engine lovers will stay loyal to their preferred power type, and there's no doubt that having a real engine on your boat does provide that bit of extra exhilaration that an electric motor can't provide.
The downside to nitro power is the maintenance of the engine, and the accessories needed to run it. So cost is an issue, relative to electric power (EP), but that's not to say that EP is cheap. Good quality motors and battery packs can cost a lot of money once you start getting into the larger sizes. The difference is in the ongoing costs, especially fuel.
But take a look at this video and see for yourself how comparable nitro and electric rc boats can be these days...
At the end of the day, there are just those modellers who prefer nitro to electric, and that will probably never change. If you're one of these modellers, whichever kind of nitro rc boat you settle for you can be assured of some fun-filled and exhilarating days at the pond!
Nitro rc boats are available here.
Related pages

Nitro boat engines.

Gas rc boats.

Electric rc boats.

Boat hull design.
Return to RC boats 'index page'