RC ornithopters
- realistic radio control birds!
RC ornithopters are a relatively new addition to the world of radio control flying, and they're completely different to any other type of aircraft.
But are they a glimpse of the future??
A news article (Feb '07) stated that Chinese scientists have successfully influenced the direction in which real pigeons will fly, by sending electronic signals to micro-processors implanted in the brain of the bird!
Given that China is currently manufacturing and exporting around 75% of the world's radio control products, how long will it be before we can buy a living, breathing radio controlled pigeon?! You read it here first, folks

Anyway, the Cyberhawk rc ornithopter is one such example of an artificial flying bird, being about the size of a real pigeon and looking unnervingly realistic in the air.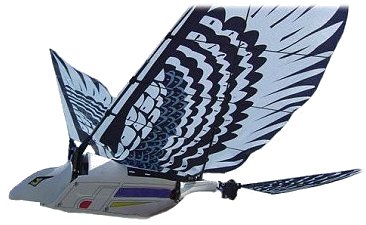 The Cyberhawk, and all similar rc ornithopters, works in exactly the same way as a real bird flies. The wings flap to generate the necessary lift, and the tail is used for steering.
The wings flap at up to 130 cycles per minute, producing more than enough lift to take it high into the skies, and it's been said that real birds will readily come and investigate these machines, even fly along in formation!
The speed of the main electric motor that powers the wings can be controlled, giving the ornithopter height control, while the tail is made to tilt to the left or right to provide directional control.
A lithium polymer battery pack provides good flight times of around 15 - 20 minutes for the Cyberhawk, and the radio control transmitter is a standard 4 channel one, controlling 2 servos.
With this bird, everything is complete and ready to fly - you just need to attach the wing and charge the motor battery (charge time is around an hour and a half with the charger supplied).
Here's a video, from one of my forum members, of an rc ornithopter in full flapping action...
For anyone looking for something completely different, rc ornithopters like the Cyberhawk are a pretty good choice - until the real rc pigeon option becomes a reality, that is!
Shop for rc ornithopters like the Cyberhawk.
Related pages

RC UFOs.