Advertise on RC Airplane World.
This website, rc-airplane-world.com, is a popular and long-established website (since 2003), its aim being to introduce people to the thrilling hobby of radio control flying.
The site enjoys around 60,000 page views per month of highly targeted traffic. Below is a screenshot of a typical month, day-by-day.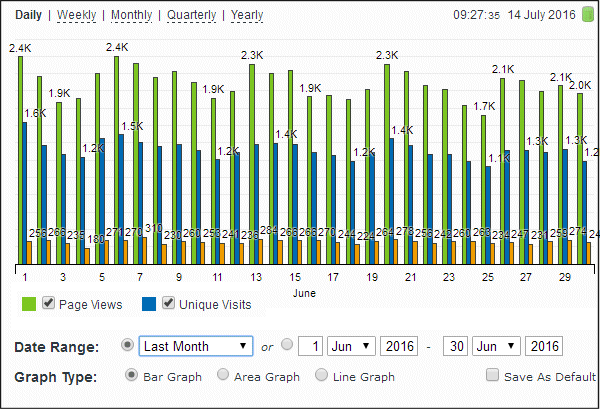 ---
To advertise your radio control related business on rc-airplane-world.com, there are three options as illustrated below: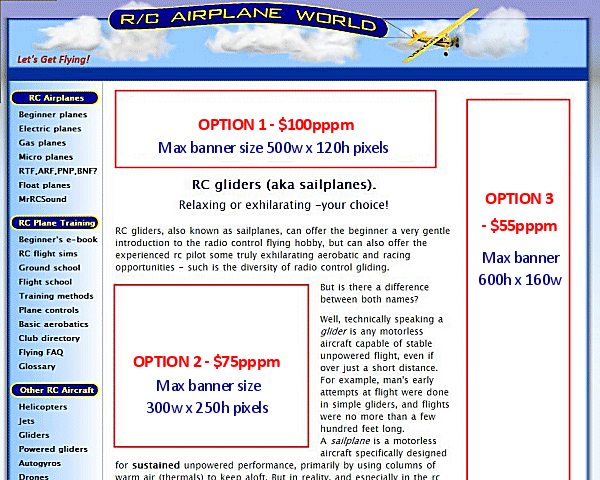 ---
Please note the following important points:
Prices shown are in USD (US Dollar) and are per page per calendar month (pppm).
Safe secure payment through Paypal or bank transfer.
Discounts available for multi-page advertising.
Banners served as image files so are unaffected by ad-blocking software.
Banner positions given on a first-come first-served basis.
No ad-tracking services are provided.
Option 2 will replace any Adsense unit otherwise present.
Higher rates are applicable to the home page and the beginner rc airplanes page (https://www.rc-airplane-world.com/beginner-rc-airplanes.html). Add £25 to each option.
Banners can be created by myself for £50 each.
---
Please contact me if you would like to see your business on RC Airplane World. A positive advertising experience for your business is important to me, I'll always be here and happy to help you

.
RC Airplane World advertising disclaimer, T&C, important info etc.
Advertisements are priced on a flat-rate only, no cost per click options are available.
No promises/guarantees are made regarding site/page traffic although I can supply traffic statistic screenshots on request.
No promises/guarantees are made regarding ad impressions, click-through rates, lead generations, sales or any other action for the business advertising.
I am not responsible for ad performance.
Ad performance must be monitored by the business advertising, not by myself.
Ad fees are non-refundable unless under exceptional circumstances.
Minimum one month charge for all ad options.
Ad-blocking software should never effect your banner, but I cannot promise this.
By advertising on RC Airplane World, you agree to all the above.