RC Fairey Swordfish plan
The full-size Fairy Swordfish is a personal favourite of mine, and here in the UK I'm lucky enough to see one flying from time to time, or at least on static display at various airshows.
The Swordfish is an imposing biplane, designed and built in the 1930s as a torpedo bomber and used by the Fleet Air Arm of the Royal Navy (UK).
Although biplanes were already thought of as being obsolete by the time World War II broke out in 1939, the Swordfish did see active service during the war and gained a worthy reputation as an effective wartime aircraft, amassing several notable enemy ship-sinkings along the way.
It's always an absolute pleasure to see the full size type flying, and long may it stay airworthy!
Respected scale airplane designer and builder Bob Bishop has once again created an absolute beauty with this rc Fairy Swordfish. What I love about Bob's planes is how he targets the more unusual and less modeled subjects - you can see his other designs (all available to purchase) on the rc airplane plans page.
Bob's Swordfish is a 1/10 scale design, but the full size Swordfish has a wingspan of 45' (13m) so the model is still a respectable size, given that biplanes always look larger than their wingspan suggests!
Designed primarily for electric power, but with IC conversion potential, it's a plane that an experienced builder should be able to take on without any difficulties. Bob's made things easier by making a set of laser cut parts available, too.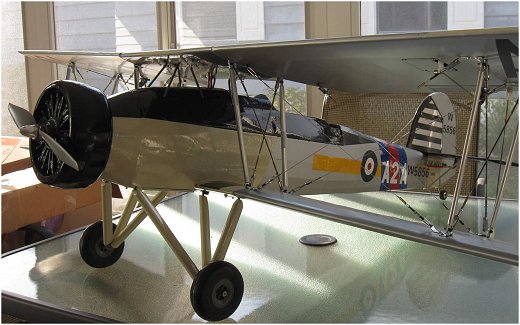 Above: Bob's beautiful RC Swordfish. A true classic!
The basic model specifications & features include:
Scale: 1/10.
Wingspan: 54.6" (1386.8 mm)
Length: 41.3" (1049mm)
Wing area: 777.3 sq. in.
Weight: 7 lbs 3.5oz (3.28Kg)
Wing loading: 21.39 oz./sq. ft.
Engine: 30-40 glow or EP equivalent.
Radio: Min. 4 channel.
Folding wings.
Balsa cowl.
RC Fairey Swordfish plan info
Unlike Bob's other plane designs, the Swordfish plans are only available in PDF format. This means you can either print them off at home at a smaller scale and use them just as a reference, if building with the laser cut parts, or you can get them printed off at full scale if necessary. Bob successfully built his Swordfish using the smaller scale plans as a reference only, with the laser cut parts not needing to be constructed over a full size plan.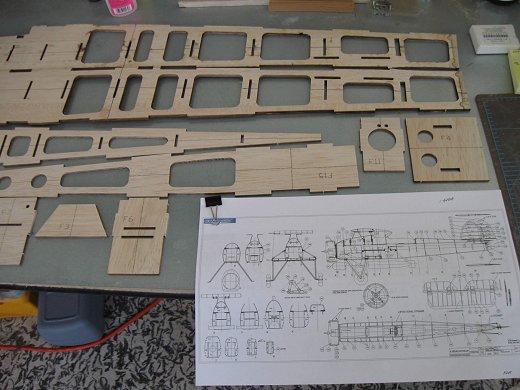 Above: using smaller scale plan as reference
for assembly of the laser cut parts.
Included in the PDF package is a full size plan file of the wire undercarriage assembly, and a Bill of Materials - a complete list of everything you need for the build.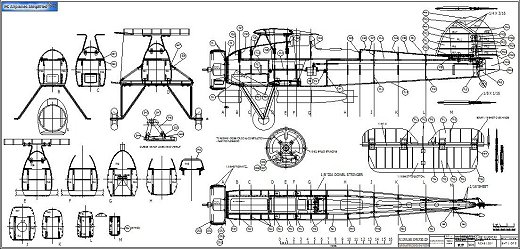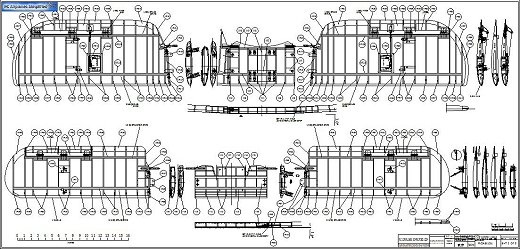 The RC Fairy Swordfish plan and parts prices (in USD) are:
4 PDF format plan files: $30.00
Laser cut parts set $230.00 + Shipping*.
*Shipping - $50 for US. Please contact me for other countries.
** Please note that the Swordfish PDF files are not an automatic download; they will be sent to you by the designer.
Please use the Paypal button below to order, use the drop-down menu to select your choice:
RC Fairey Swordfish PDF plans
Safe, secure payment through PayPal.
Ordering concerns or problems using the above button? Contact me.
Swordfish laser cut parts set
A set of 435+ laser cut parts is available for this rc Fairey Swordfish, supplied by Bob Holman Plans. The set contains all the balsa and ply parts but does not include sheet or strip wood; this must be purchased separately by yourself. Hardware for the build is also not included.
Price for the set is $230.00 plus $50 US shipping. Please contact me for overseas shipping rates outside the US.
Swordfish laser cut parts set - $230 plus shipping.
Safe, secure payment through PayPal.
Ordering concerns or problems using the above button? Contact me.
Related pages

RC Curtiss P-6E Hawk.

Fairy Fantome.

Cessna Airmaster.

Gloster Gladiator.

RC airplane plans - index to Bob's plans available to buy.