Art-Tech Alpha Jet review
The Art-Tech Alpha Jet is my first venture in to EDF (electric ducted fan) territory so here's my personal review of this 90mph electric rc jet.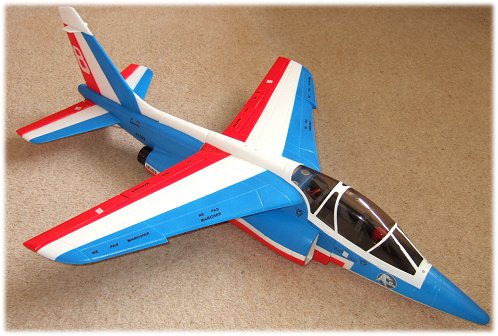 I was drawn to this particular model after seeing it advertised in a magazine; I've always liked Alpha Jets and this EDF seemed to tick all the boxes - nice size, good price, reputable brand etc.etc. The colour scheme is striking and is a faithful representation of the French Air Force display team, the Patrouille de France, who have been flying Alpha Jets since 1980.
The Art-Tech Alpha Jet is supplied in the UK by Century UK and two versions are available; RTF with 2.4GHz radio system and a non-radio version, which is the one I opted for as I wanted to use my trusty Spektrum DX6i.
Incidentally, it's models like this that have helped rc jets to become so mainstream in recent years.
What's in the Alpha Jet box?
My non-radio version was obviously lacking a few components but consisted of the fuselage with tailplane already attached, a separate fin, the canopy, a small bag containing a screwdriver, 2-part epoxy and wing bolts, and the all important instruction manual.
As this was my first ever Art-Tech model I didn't really know what to expect and was pleasantly surprised to see the cover of the manual in glossy colour, and a very good quality magnetised cross-head screwdriver; a welcome change from the usual cheapy tools thrown in with so many other RTFs!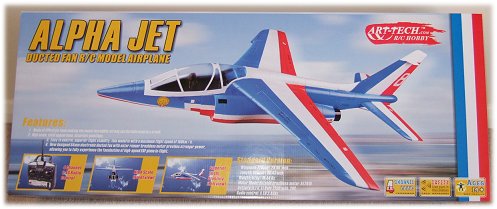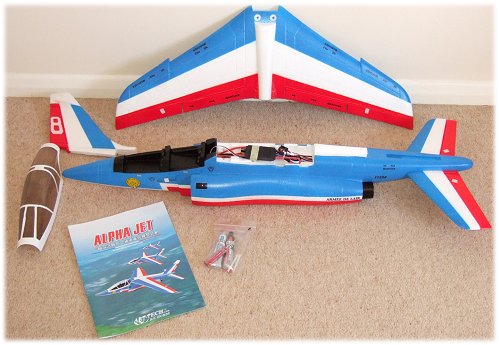 First impressions were good and it's clear that the Art-Tech Alpha Jet has been well thought out in most areas. The paint and decals have been applied well and access to the 64mm ducted fan unit is good via a removable (2 nylon bolts) panel on the jet's belly - this panel has two cutouts to allow for good fingertip grip for hand launching. All in all then, a good experience on opening the box and checking over the jet!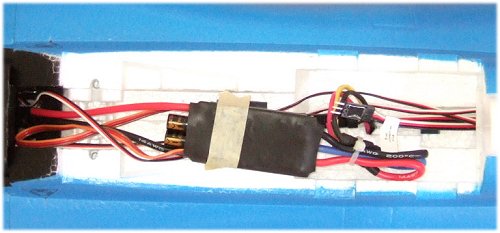 Above: the ESC and leads sit on the wing seat. Below: the belly and motor/fan unit of the jet showing the twin intakes and exhaust ports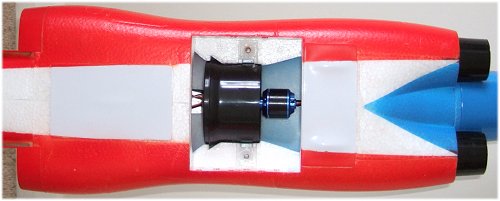 Alpha Jet assembly
Being an RTF there's not a lot to do although obviously my non-radio version needed a bit more work and head-scratching when it came to installing my choice of receiver, a Spektrum AR6200. As it happens the original Rx was still in its place, a somewhat unusual location in the rear underside of the jet; this is also where the elevator servo is found with dual metal wire linkages to both elevators.
I removed the stock Rx and used this space to put the remote unit of the AR6200, attached to the foam with some double-sided tape.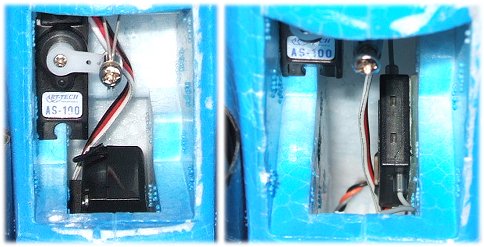 Above: the stock Rx (left) was replaced with a Spektrum AR6200
The main receiver unit was placed in the sole remaining suitable area, in the wing seat behind the ESC, and this is what caused the head-scratching!... Although the underside of the wing is nicely hollowed out to accommodate the ESC and leads, the spar runs right through the area where the Rx was now sitting and this made attaching the wing a bit tricky - no matter where I moved the Rx to, that spar always seemed to hit the servo leads or connectors and prevented the wing from seating correctly! After several moves of the Rx and some cutting away of a small amount of foam I could get it all to work, albeit a bit on the tight side.
The photo below shows the final resting place of the unit: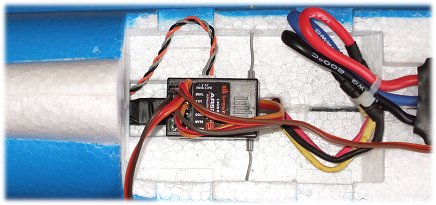 The only other major job to do was fit the fin in place and this was quickly done with the 5-minute epoxy included in the box. The fin was a good tight fit in its respective slot and went in without problem and completely vertical - an easy job indeed!
Finishing and flying the jet
With receiver installed and fin in place my Art-Tech Alpha Jet was ready to go, technically speaking. The delay was with the Li-Pos, I had ordered two 2150mAh 11.1V 20C packs which hadn't arrived yet, but this gave me time to do a few small mods.
The first was to source a suitable jet pilot; personally I can't bear to see an empty cockpit flying around the sky, regardless of whether the plane is scale or non-scale. Heavily smoked canopies are the exception of course, but if you've got clear plastic then get a pilot!
The best match I could find was a (shown right) from Pete's Pilots on eBay (UK). The Art-Tech Alpha Jet is actually 1:12.8 so this guy has to live with being a shorter than average pilot.
I didn't paint him in the display team uniform but just made use of some paints I had lying around, and after blocking him up a bit on some polystyrene so that he could at least see through the windscreen, glued him in place.
The next little mod I did was to add strips of tape over the aileron and elevator 'hinges'; I don't trust control surface hinges that are just thin section of foam so a few pieces of tape were called in to play; if the foam beads separate along the hinge then at least the tape will retain control of the surface. Fortunately it just so happened that I had red and blue tape left over from covering an EPP combat glider, so I could at least match the surface paint work, kind of...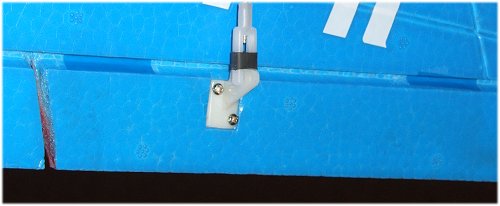 Finally two small servo mounting screws were used to secure the front end of the canopy. The canopy itself is attached by four small magnets that aren't that strong and I wasn't prepared to watch the canopy come flying off at full throttle! Maybe the magnets would hold it in place but it's a two-minute job worth doing...
And so to flying... This Art-Tech Alpha Jet is my first EDF experience outside of a simulator so I wasn't exactly sure what to expect.
With packs charged I headed off to the field feeling a little apprehensive and still quietly questioning the Center of Gravity - I had added a fair bit (0.8oz) of lead underneath the tailplane to get the jet to balance at the indicated CG point.
After the pre-flight and range checks I throttled up and gave the jet a hefty throw in to the slight breeze, appreciating those finger-holes in the jet's belly! After a momentary loss of height on launching the Alpha Jet began to pick up speed and I went straight in to a 'safety climb' so I could familiarise myself with the model at a safe height. I levelled out at about 100' or so and flew a few trimming circuits, thankfully the CG seemed spot-on and only a couple of clicks of up and right aileron trim were needed to achieve hands-off straight and level flight.
I did a couple of low high speed passes at full throttle and these were smooth other than for a slight side-to-side wobble. While the speed wasn't anywhere near the 90mph mark, it was certainly quick enough for me and pulled up in to a healthy vertical climb which, it has to be said, wasn't sustainable for too long.
Rolls and loops were easily executed as you'd expect and the Alpha Jet's slow flying characteristics weren't bad, although the stall can be a bit nasty; mine dropped its left wing first and needed a good amount of height for recovery.
Landing was easy, the jet is quite floaty when throttled right back but still comes in quickly. The plastic plates on the belly make for a very smooth touchdown on grass, all in all landing is fairly non-eventful so long as you start your approach far enough away!
I was unable to get my own video of that flight but until I do, here's a YouTube offering of the Art-Tech Alpha Jet:
In summary, the Art-Tech Alpha Jet is a great little package and a nice introduction to EDF flying. While I can't comment on the fully RTF version and hence the radio gear, I can certainly give the non-radio version a thumbs up and I'm certain that the RTF wouldn't be any different.
If you're looking to get in to electric ducted fan flying, give this one a go!


Discuss the Art-Tech Alpha Jet in the forum.
Related pages

RC jets.