RC Airplane World
- your complete introduction
to radio control flying.
Welcome!
Learning to fly rc airplanes, helicopters or other types of radio controlled aircraft is a hobby that has seen a huge explosion in popularity in recent years. But if you don't know how to get started in this exhilarating pastime, trying to get off the ground can be a nightmare in more ways than one!
The number and variety of radio control aircraft available these days is just mind-blowing. Which do you choose? How do you choose? Which ones are good, which ones aren't?!
Fortunately for you, that's what this RC Airplane World website is all about - cutting through the complicated stuff, and introducing you to the hobby in a no-nonsense, down to earth way.

Yep, the aim of this website is to get you flying, and outlined below is a general round-up of what you can expect from the website...
Info on all types of radio control aircraft as well as different power types.
The most popular page of the site is the beginner rc airplanes page, but you can also learn about electric planes and helicopters as well as their IC powered cousins.
Radio control gliders and jets, two other very popular aircraft types, are talked about on the site to give you an idea of what to expect from them.
There's also heaps of technical information on the website to help you understand what goes on in an rc model - having a healthy understanding of how airplanes fly (and helicopters) and how you control your rc airplane will greatly help you get more out of your new hobby.
Have a read through the ground school and flight school pages of the website to get a solid understanding of how radio control systems work and how to fly a radio controlled airplane. The pages walk you through each step and there are some video tutorials on the flight school pages.
If you want the very best RC Airplane World has to offer, check out my two popular e-books: The Beginner's Guide To Flying RC Airplanes and The Beginner's Guide To Flying RC Helicopters. Very affordably priced ($17.50 & $14.95 respectively) the e-books are essential companions to anyone starting out in the hobby of radio control flying.
RC Airplane World is happy to be associated with Red Rocket Hobbies and I work closely with the store owners Matt & Tara; as a result I can bring you the best recommendations for suitable aircraft. As you browse the website you'll find an abundance of product links, so if you're looking to buy anything rc-related you can do so via this site with complete confidence.
RC Airplane World also has all the info you need to know about flight training and the different methods you can undertake, such as flight sims, and there's also a comprehensive international model flying club directory to help you find a club close to home.
If you're not only interested in planes and helis, check out the surface vehicle pages on radio control cars and boats. Yep, it's all under one roof!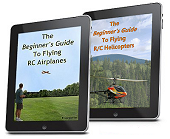 As previously mentioned, RC Airplane World is happy to be associated with Red Rocket Hobbies and there are links to the store throughout my site.
If you purchase an rc airplane, helicopter or flight simulator from Red Rocket via the links within my site then you qualify to receive one of my e-books for free! Just e-mail me with your RRH order number, I'll verify the transaction and send you your choice of e-book (plane or heli) free of charge.
Furthermore, Matt of Red Rocket Hobbies has kindly arranged a $5 discount for any purchase made at his store via the links within my site, just use coupon code RCAPW at the checkout. This coupon is unique to rc-airplane-world.com visitors!
And while on the subject of shopping, I'm very happy to be an official reseller of the hugely popular MrRCSound system - sound modules for rc planes down to around 40" wingspan. Perfect for bringing that radio control warbird to life!
So as you can see, there's a lot on offer within this website!
RC Airplane World will help you get started in this exhilarating and addictive hobby, in fact you can read some nice words from others who have enjoyed the site and found it helpful.
The fact is that there's never been a better time to get started in radio control flying; the prices of rc products are the cheapest they've ever been, and the availability of models is vast. But while this availability gives us a huge amount of choice, it can also be completely overwhelming for the beginner - so follow the advice throughout this site and you'll have a much easier ride.
Finally, if you have questions about the hobby please feel free to join my forum - it's geared towards the beginner, there is a great bunch of members happy to help, and no questions are stupid ones!

Most important of all, enjoy your visit and thanks for finding my website (Incidentally, my name is Pete Carpenter and you can learn more about me right here.)