Home ➤
Foam RC planes
**November Offer** Get "The Beginner's Guide To Flying RC Airplanes" ebook for just $15 this month!**
Foam RC Airplanes
Electric powered foam rc airplanes, or 'foamies', are now mainstream within the radio control flying hobby, popular with beginners and experts alike. They represent great value for money and it's easy to see why they're such big sellers.
Foam planes come in all different shapes and sizes, and manufacturers have really upped their game by producing some excellent scale planes (notably warbirds).
Scale detailing such as rivets and panel lines can easily be designed in to the moulding process, and so a finished foamie can look almost as good as a scratch-built balsa plane that the builder has poured hundreds of hours in to.
The downside to the appearance of a foam rc plane is, erm, the foam!
Up close the surface texture can clearly be seen, but does that matter when the plane is in the air??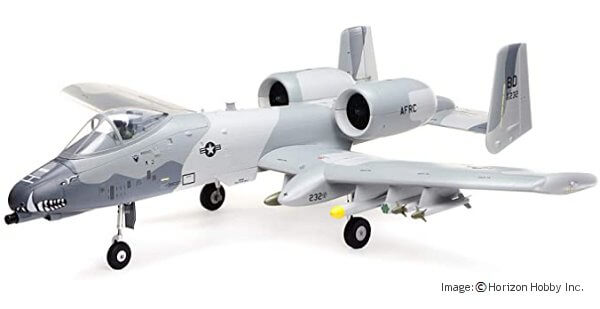 Above: an example of what can be achieved with foam rc planes these days is this amazing A-10 Thunderbolt
Product sold on Amazon. As an Amazon Associate I may receive a small commission if you buy, at no extra cost to you. Thanks for your support, it helps keep RC Airplane World alive!.
There are several notable brands of quality foam rc airplanes these days, with names such as ParkZone™, HobbyZone™, E-flite™, Art-Tech, Dynam, Multiplex and FMS (to name the big players) all leading the way.
ParkZone, HobbyZone and E-flite come from US giant Horizon Hobby®, a well respected manufacturer and distributor within the hobby.
The HobbyZone brand caters more for the beginner, with the HobbyZone Sport Cub S being a popular choice for beginners, having replaced their massively popular Super Cub.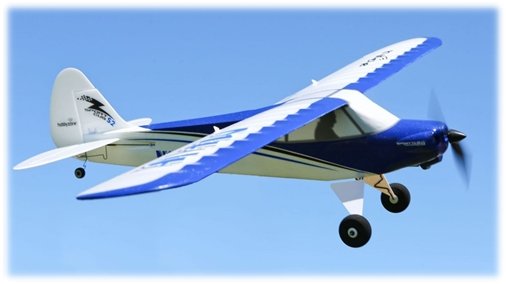 The FMS/Airfield brand has also become synonymous with good quality foam warbirds. FMS were the first company to enter the larger wingspan (around 1400mm) market. The scale detailing on their planes really is excellent, and many of these larger planes feature flaps and retracts as standard.
I had the Petie 2nd P-51 Mustang for a while and loved flying it.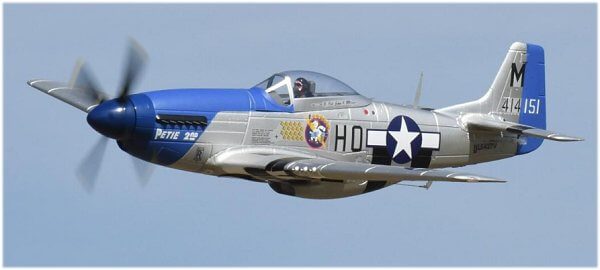 Such warbirds really do look great, and the addition of a realistic rc sound system can finish these planes off very nicely!
Foam rc airplanes are, generally speaking, very durable. Different types of foam can be used in the manufacture of planes, with different foams used for different applications.
The main foams used are Expanded Polystyrene (EPS), Expanded Polypropylene (EPP), Expanded Polyolefin (EPO) and Depron. The most common one for the RTF market is EPO and this is often given a 'trade name' by each manufacturer. For example, Multiplex call it ELAPOR while Horizon Hobby call it Z-Foam.
Depron is commonly used in, but not limited to, the construction of indoor rc planes, particularly the shock flyer type, or 'shockie'. Depron is relatively strong, but it does need to be used in conjunction with carbon spars (or balsa) to optimise the strength.
Foam RC Plane Repairability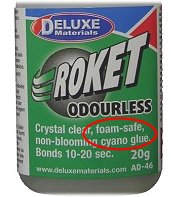 Foam rc planes are, generally speaking, easily repaired but you have to be very careful about which glue you use.
Different foam types react differently to different substances, and it's imperative that you test on a scrap piece first. Many glues commonly used in rc airplane building and repairs will dissolve some types of foam, and CA (cyanoacrylate or 'super glue') glues are some of the worst offenders. If you intend using any glue on your foam plane make sure that it's 'foam friendly' or 'foam safe' glue - it usually states this on the label.
A personal favourite of mine for making any EPO repairs is Gorilla Glue. This expands as it cures and interlocks the foam beads as it does so, resulting in a very strong bond.
A trick worth knowing, when it comes to foam plane repairs, is to use very hot water to restore any areas of crushed or dented foam. The heat expands the foam and any crushed/dented area returns to its former shape.
It doesn't always work, depending on the severity of the damage, but it's always worth a shot.
Another little trick I can share with you is to use wooden cocktail sticks. If larger chunks of foam have broken off, insert a stick (or a shortened stick) into the broken edge when you glue it back onto the plane.
It's best to get the alignment with the stick(s) done dry first, then pull the joint apart and add the glue.
RTF Foamies
The majority of RTF rc airplanes these days are foam, but a downside to flying foamies is that they more adversely effected by the wind. This is because they weigh less than an equivalent sized balsa/ply airplane.
So on windy days a foam plane is going to get knocked around the sky more than a balsa one, making the pilot's life at the transmitter sticks a little harder. This is a bigger issue if you're just learning to fly.
But with that said, standalone gyros or receivers with built-in gyros are becoming commonplace. This means that you can set up pitch and roll stabilisation to act against unwanted twitchiness caused by wind gusts.
With such a system in place, a foam plane can be made to fly a lot more solidly than it otherwise would.
Indeed, manufacturers do now sell certain foamies with such stabilisation as standard. Many aircraft from Horizon Hobby feature their AS3X™ technology to smooth out any unwanted tendencies.
So foam rc airplanes (and gliders) of all types are certainly here to stay and the range available is huge. It's probably fair to say that there are more foam planes on the market now than balsa/ply ones, but that's not to say that traditional kits are disappearing; if anything they are making a comeback. One possible reason for this is that foam planes have brought countless new people to the hobby of radio control flying, and these once-beginners now want to build their own planes and move across to balsa/ply construction.
But for instant, convenient flying at a lower cost you can't beat an electric foam rc plane!
You might also like to read about...

Beginner rc airplanes.

RTF rc airplanes.

Electric rc airplanes.

Cheap rc airplanes.