RC boat hull design
RC boats essentially have three different categories of hull design, these being flat bottomed (mostly 'airboats'), hydroplane (mostly powerboat racers) and Vee-hull ('traditional' boat shape). The term 'hydroplane', however, does cover a few designs such as tunnel hull and catamaran.
If you're just starting out in the radio control boating hobby you may like the look of a flat bottomed airboat or hydroplane, but a standard Vee-hull design is the best shape hull to go for as a first rc boat. This is simply because a Vee-hull is more stable than the other two designs and is far better suited to a pond with anything more than a slight surface ripple.
It is worth noting, however, that Vee-hull design boats can be 'deep-vee' or 'shallow-vee', two terms that simply refer to the angle and depth of the hull.
A deep-vee rc boat is much better at handling rougher surfaces, as it can easily cut through any chop on the water. Conversely shallow-vee boats perform better on smoother surface water.
One advantage of a shallow-vee boat is that there is less hull in contact with the water, which mean less drag. For this reason shallow-vee rc boats are very popular as entry level racers rather than general sport boats.
Generally speaking, the majority of electric rc boats for beginners are either shallow or deep vee; these are by far the most common type of boat hull design.
The principle of a hydroplane hull is to create a cushion of air within the tunnels beneath the boat as it moves forward. This air cushion lifts the boat and so it experiences very little drag from the water. Hydroplanes are nearly always racing boats.
The basic geometric profiles of these common boat hull designs are outlined below: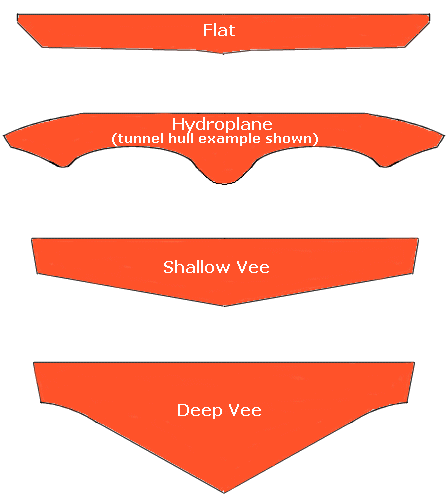 With Vee-hull boats the propeller has a much better chance of staying in the water, whereas a tunnel hull boat has the prop much closer to the surface. On a choppy pond this prop may well come out of the water at times, which isn't so good for maintaining speed or control!
Flat bottomed airboats have their motor sat at the rear and on top of the boat body and use an airplane propeller, hence they never suffer this problem.
Without doubt, Vee-hull boats make the best entry level models, it's the basic reason why all 'sport' boats have this shape hull design.
Shop for rc boats of various boat hull design.
Related pages

Electric rc boats.

Nitro rc boats.

Gas rc boats.
Return to RC boats 'index page'