California RC airplane clubs
and flying fields
Approximate field locations have been given for these rc airplane clubs of California, just to help you identify a club in your area.
For more detailed locations and directions, times and addresses of club meetings and for membership details, please visit the club's website by clicking on the active link.
If you know of an rc airplane club or flying field in California (CA) that isn't listed here, please take a couple of minutes to submit the details using the simple submission form, and help us build a bigger and better rc club directory.
If you find a dead or broken link while using this page, please report it here - thank you very much!
---
Map of California
Click the image to open California in Google Maps...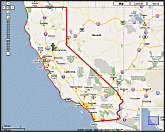 California clubs:
Antelope Valley Tailwinds Incorporated
Website: www.avti.org
Location: On Challenger Way (10th Street East) between avenues F and G, Lancaster.
Bay Area Radio Control Society
Website: www.barcs.org
Location: Goodrick Avenue in Richmond, San Francisco.
Bayside R/C Club
Website: www.baysidercclub.com
Location: Fremont, San Francisco.
Beale Blackbirds RC Club
Website: www.bealeblackbirds.com
Location: located on Beale Air Force Base near the Family Campground area.
Canyon Crosswinds
Website: www.canyoncrosswinds.com
Location: Castaic California.
Channel Islands Condors
Website: http://www.cicondors.com/
Location: near Lewis Road & University Dr., Camarillo.
Chollas Park RC Flyers
Website: www.chollasparkrcflyers.com
Location: Chollas Park Road, San Diego.
Coachella Valley Radio Control Club
Website: www.cvrcclub.com
Location: Coachella Valley Air Parknal Regional Park, 54th Avenue and Pierce Street, Coachella.
Colusa County Aeromodelers
Website: n/a
Location: Will Green Ave. South of Hiway 20. on old Pirelli Cable plant site, Colusa
Contact: E-mail Gary Ciemny at garyciemny[at]yahoo[dot]com.
Conejo Valley Flyers
Website: www.conejovalleyflyers.com
Location: Newbury Park.
Corona RC Club
Website: www.coronarcclub.com
Location: 2 sites; one is located in La Sierra, on the border between Norco and Riverside, and the other is in the city of High Grove.
Delta Valley Modelers
Website: www.deltamodelers.org
Location: Port of Stockton on Rough and Ready Island in Stockton.
Diablo Valley Radio Controllers
Website: www.dvrc.org
Location: Pittsburg.
Gilman Springs RC Flyers
Website: www.gilmanspringsrcflyers.com
Location: 34005 Gilman Springs Rd., Moreno Valley Ca 92555.
Gold Country Flyers
Website: www.goldcountryflyers.com
Location: Michigan Bar Road and Carbondale Road, Lone.
Hemet Model Masters
Website: www.hemetmodelmasters.org
Location: Cross of Warren and Simpson Road, Hemet.
Inland Slope Rebels
Website: www.inlandsloperebels.com
Location: Riverside. Various sites, see website for details.
Madera Aeromodelers Radio Control Society
Website: www.maderarcclub.org
Location: AVE 16 Next to the Ag Runway at Madera Muni Airport, Madera.
Marin Aero Club
Website: www.marinaero.com
Location: St. Vincents, Marinwood Drive, San Rafael.
Miramar RC Flyers
Website: www.miramarrcflyers.com
Location: Reserve readiness center. Pomerado rd. & interstate 15., San Diego
Muroc Model Masters
Website: www.murocmodelmasters.org
Location: 6 miles East of California State highway 14, between the city of Rosamond and Edwards AFB on Rosamond Blvd.
Orange Coast Radio Control Club
Website: www.ocrcc.com
Location: Santa Ana.
Peninsula Aeromodelers
Website: www.pam-rc.org
Location: About 1.4 miles south of 92 on Highway 1 in Half Moon Bay, turn toward the ocean on Wavecrest.
Pomona Valley Model Airplane Club
Website: www.pvmac.com
Location: We have 2 fields: 1) Prado Field in Chino and 2) Norton Field in San Bernardino.
Radio Control Flyers Unlimited
Website: www.rcflyersunlimited.com
Location: Modesto, Woodward Reservoir, Oakdale.
Riverside Radio Control Club
Website: www.riversidercclub.org
Location: Interstate 215 & 4th St., Perris.
SAM27
Website: www.sam27.com
Location: Lakeville Highway near Highway 37, Petaluma.
Sacramento Aero Modelers
Website: www.sacramento-rc-flyers.org
Location: Sacramento.
Sacramento Area Parkflyers
Website: http://parkflysac.com/
Location: Grant Line road and Hwy99, Sacramento.
San Fernando Valley R/C Flyers
Website: www.valleyflyers.com
Location: Apollo II Model Aircraft Field, San Fernando Valley, Woodley Ave.
San Gabriel Valley Radio Control League
Website: www.sgvrcl.org
Location: Whittier Narrows Regional Park, 1601 Rosemead Blvd So, El Monte CA 91733.
San Jose Wavemasters
Website: www.wavemastersrc.org
Location: Highway 25, Hollister.
Santa Clara County Model Aircraft Skypark*
Website: www.sccmas.org
Location: San Jose.
Santa Fe Dam RC Modelers
Website: http://sfdrcm.clubwebsource.com/
Location: East of City of Hope Medical Center, Duarte.
Sierra Flyers Club
Telephone: 530 415 6929
Location: Yuba County Airport, 1364 Sky Harber Drive, Marysville.95901.
Silent Electric Fliers Of San Diego
Website: www.sefsd.org
Location: Sea World Drive and South Shore Road. San Diego.
Simi Valley Flyers
Website: www.simivalleyflyers.com
Location: Simi Valley.
South Bay Soaring Society
Website: www.sbss.org
Location: flying sites in San Jose, Santa Clara, and Davenport.
Southern Alameda County Radio Controllers
Website: www.sacrc.org
Location: Off of Benson Rd., Union City.
Tokay Radio Control Modelers
Website: www.trcm-lodi.org
Location: on Tyler Island, Lodi.
Torrey Pines Gulls Soaring Society
Website: www.torreypinesgulls.org
Location: San Diego.
Trabuco Flyers
Website: www.trabucorcflyers.com
Location: Trabuco Creek Road, Trabuco Canyon, CA 92679.
Tracy Skyliners R/C Club
Website: www.tracyskyliners.net
Location: Tracey.
VictorValley R\C Flyers Inc.
Website: www.vvrcf.org
Location: 7000 Lake ArrowHead Rd., Hesperia.
Wine Country Flyers
Website: www.wcflyers.com
Location: Sonoma County.
Woodland-Davis Aeromodelers
Website: www.wdarc.org
Location: 20 miles Northwest of Sacramento between Woodland and Davis.

Use the AMA club search for more California rc airplane clubs.

Is your CA Club not listed? Submit it here.
Return to rc airplane clubs directory index.