Electric RC boat motors
Electric rc boat motors come in several different types depending on the type of boat that the motor is going to power.
The standard wound (brushed and brushless) motor with direct drive running hardware is the most common, particularly in entry-level rc boats, but other motors and setups include electric outboard, hydrodrives and jet drives.
Shop for electric rc boat motors.
Popular sizes of electric motor for a typical RTR (Ready to Run) rc 'sport' boat are the '500' or '700' size motor, the 700 being more powerful. Electric motors for rc boats do vary in power but these common size motors are based on the traditional 6 volt or 7.2 volt NiMH rc battery pack. These are the most likely sizes that you'll find if you buy an RTR boat, and either size provides plenty enough power for the novice to learn on.
Newer, more powerful brushless motors and Li-Po battery packs give more speed and longer duration - better for club racing. These setups are becoming ever more commonplace in the radio control boating hobby.
Below is a picture of a common electric rc boat motor setup showing motor, battery pack, electronic speed control (ESC), receiver and rudder servo...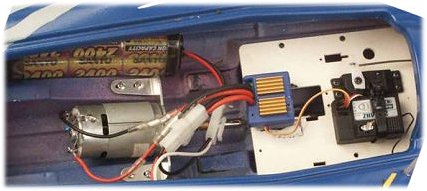 Go brushless!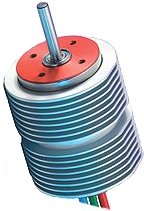 A relatively recent development of the electric motor for rc vehicles of all types is the aforementioned brushless motor (shown right).
Carbon brushes are an essential component of standard wound electric motors and are the part most likely to need replacing first, as they wear out from rubbing against the rotating commutator. This rubbing action also creates friction which makes the motor less efficient.
A brushless motor, as the name suggests, does not have these brushes and can deliver an enormous amount of power for their size, sometimes up to 300% more than their brushed motor equivalent. So not only do you have the greater power and efficiency, you won't need to replace any brushes on a regular basis!
Electric outboard motors aren't hugely popular in the world of entry level boats but are available for use on tunnel hull racers or where scale authenticity is required. A popular example is the Kyosho Dolphin, shown below...
Everything is housed within the plastic casing, it's just a case of attaching the motor to the back of the boat and setting up the radio control linkages. Again, an outboard motor like this will likely be using the standard '500' or '700' size electric motor.
Jet drives are a fairly recent addition to the world of electric rc boats. The principle difference is that no propeller is used, instead 'impellers' take their place.
An impeller is a very small multi-bladed prop that is located inside a duct. It spins at very high revs per minute (RPM) and sucks water into the duct from beneath the boat's hull, then expels it at the rear of the boat at a very high speed thus pushing the boat along.
Again, a typical jet drive for an electric rc boat may be powered by a 500 or 700 size standard electric motor.
Rudders aren't used on rc boats that have jet drives because the steering is controlled by directional movement of the jet drive and hence the jet of water. An example of an electric rc boat jet drive outlet, with 'reverse buckets', is shown below...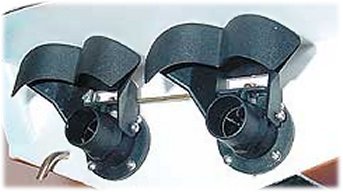 Speed control for electric RC boat motors
All electric rc boat motors require some kind of speed control, these can be either mechanical (on older boats) or , more commonly, electronic.

A mechanical speed control requires the use of a servo to operate it, whereas an electronic speed control (ESC) plugs directly into the receiver of the boat, in to the throttle slot. These are by far the best and most widely used in electric rc boats because they offer precise control of the motor and are completely maintenance free with little or no setting up required.
An advantage that an electric rc boat with an ESC has over a nitro rc boat is the ability to reverse. Not all speed controls have this option, but the majority of them do and it can be a nice function to have if you find yourself stuck against something, and going backwards is the only option!
Water cooling an electric RC boat motor
It's worth noting that the more powerful the motor, the hotter it will get while running. This is bad news; prolonged and excessive heat can result in the early death of the motor by 'burning out'.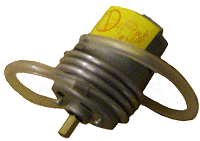 For this reason you may need to buy some kind of water cooling kit. These consist of a length of plastic or silicon tubing, sometimes pre-coiled, and an intake and outlet valve. A small hole just big enough to take the intake valve is drilled at the rear of the boat, usually just behind the prop.
A second hole to fit the outlet valve is drilled somewhere in the side of the boat close to the motor. The tubing is then attached to one of the valves, coiled around the motor and attached to the other valve. As the boat speeds along pressure forces water up the intake valve, through the tubing and out through the outlet valve.
As the water rushes round the motor, it takes a lot of heat away from the motor and helps keep it much cooler than it would otherwise get.
Electric rc boat motors are available here.
Related pages

Electric RC boats.

Nitro RC boats.

Gas RC boats.
Return to RC boats 'index page'