'Gas' RC helicopters (glow / nitro)
- a dying breed?
Building and flying gas rc helicopters is ultimately very rewarding but the complexity and costs involved often dissuade beginners from this demanding and serious sector of radio control flying.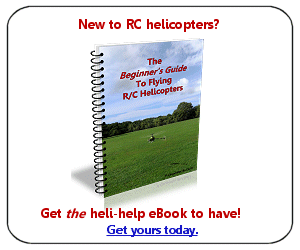 Incidentally, in the radio control hobby the term 'gas' is often a generic one used to cover all IC (internal combustion) power types. Technically speaking this is wrong, since 'gas' is short for gasoline (petrol). But this page does use the word in its generic sense, even though the page is actually about glow plug powered rc helicopters.
True gas powered (i.e. petrol) radio control helis are much larger, as are gas turbine ones.
The popularity of glow plug powered rc helicopters has waned in recent years as electric rc helicopters have become increasingly more available, affordable and easier to fly. The brushless motor/Li-Po revolution has seen many gas heli pilots convert to electric power (EP) and many stores have simply stopped stocking gas rc helicopters because of this.
But that's not to say that such helicopters are a dying breed; IC helis will always have their place and their loyal band of followers, just like IC planes will. But it is very fair to say that electric rc helicopters are much more popular and 'more accessible' to the masses.
If your heart is set on learning to fly a gas rc helicopter from scratch, or moving up to one from electric, then it's important to understand that they are serious business and you need to be very aware of what's involved in terms of both cost and learning to fly one, before you jump in with both feet.
Fortunately for the newcomer there are glow plug powered radio control helicopters such as the popular and much loved Thunder Tiger Raptor V2 that are suitable as entry level models, as well as being capable of advanced aerobatic flying.
The term 'entry level ' may sound odd given the seriousness of gas rc helicopters but if you do want to fly this type of helicopter without progressing up the electric heli ladder first then an entry level gas helicopter is certainly what you need!
The Thunder Tiger Raptor can be seen below: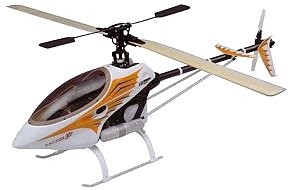 Gas rc helicopters are available here.
The Raptor V2 is one of the most popular gas rc helicopters flown by novice pilots and is renowned for its stability and 'flier-friendliness' in the air. But of course, even an entry level helicopter like the Raptor has a very steep learning curve and is a very serious radio control model aircraft.
While the Raptor is available in RTF (Ready To Fly) form, another favourable option is to build your helicopter from a kit or buy an ARF (Almost Ready To Fly) one. This is no bad idea at all because having to assemble the helicopter will teach you much more about it and you'll be a lot more familiar with how everything operates.
Building and setting up a complex rc helicopter is an involved process but ultimately very rewarding and satisfying, and if (when) a crash happens and you need to strip down your heli and replace parts, you'll be that much more familiar with the process if you've already built the heli in the first place. Indeed, the majority of IC helicopters are sold in kit or ARF form, there are actually very few RTF ones out there.
Gas RC helicopter maintenance
A glow plug, or any IC, powered rc helicopter is a complex machine (as are the larger EP helis) and if you intend going down this road then you need to be fairly mechanically minded.
If you're not (but you want to learn) then seeking help from an experienced rc heli flyer is a must. Not only do you have the complexities of setting the helicopter up initially, but you also have the engine to think about.
Maintenance is an ongoing thing with a radio control helicopter, and a heli must be kept in tip-top shape for it to perform well and safely. This is true for all rc helicopters, but especially true for glow plug ones and the mechanical issues that go with an engine and clutch power system.
Learning to fly gas RC helicopters
If you already fly rc airplanes then you will have a slight advantage in learning to fly an rc helicopter in that you will have already gained the reactions needed and developed the necessary hand-eye co-ordination. But it is important to understand that gas powered rc helicopters do require a much greater level of concentration and respect, and the guidance of a suitable instructor should be a priority; one on one instruction is by far the best method of learning to fly your heli.
A radio control flight simulator such as the excellent Phoenix sim is highly recommended especially if you can't find an instructor or experienced rc heli pilot to teach you. Modern day sims like Phoenix (shown left) are excellent training aids and almost essential for learning to fly a complex collective pitch helicopter from scratch.
And on the topic of learning to fly a radio control helicopter, have a look at the Beginner's Guide To Flying RC Helicopters e-book; primarily covering electric powered helicopters it will give you a solid base of knowledge for any power type radio control helicopter.
However you learn, flying gas rc helicopters is a massive achievement and will reward you with a great deal of fun and exhilaration, and if you reach the dizzy heights of 3D helicopter flying then you've truly made it to the top!
But please do be aware that larger radio control helicopters demand a lot of respect, otherwise bad things can happen!
---
RC helicopter radio gear
In days gone by there were separate radio control transmitters sold for airplanes and helicopters, with heli transmitters being slightly more complex as a helicopter demands more channels.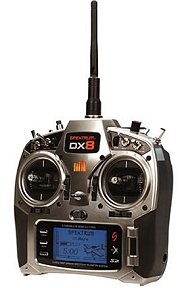 But those days are over and most manufacturers now produce transmitters that cater for planes and helicopters (and gliders) all in one. This has been made possible with computer based transmitters, by programming airplane and helicopter specific menus in to the Tx software.
It's all clever stuff and being able to use the same transmitter to control a plane or heli is now commonplace.
An example of a moderately priced radio set suitable for helicopter and airplane pilots is the Spektrum DX8, shown right. It's what I have and is a very good quality transmitter with all the programming needs you can think of, plus a few more!
There are many others available of course, but the DX8 does represent very good value indeed and I can recommend it from personal experience.
RC helicopter reading
Besides the internet, handbooks are worth having and can be another invaluable source of reference to keep on the shelf - below are a couple of examples:


Radio Controlled Helicopters by Nick Papillon
"In this updated edition, the author provides a guide for newcomers and others interested in new developments in the design and manufacture of radio controlled helicopters..." (customer review extract). Read more


The Basics of Radio Control Helicopters: Everything to Know from Start-up Aerobatics by Paul Tradelius
"This book is very well setup and organized for the beginner in mind. It does not assume that you know everything..." (customer review extract). Read more

Use the search box to the right to check out more rc helicopter books and magazines at Amazon:
Hopefully this page has given you a brief insight in to gas rc helicopters and what's involved. Are they a dying breed? I don't think they'll ever become extinct, but they have lost the battle with electric power, for the time being at least.

Browse some gas rc helicopter kits.
Related pages

Electric rc helicopters.

Coaxial rc helicopters.

Beginner rc helicopters.

RC flight simulators.

RTF rc helicopters.

RC helicopter controls.

Thunder Tiger Raptor.

JR Venture.

How helicopters fly.