Mini RC airplanes
It's a blurry line that defines the size of radio control planes these days, but mini rc airplanes can be seen as bridging the gap between micro rc airplanes and the 'standard' size planes. Incidentally we'll just talk about electric planes for the purpose of this page.
Given the vast number of rc airplanes available these days, there are plenty around that can be put into the 'mini rc airplanes' category, and one popular example is the Mini Super Cub from HobbyZone.
With a wingspan of less than a meter (actual span: 31.75 in / 806 mm) this RTF electric rc airplane is a smaller cousin to the hugely popular and successful Super Cub, one of HobbyZone's biggest sellers to date.
The Mini Super Cub RTF is a 3 channel plane, like its bigger cousin, and despite its smaller size it still features HobbyZone's trademark Anti Crash Technology™ that returns the plane to straight and level flight if the pilot gets in to difficulties. The ACT can be turned off or permanently disconnected if you don't want it; indeed many HobbyZone plane owners prefer not to have it connected.
The Mini Super Cub doesn't feature the X-Port™ technology, though, so aerial games such as parachute dropping and aerial combat can't be enjoyed with this particular mini rc airplane.
The high wing stability of the Mini Super Cub gives it a proven track record as a very nice rc airplane for beginners to learn on, and 3 channels instead of 4 keeps things basic until you're ready to make the jump to more advanced planes.
While on the subject of Cubs, another one available is the UMX Carbon Cub SS from E-flite. This is smaller still, at 24" (610mm) span, and features the new AS3X stabilisation technology.
Two optional features makes this mini rc plane very attractive - a float set and mini glider towing ability! But this great little plane isn't available in Ready To Fly form, just PNP and BNF.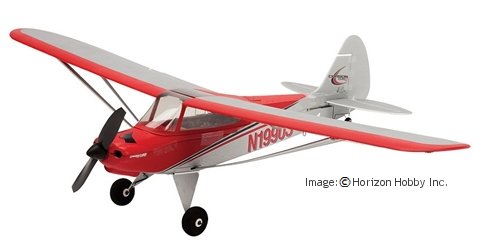 Of course, the great thing about Cubs is that they're just lovely to fly, and will always be a popular choice.
Mini vs. micro RC planes
When this page was originally written there weren't really any micro rc airplanes available, and the smallest planes you could buy were commonly referred to as mini rc airplanes.
But in recent years there has been an influx of micro and ultra micro electric RTF airplanes into the hobby, and today's label of 'micro' has all but replaced 'mini'. ParkZone's Ultra Micro range has been hugely popular, with its mix of sport, aerobatic and warbird planes all at around 15" wingspan.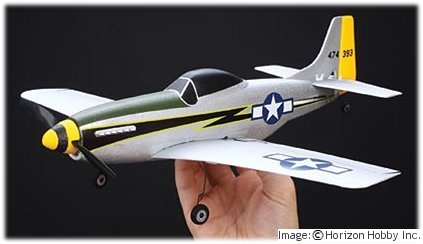 Above: Ultra Micro planes like this P-51 are hugely popular now.
These tiny, fully functional electric rc planes are intended for indoor flying or outdoors on calm days, as they are easily adversely effected by the wind. Obviously larger planes can handle wind better but even something like the HobbyZone Mini Super Cub shown at the top of this page will have its limits; its foam construction means a relatively lower weight, which is good for flight performance but not so good for windy days.
So is smaller better?
Well, yes and no. Yes because mini rc airplanes can be flown in smaller areas. They are cheaper to buy. They carry relatively less mass so impact damage is often on a reduced scale, although this is obviously going to be determined by the speed and severity of impact. And, quite simply, some guys just prefer smaller radio control airplanes!
No because, generally speaking, bigger planes do fly better. Their heavier weight acts to stabilise them more in the air, and they are less adversely effected by wind. In short, bigger planes are less twitchy than smaller ones.
So, as always, there are two sides to the coin. But if you have limited airspace in which to fly, or are on a limited budget, or just prefer the smaller things in life, then mini rc airplanes are an ideal solution - if your airspace is even smaller still, then a micro plane is the answer!

Shop for mini rc airplanes at Red Rocket Hobbies.

Related pages

Micro rc airplanes.

Indoor rc airplanes.

Beginner rc airplanes.

Electric rc airplanes.

How to fly rc airplanes.