ParkZone Extra 300 (PNP review)
The ParkZone Extra 300 is the first scale fully-aerobatic airplane to join the ever-growing PZ range of foam electric rc airplanes, and is a change in direction from their successful line of warbirds that have dominated the scale ParkZone line-up for a while now.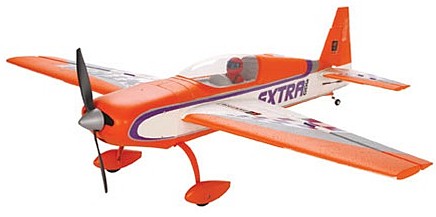 Only available in PNP and BNF (Plug-N-Play and Bind-N-Fly respectively) forms - i.e. no RTF version - the Extra 300 is a very welcome addition to the range. Designed by Champion pilot and designer Mike McConville, as other top selling Horizon Hobby products have been in the past, the Extra 300 is equipped with a powerful 15 size brushless outrunner motor, slightly tweaked from the standard one used in other HH airplanes, and uses a (recommended) 2200mAh 25C Li-Po pack for ultimate performance.
An E-flite Pro 30A Switch-Mode BEC-equipped ESC comfortably handles the current draw, and the whole powertrain set-up gives this fully aerobatic plane ballistic performance at full throttle, with most aerobatic maneuvers being comfortably achieved at 70% throttle or so. This Extra 300 has a definite "goes where you point it" feel about it and knife edge flight is precise and smooth.
My ParkZone Extra 300 experience
After the hype about the Extra 300 I just couldn't resist the temptation to get one and opted for the PNP version as I had a spare Spektrum AR6200 kicking about to use with my DX6i radio.
The big box duly arrived and having had ParkZone products in the past the packaging was as I expected; ParkZone really do pack their products well and you'd have to be very unfortunate for your airplane to suffer any transit damage.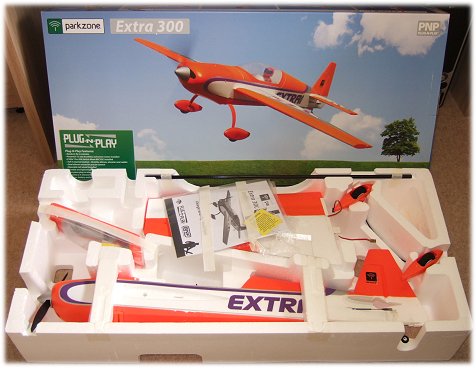 In the box was the fuselage, two wings, tailplane, landing gear, carbon spar, cockpit hatch, instructional manual and a small bag of bits. The fuselage had a definite 'chunky' feel to it and the colour scheme is a striking one, certainly disorientation shouldn't be an issue here!
The plastic moulded wheel covers are of good quality and the landing gear simply pushes in to its respective slot, and then two plastic leg covers are screwed into place over each wire leg, to complete the look.
The tailplane slides snuggly into its plastic holder and is held in place with four pieces of clear tape. The biggest job was to install the AR6200 Rx but this only took a minute, with the main unit sitting in the slightly recessed receiver bay already there and the remote unit going next to the battery pack bay, just aft of the ESC. Realistically this was about the only place it could go.
With my ParkZone Extra 300 ready to go I was still waiting on the Li-Pos to arrive from Hobbyking; unfortunately the Zippy Flightmax packs I wanted were on backorder so I opted for some Rhino packs (2 x 2200mAh 25C 11.1V). They duly arrived and finally the day came to go to the field.
I met up with a friend from my forum who already had an Extra 300 and had flown it several times. The wind was a bit more than I would have wanted for a maiden flight but it was flyable, so after a quick assembly of the plane I was ready to go.
Take off was surprisingly smooth on some bumpy and longish grass, this plane clearly had plenty of power at its disposal. A few trimming circuits were flown but not much trimming had to be done; the CG seemed good with the battery pack pushed all the way forward as recommended in the manual.
The wind wasn't helping much and in typical foamie fashion the Extra 300 was getting knocked about a fair bit. But I managed to pull off a few aerobatics and a bit of knife edge flying and all seemed good. It's slow speed characteristics seemed friendly enough but I must admit to experiencing a couple of little incidents (stalls) that I put down to odd gusts of wind, but all was to be revealed later...
After a successful couple of flights we had to call it a day, and I drove home very pleased with the my new purchase but wishing I could have had a calmer maiden flight. I was also pondering those couple of occasions when my Extra caught me by surprise with some unexpected stalls. Several days later my attention was drawn to a forum post with a link to a ParkZone bulletin and other forum threads on the topic of the ParkZone Extra 300 wings not being as symmetrical as they should be - what ?!
Now being a fully aerobatic airplane, a symmetrical wing section is quite important and it's clear that something had gone a bit wrong with the ParkZone Extra's wing moulding; the upper surface, although symmetrical at the root, was definitely flatter on top!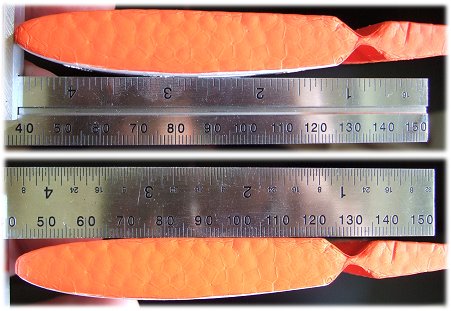 Above: compare the curve of the underside of the wing (top pic) with
the flatness of the top surface (bottom pic).
Following the advice of other owners, I flipped the wings over for my next trip out. There are no fitting issues with doing this, the wings slide in to place just as well and the screw holes line up as they should - the only thing you do need to do is remember that the wings are upside down when you're watching the plane in the sky, so don't become confused with which way up it is!
The difference was definite - the flying characteristics of the new 'inverted wing' Extra 300 were much nicer than before with a more solid feel to it in the sky. I threw it about a lot more than I had done on its maiden flight with more knife edge, spins and a couple of rolling turns and it responded perfectly. As good as it was to fly before, there's no doubt that turning the wing over so that the flatter side is underneath (as in a normal semi-symmetrical section) improves the flying characteristics even more.
Since discovering this issue with the wing section I've also inverted the tailplane so that the colour scheme matches, and de-stickered the wings and painted the new underside with more silver. It looks perfectly acceptable in my opinion and having the aileron servos on top isn't so much of an issue...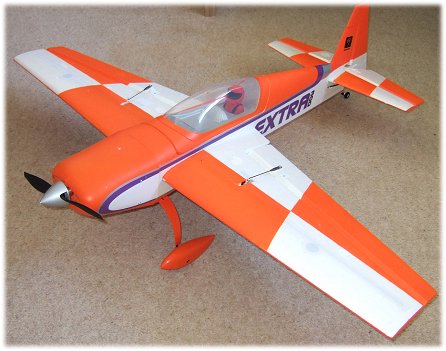 Above and below: my new look Extra 300 still looks great with inverted wings and tailplane, and flies better!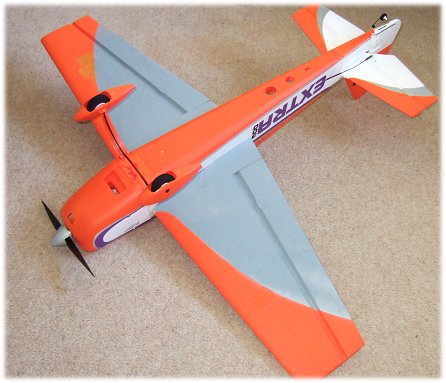 Well, putting the wing issue aside, because it's easily rectified by flipping the wings, there's no arguing that the ParkZone Extra 300 is a great plane and a true joy to fly.
With the stock powertrain set up my inline watt meter gave a full throttle reading of 37A and 418W, and a mid-throttle reading of 11A. With my Extra tipping the scale at just under 35oz it has a very healthy 191W/lb (Read more about the Watts Per Pound rule) and this is clearly evident in its performance.
Here's the official product video, hear what Jim Booker and Mark Andren of Horizon Hobby have to say about the Extra:
ParkZone Extra 300 specs & features
These include:
Wingspan: 40.6 in (1030mm)
Length: 36.8 in (935mm)
Flying Weight: 34.5 Oz (980 g)
Motor: 15-size 950Kv brushless outrunner
Prop Size: 10.5 x 9
Steerable tail wheel
Durable Z-Foam construction, easy-orientation colour scheme (orange/white/purple)

The ParkZone Extra 300 is available here.
Related pages

Basic rc airplane aerobatics.

Aerobatic rc airplanes.

Electric rc airplanes.

ParkZone rc airplanes.