RC hydrofoams
RC hydrofoams are a new(ish) breed of radio control boat / airplane / vehicle, and there are several different ones being marketed. The Airship F4 is just one example of an RTR/F (Ready To Run/Fly) hydrofoam, another one is the Storm Launcher, shown below...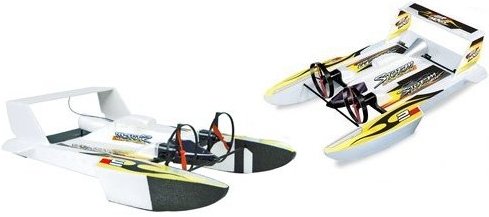 The basic shape is of a flat-bottom hydrofoil boat, but the body is profiled in such a way that it starts to generate lift at certain speeds. Combine this airfoil section with a pair of 'elevons' (combined elevator and aileron control surfaces) and a powerful motor and airplane prop, and you get an rc boat that can fly, kind of...
But not only can rc hydrofoams be driven on water or flown through the air, they can also be driven over short grass, snow or pretty much any kind of surface that an rc hovercraft can be driven on.
RC hydrofoams are a lot of fun, but be warned - they're not for the beginner, or the faint-hearted for that matter!
Having said that, Air Hogs do market the Storm Launcher as a toy, which indicates that it's suitable for any age. Personally I'd disagree with this, because although driving an rc hydrofoam on land or water is easy enough, the flying side of hydrofoams can prove tricky - they're about the most unstable rc aircraft available, I think!
Because of this inherent instability, it has to be said that an inexperienced user could very quickly get into difficulties. But they are also very tough, and easily repaired - obviously an rc product like this which is marketed at almost anyone has to be tough and robust, and Air Hogs have made sure that that is indeed the case with the Storm Launcher.
RTR/F rc hydrofoams like these are testament to what's capable these days, in terms of mass-production for the radio control hobby industry. And from the modeler's point of view, to be able to buy a ready-to-go rc vehicle that can be used as a boat, hovercraft and a plane, for not a great amount of money, can only be a great thing!
You can get an idea of an rc hydrofoam in action, from this Storm Launcher video...


Amazon also sells radio control hydrofoams.
.
Related pages

RC hovercraft.