RC plane sound module
In recent years it's become possible to add an rc plane sound module to your airplane, to give the model a realistic engine noise. Up to now, though, such modules have needed big and bulky speakers to deliver the quality of sound, thus limiting them to larger scale planes.
Now, thanks to excellent developments in speaker technology, a much smaller rc plane sound module is available and is being marketed by computer technician Andrew Lawrence, under the brand name MrRCSound.
The smaller size of the module enables it to be fitted in smaller scale planes, particularly the foam electric warbirds that have become so popular in recent years.
You can read more about Andrew's units and purchase them through this website, rc-airplane-world.com. More info is on the MrRCSound system page.
The photos below show the size of speaker used: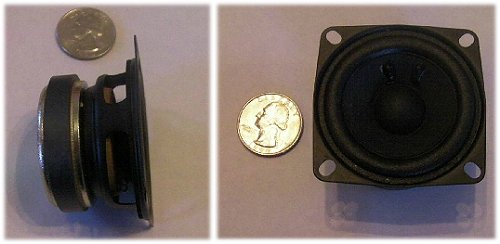 How an RC plane sound module works
It's a simple gadget that consists of a sound card, amplifier and speaker. The sound card is loaded with one or more recordings of actual aero engines at various throttle settings, including start up and shut down sequences. A gun/canon sound and flashing LED is also available.
The module connects to the throttle channel of the receiver and the ESC, and responds directly to your transmitter stick inputs. With the stick fully down you'll hear the engine ticking over, push the stick forward and hear the engine spring into life! Start-up and shut-down sequences can also be loaded onto the sound card.
This video demonstrates the rc plane sound module in action, this one with the gun sounds...
Current engine sound choices include the mighty Merlin, Daimler-Benz, Allison and Lycoming, as well as the Wright Cyclone and BMW. Some versions of the sound modules also offer gun and cannon sounds too.
As you can see, an rc plane sound module would make an excellent addition to any warbird!
Get your rc plane sound module using this link.
Related pages

Overview of the MrRCSound system.

Electric rc airplanes.

RC warbirds.

Art-Tech AT-6 Texan.