Toy RC airplanes
- get the kids flying too!
It's amazing how many toy rc airplanes have appeared on the shelves of shops in recent years. When I was learning to fly radio control, it was nearly impossible to buy anything less than a large multi-channel kit that needed building from plans, and the idea of getting a fully prepared proportional plane from a toy shop was just crazy!
Nowadays the technology of advanced, miniaturised radio control components has brought about the introduction of so many toy rc airplanes, at very affordable prices.
But what defines a toy rc airplane?
It's a blurry line, because there are so many basic 1 or 2 channel rc airplanes these days that kids as young as 8 years old can enjoy.
As a very general rule, any rc plane that is bought fully assembled (or at most needs the wing to be strapped to the fuselage), has no more than 2 channel control, is of plastic/foam construction (durable and tough) and is relatively small in size can be loosely defined as a toy rc airplane.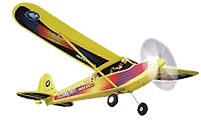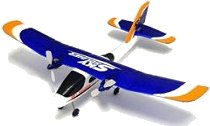 Above: two popular examples - the CC Flyer and Sky Soldier.

Check for toy rc airplanes on eBay.
Getting your child such a plane is a great way of introducing him or her to the hobby of rc flying; they'll quickly get the hang of it and develop the necessary hand/eye co-ordination that's essential for flying any kind of radio controlled model airplane or helicopter. And it's got to be healthier than sitting in front of the video game consol for hours on end!
But toy airplanes aren't just great for kids - they are an excellent way for adults to try their hand at rc flying too; if you've been thinking about getting into the hobby but don't want to risk spending lots of money on something that you might not enjoy as much as you thought, then buy a cheap and simple toy plane to have some fun with.
OK, so such a plane won't be as exciting to fly as a proper multi-channel rc airplane, but it will at least give you the basic feel of flying a radio control model airplane, and then you can decide if you want to pursue the hobby further.
All in all, it's a great thing that so many toy rc airplanes have become available in past years, and the good news is that they're definitely here to stay.

Check for toy rc airplanes on eBay.
Related pages