Arkansas RC airplane clubs
and flying fields
Approximate field locations have been given for these rc airplane clubs of Arkansas (AR), just to help you identify a club in your area.
For more detailed locations and directions, times and addresses of club meetings and for membership details, please visit the club's website by clicking on the active link.
If you know of an rc airplane club or flying field in Arkansas that isn't listed here, please take a couple of minutes to submit the details using the simple submission form, and help us build a bigger and better rc club directory!
If you find a dead or broken link while using this page, please report it here - thank you very much.
---
Map of Arkansas
Click the image to open Arkansas in Google Maps...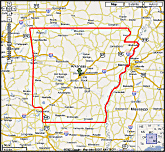 Arkansas clubs:
Arkadelphia Prop Twisters R/C Club
Website: www.facebook.com/groups/330074467337698/
Location: 82 Egger Road, Arkadelphia.
Arkansas Sky Tigers
Website: www.arskytigers.com
Location: Arkansas River Trail Rd., Mayflower.
Benton County Flying Tigers
Website: www.bcft.net
Location: Rogers.
Central Arkansas Model Aviators Association
Website: www.camaa.org
Location: 5 miles from Macdonalds, off West Sardis Road, Bryant.
El Paso Country Flyers
Website: www.flyelpasorc.com
Location: 10 miles west of Beebe on Hwy 64 to John Smith Rd.
Flightmasters Model Airplane Club
Website: www.fortsmithflightmasters.com
Location: US Hwy 71 & Treece Road, Fort Smith.
Henderson RC Flying Club
Website: www.hendersonrc.com
Location: 1/2 Mile East of 67/167 on Tramel Rd, North Little Rock.
Contact: Greg Shane, 501-944-2001.
Hot Springs RC Flyers
Website: http://hotspringsrcclub.com
Location: Hot Springs National Park.
Mid Arkansas Radio Control Society
Website: www.themarcs.org
Location: Little Rock.
NEAMA
Website: www.neama.net
Location: Paragould.
Piggott R/C Modelers Club
Website: www.facebook.com/piggottrcmodelersclub
Location: E. Pfieffer St., Piggott.
Siloam Springs R/C Modelers
Website: www.siloamspringsmodelers.org
Location: Allen Field is located in the 2500 block of Waukesha Road.
Use the AMA club search for more Arkansas rc airplane clubs.
Is your AK Club not listed? Submit it here..
Return to rc airplane clubs directory index.