RC for kids
Who'd have thought it?! RC for kids is a very fast-growing (pardon the pun...) sector of the radio control market, and it's easy to see why. Young kids just love to see things 'happening' and, at an early age, being able to make something move without touching it is just pure magic!
Obviously, the technology between a complex multi-channel rc airplane or helicopter and a simple stop/go/left/right rc toy is on somewhat of a different level, but getting your child a radio control toy at an early age is a great way to get the co-ordination and reflexes going - in much the same way as gaming consoles do, but without the damaging strain on the eyes.
RC toys for kids are generally very robust (they need to be!) and very simple to operate. Chunky, colourful products such as vehicles, robots and animals are becoming more widely available, and they don't really stretch the bank balance too much either. It's understandable, though, that most rc for kids is ground-based, although there are some basic airplanes available.
As your child develops, he or she will undoubtedly have better reflexes and co-ordination as a result of regular playing with an rc toy. And as time goes by, it won't be long before you can start teaching them to operate a proper multi-channel rc model - or perhaps they'll be the one teaching you!
RC for kids - some examples
Amazon is one of the best places for picking up kids' rc toys and products. Shown below, in no particular order, are some radio control toy examples for the little ones...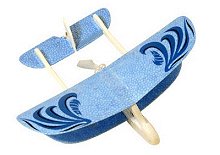 Silverlit Palm Z

This micro-size rc plane isn't suitable for the really young, but an 8+ year old should be able to enjoy some fun with it. It's light, tough and has simple controls, rc planes like this are about as simple as it gets for air-based kids' radio control.
IR micro helicopters

Not for the ultra-young, but my niece didn't have much trouble flying one of these when she was 6! The great thing about these micro helicopters is that they are so light, they just bounce off any walls or ceilings without breaking. Simple 2 channel control make them easy to fly, and lets face it, flying a little helicopter in the bedroom is just too cool a thing to miss out on when you're a kid!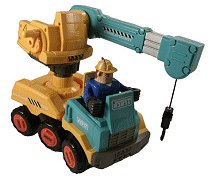 Mighty Mover

For the younger kids, RC toy construction vehicles are always a hit, and are becoming increasingly popular to buy. These tough and chunky Mighty Mover construction vehicles are a great choice, as it's the driver that moves to control the vehicle.

Construction sets

While on the subject of construction vehicles, these construction sets are the ultimate kids' rc set-up. Recommended for ages 6+, this particular example is the Rokenbok Conveyor Company R/C Start Set, with enough components to keep anyone busy!

RC cars

You can't go too far wrong with rc cars for kids, there is a multitude of cheap rc toy cars and trucks available these days. The obvious thing to watch for is speed, the slower the better if crashes are to be avoided, and confidence built!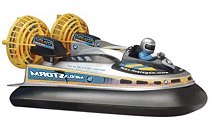 RC hovercraft

All-terrain rc fun is a great attraction for kids, and a hovercraft is an excellent choice for something different. Easy to control and lots of fun, rc hovercraft can be driven over any smooth surface, including water and snow - ideal if you live somewhere where there's lots of weather! And because of the inflated skirt, this type of vehicle won't do much damage on impact.
Below are some more recommendations from Amazon:
Without question, buying something rc for kids is a great and very beneficial thing to do. As previously mentioned, not only will they have heaps of fun playing with a radio controlled toy, but regular use of it will help develop hand-eye co-ordination.
The radio control hobby is packed with benefits, in general, and introducing the Little Ones to rc stuff at an early age can only be a good thing!
Related pages

Toy rc airplanes.

Beginner rc airplanes.

Beginner rc helicopters.