Alabama RC airplane clubs
and flying fields
Approximate field locations have been given for these rc airplane clubs of Alabama (AL), just to help you identify a club in your area.
For more detailed locations and directions, times and addresses of club meetings and for membership details, please visit the club's website by clicking on their link.
If you know of an rc airplane club or flying field in Alabama that isn't listed here, please take a couple of minutes to submit the details using the rc plane club submission form, and help us build a bigger and better rc club directory!
If you find a dead or broken link while using this page, please report it here - thank you very much.
---
Map of Alabama
Click map to view Alabama in Google Maps...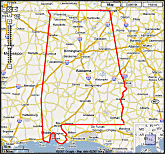 Alabama clubs:
Alabaster RC Association
Website: www.alabasterrc.org
Location: Hwy 31 south Alabaster, AL 35007.
Anniston RC Flyers
Website: n/a
Location: Pleasant Vally Road, Eastoboga, AL.
Contact: James Thompson - kcspawdy @ aol . com (no spaces).
Auburn Planesman R/C Flying Club
Website: http://auburnrc.blogspot.com
Location: County Road 24 and County Road 22, Auburn.
Azalea City Model Aeronautics
Website: www.acma-rc.com
Location: "Irvington Field", Old Irvington Landfill, 7195 Half Mile Road, Mobile.
Bay Area Radio Control Society
Website: http://bayarearcsociety.com/
Location: 15498 Lillie Lane, Summerdale.
Birmingham RC Association
Website: www.facebook.com/Birmingham-RC-Club-288511041217692
Location: Sardis Rd Morris, AL.
Cheaha Radio Control Club
Website: www.facebook.com/CheahaRC
Location: Lineville.
Decatur Model Airplane Club (DMAC)
Website: www.ourdmac.com
Location: Please see website for airfield locations. Club meeting every second Thursday at 6:30pm at the Aquadome, Decatur.
DeKalb R/C Flyers
Website: www.dekalbrcflyers.com
Location: Ft. Payne.
Fountain City Flyers
Website: www.fcflyers.com
Location: Prattville.
Huntsville Heli Flyers
Website: www.huntsvilleheliflyers.org
Location: Huntsville.
Rocket City Radio Controllers
Website: www.rocketcityrc.com/index.html
Location: Wilbourn Field is located off Leeman Ferry Rd., Huntsville.
Sand Mtn Flyers
Website: n/a
Contact: Billy Horton, 338 Covey Ln
Location: 5621 Mt Hebron Rd., Horton.
South Alabama RC Modelers
Website: http://sarcm.com/
Location: South Cedar Street, 2 blocks west of hwy 59, directly behind Burger King, Foley.
Talladega R/C club
Website: www.facebook.com/Flytalladega
Location: Henderson Lake Rd., Munford.
West Alabama Aeromodelers
Website: www.waam.us
Location: 6655 Watermelon Road, Tuscaloosa.
Wiregrass Radio Control Club
Website: http://wiregrassrc.com/
Location: Hunt Stage Field, Fort Rucker.

Use the AMA club search for more Alabama rc airplane clubs.

Is your AL Club not listed? Submit it here..

Return to rc airplane clubs directory index.