New to RC flying? Get my popular ebook today, to help you on your way!

Alberta RC airplane clubs
and flying fields
Approximate field locations have been given for these rc airplane clubs of Alberta, Canada, just to help you identify a club in your area.
For more detailed locations and directions and for membership details, please visit the club's website by clicking on the active link.
If you know of an rc airplane club or flying field in Alberta that isn't listed here, please take a couple of minutes to submit the details using the submission form, and help us build a bigger and better rc club directory.
If you find a dead or broken link while using this page, please report it here - thank you very much.
---
---
Map of Alberta
Click image to view Alberta in Google Maps...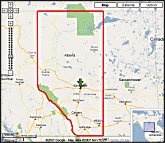 Alberta clubs:
Airdrie Modellers Aircraft Society
Website: www.amasrc.ca
Location: Calgary.
Calgary Miniature Pylon Racing Association
Website: www.maac.ca/en/clubs_details.php?club_id=196
Location: Calgary.
Central Alberta Radio Fun Flyers
Website: www.carff.ca
Location: Red Deer.
Edmonton Radio Control Society
Website: www.ercs.ab.ca
Location: Edmonton.
Medicine Hat RC'ers
Website: http://nonprofit.memlane.com/rcers/
Location: Medicine Hat.
Morinville Radio Control Flyers Club
Website: www.telusplanet.net/public/rmbright/index.htm
Location: Morinville, Albert.
Northern Alberta Fun Flyers
Website: www.northernalbertafunflyers.com
Location: At La Crete Rodeo Grounds.
Red Deer Prop Busters
Website: https://sites.google.com/site/reddeerpropbusters/
Location: West of Red Deer on highway 11A.
Rycroft Wings & Blades
Website: n/a
Location: Rycroft, approx. 8 miles north and 4.5 miles east of Rycroft AB on Volin Rd. 55°52'09.5"N 118°31'44.9"W
Contact: Dennis Pedersen - deltadennis @ wispernet . ca (no spaces)
Stettler Aero Modellers
Website: n/a
Location: Stettler. 52.335637°, -112.677727°
Contact: Howard Fenske 403-742-3092
Strathcona R/C Flyers
Website: www.srcfa.ca
Location: Sherwood Park.
Wabasca RC Airforce
Website: n/a
Location: Wabasca Airport.
Contact: Danny Jackson - 780-273-0670/jaxn67[at]yahoo[dot]com.
Windy West RC Club
Website: http://windywest.weebly.com
Location: Lethbridge.

Submit your Alberta rc airplane club here.

Return to rc airplane clubs directory index.