British Columbia RC airplane clubs
and flying fields
Approximate field locations have been given for these rc airplane clubs of British Columbia, Canada, just to help you identify a club in your area.
For more detailed locations and directions, times and addresses of club meetings and for membership details, please visit the club's website by clicking on their link.
If you know of an rc airplane club or flying field in British Columbia that isn't listed here, please take a couple of minutes to submit the details using the submission form, and help us build a bigger and better rc club directory.
If you find a dead or broken link while using this page, please report it here - thank you very much!
---
Map of British Columbia
Click the image to view BC in Google Maps...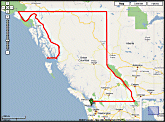 British Columbia clubs:
100 Mile Model Flyers
Website: n/a
Location: 900 Ainsworth Rd., 100 Mile House.
Contact: John Code 250 7068305 / thecodejc @ gmail . com (no spaces).
Aldregrove Propnuts R/C Flying Club
Website: www.facebook.com/groups/845262072534683/
Location: Abbotsford.
Burnaby Lake Flyers Assosiation
Website: www.hoods-up.com
Location:Srott St. and Sperling Ave. at the Burnaby Lake Field, Burnaby.
Campbell River Aeromodel Flying Club
Website: www.crafs.ca/
Location:Craneberry Farms turn Off, Campbell River.
Chilliwack Electric Flyers
Website: www.cef.club/
Location: West of Chilliwack - Map on our website.
East Kootenay RC Flyers
Website: www.ekrcflyers.ca
Location:Biggy field Wilson road, Cranbrook.
Fraser Valley R/C Flyers
Website: www.fvrcf.com
Location:Chilliwack
Fort St.John RC Club
Website: n/a
Location: 2 sites; Traveling north on Hwy 97, exit the city. Turn Left at lights before Charlie lake (Artech Welding on left). Travel on pavement to stop sign. Drive straight on gravel road. Field on the right, after only house on right side.
Second Field: Traveling north on highway 97 north of Taylor, B.C. Turn right before train overpass. Turn right again Towards Beldonnel. Travel straight for 10-14 kms. Field on left, before right hand speed corner. If you are on gravel then you have gone just a little to far.
Contact: Lloyd Gibson, Club President. 250-787-7573
High Country Flyers
Website: www.highcountryflyers.homestead.com
Location:Kamloops.
Kamloops Model Airplane Society
Website: www.kmasrc.ca
Location:Old Yellowhead Highway, Hefley Creek, B.C.
Kelowna Ogopogo Radio Controllers
Website: www.korc.ca
Location: Kelowna
Mission Wings Model Flying Club
Website: www.missionwings.ca
Location: Mission
Oliver Rc Flying Club
Website: n/a
Location: Airport road, Oliver.
Contact: Herman Smit - oliver.rc.flying.club @ gmail . com (no spaces)
Osoyoos Model Aviation Club (OMACRC)
Website: www.omacrc.ca
Location: Hwy 3 Osoyoos
PDQ Flyers
Website: www.pdqflyers.com
Location: Parksville, British Columbia
Prince George Aeromodelers
Website: https://pgam.club
Location: Prince George
Propnuts R/C Flying Club
Website: http://members.shaw.ca/thepropnuts/
Location: Abbotsford.
RCAA Comox Valley
Website: http://rcaa.ca/
Location: 2658 Gunter Road, Merville.
Renegade Flyers
Website: www.renegadeflyers.com
Location: 6964 152 Street, Surrey.
Ridge Flyers
Website: www.ridgeflyers.com
Location: Delta
Shuswap Lake Aero Modelers
Website: www.slams.ca
Location: Blind Bay
Vernon RC Aeromodellers
Website: http://vrcas.org/
Location: L and A Cross Road, Vernon.
Victoria RC Modelers Society
Website: www.vrcms.org
Location: Lochside Drive, Victoria.
West Coast Radio Control Aircraft Flyers
Website: www.wcrcaf.com
Location: Coquitlam

Submit your British Columbia rc airplane club here.

Return to rc airplane clubs directory index.