New to RC flying? Get my popular ebook today, to help you on your way!

Colorado RC airplane clubs
and flying fields
Approximate field locations have been given for these rc airplane clubs of Colorado (CO), just to help you identify a club in your area.
For more detailed locations and directions, times and addresses of club meetings and for membership details, please visit the club's website by clicking on the active link.
If you know of an rc airplane club or flying field in Colorado that isn't listed here, please take a couple of minutes to submit the details using the simple submission form, and help us build a bigger and better rc club directory.
If you find a dead or broken link while using this page, please report it here - thank you very much.
---
Map of Colorado
Click the image to open Colorado in Google Maps...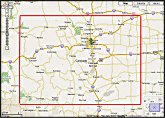 Colorado clubs:
Arvada Associated Modelers
Website: www.arvadamodelers.com
Location: just off Colorado Highway 93 between Leyden Road (W. 84th Avenue) and 64th Avenue, between Golden & Boulder.
Bushwhackers
Website: http://ftmbushwhackers.tripod.com
Location: Fort Morgan, about 80 miles east of Denver on I-76, Exit 80.
Crosswinds RC Club
Website: www.crosswindsrc.com
Location: County Line Road, 4 miles east of the intersection of Delbert Road and County Line Road, Parker.
Denver RC Eagles
Website: www.denverrceagles.org
Location: Cherry Creek State Park, approximately 9 miles southeast downtown Denver.
Fremont County Radio Control Club
Website: www.fcrcc.blogspot.com
Location: State Highway 50 and State Highway 67 junction. 1 mile south of 50/67 junction on State Highway 67.
JEFCO AEROMod'lers
Website: http://jefcoaeromodlers.org/
Location: Chatfield State Park, approximately 20 miles south-southeast of downtown Denver.
Longmont Aircraft Modelers Association
Website: www.lamarcclub.com
Location: Longmont, nr. Denver.
Longmont Electric Aircraft Flyers
Website: www.leafrc.com
Location: Union Resevoir, Longmont.
Love-Air R/C
Website: www.LoveAirRC.org
Location: Loveland.
Mile Hi R/C club
Website: www.milehirc.com
Location: City of Aurora on Quincy Avenue approximately 1.5 miles east of Aurora Reservoir Recreational Facility.
Miniature Aero Sportsters
Website: www.miniatureaerosportsters.org
Location: East of Tower about 8 miles on 120th Between Hayesmount and Watkins, Denver.
Montrose Model Aircraft Association
Website: www.mmaa-modelairplanes.org
Location: northeast of Olathe.
Pikes Peak Radio Control Club
Website: www.pprcflyers.net
Location: the north side of Judge Orr Road, about 4 miles east of Meadowlake Airport, Colorado Springs.
Pikes Peak Soaring Society
Website: www.ppssrc.com
Location: Peaceful Valley Scout Ranch, Colorado Springs.
Rocky Mountain Modeleers
Website: www.modeleers.org/
Location: East of Owl Canyon and I-25 north of Wellington, Fort Collins.
Rocky Mountain Soaring Society
Website: www.rmsadenver.com
Location: North of DIA. NE of Tower RD & 120th Avenue at the turf farm. See website for details/restrictions.
Sky Corral Radio Control Club
Website: www.skycorralrcclub.com
Location: Pueblo.
Sterling Miniature Aircraft Association
Website: www.facebook.com/Sterling-Miniature-Aircraft-Association-218360568249229/
Location: Intersection of CR 38 and CR 39, Sterling.

Use the AMA club search for more Colorado rc airplane clubs.

Is your CO Club not listed? Submit it here.

Return to rc airplane clubs directory index.