New to RC flying? Get my popular ebook today, to help you on your way!

Florida RC airplane clubs
and flying fields
Approximate locations of flying fields have been given for these rc airplane clubs of Florida (FL), just to help you identify a club in your area.
For more detailed locations and directions, times and addresses of club meetings and for membership details, please visit the club's website by clicking on the active link.
If you know of an rc airplane club or flying field in Florida that isn't listed here, please take a couple of minutes to submit the details using the submission form, and help us build a bigger and better rc club directory.
If you find a dead or broken link while using this page, please report it here - thank you very much!
---
Map of Florida
Click the image to open FL in Google Maps...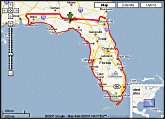 Florida clubs:
Aeromodelers of Perrine
Website: www.facebook.com/AMPSRC
Location: Miami.
Airmasters
Website: www.airmastersrc.org
Location: Sebastian.
Ancient City RC Fliers
Website: www.ancientcityrc.org
Location: 100 yards north of the intersection of State Rd. 13 and County Rd.305 in St. John's county Fla.
Bay City Fliers
Website: www.baycityflyers.org
Location: 22500 S.R. 52, Land O Lakes.
Belleview RC SkyPirates
Website: www.facebook.com/pages/Sky-Pirates-Rc-Club/218439041633448
Location: 5 minutes from Del Web back gate, Belleview.
Buckingmam RC Flyers
Website: http://sites.google.com/site/buckrcf/
Location: Just North of W 18th Street and Prospect Ave in Lehigh Acres, FL 33936.
Can-AM Flyers
Website: www.can-amflyers.com
Location: 2 miles south of SR52 just east of I75, Zephyrhills.
Cape Coral R/Seahawks
Website: https://rseahawks.org/
Location: 1030 NW 28 St., Cape Coral.
Central Florida Sport Flyers Inc.
Website: www.cfsportflyers.org
Location: 37711 Lake Norris Road, Eustis, Florida.
Charlotte Radio Control Society
Website: www.facebook.com/charlottercs
Location: Punta Gorda, off Highway 17 at Washington Loop Road.
Charlotte Sport Modelers Society
Website: www.csms-rc.org
Location: Port Charlotte, near Exit 170 on I-75 which is the intersection of King''s Highway. Upon exiting I-75, travel about 5.5 miles north, we are on the left side, across from the Water Treatment Plant.
Clay County Flyers RC Club
Website: www.claycountyflyers.com
Location: Sleepy Hollow Recycle Center, Doctors Inlet.
Crestview Model Aviators
Website: https://plus.google.com/communities/104673325186445851907
Location: Crestview.
Daytona Beach Radio Control Association
Website: http://dbrca.org/
Location: Just south of the Volusia county landfill on CR-415, Daytona Beach.
Eglin Aero Modelers
Website: http://eglinaeromodellers.org/
Location: The flying field is at USAF Test Site C-3 a few miles north of Niceville on Hwy 285, Fort Walton Beach.
Flying Gators Model Airplane Club
Website: www.flyinggatorsrc.com
Location: Gainsville. (12.55 miles West of I-75, exit 384 on SR 24. Turn right at Levy County Line, 150 yards to FGMAC field on your right through red gate).
Flying High
Website: http://members.tripod.com/~rwc10
Location: Markham Park flying field, Fort Lauderdale.
Florida Control Line Flying
Website: http://brevardfigurenine.com
Location: Titusville, Florida.
Deland Golden Hawks Radio Control Club
Website: www.delandgoldenhawks.com
Location: Deland.
Hernando Aero Modelers
Website: www.hamrc.com
Location: 3 Miles East of Suncoast Expressway on Ponce De Leon Blvd at entrance to Cemex Aggregate Plant.
Highlands Radio Control Club
Website: highlandsradiocontrol.com
Location: Sebring, central Florida.
Imperial R/C Club Inc.
Website: www.imperialrcclub.com
Location: 2 Miles East of Mulberry on the North side of S.R.60, Mulberry.
Indian River Radio Control Club
Website: www.irrcclub.org
Location: 3763 Parsley Lane, New Smyrna.
Island Flyers Remote Control Club
Website: www.islandrcflyers.com
Location: License Rd., License Bureau & Nassau Animal Shelter, Yulee, FL.
Jacksonville R/C Club
Website: www.jaxrc.com
Location: 11473 Island Dr., Jacksonville.
Largo Flying Club
Website: http://largoflyingclub.org/
Location: Near the end of 8th Ave SE, Largo, FL 33771.
Legends RC Flyers
Website: n/a
Location: US27 & Wilson Lake Rd., Clermont.
Contact: Richard Jones - 352 394 4378 or dcjone[at]outlook[dot]com
Mako's RC Jet Club
Website: www.facebook.com/Makos-RC-Club
Location: 3 Miles West of Spice Park in Homestead/Redlands, Miami.
Markham Park Pilots Association
Website: www.mppapilots.com
Location: Sunrise/Ft. Lauderdale - 16001 W. State Rd 84 inside of Markham Park. .
Martin County Modelers
Website: http://martincountymodelers.com
Location: 5400 SE Bridge Rd., Hobe Sound.
Miracle Strip R/C Modelers
Website: https://miraclestrip.wixsite.com/rcmodelers
Location: behind the Bay Dunes golf course. 4836 Fire Tower Rd Panama City, FL 32404.
Moonport Modelers
Website: www.moonportmodelers.club
Location: 4950 Penrod Rd., Titusville.
Mosaic Park
Website: n/a
Location: Homeland - Mosaic Park horse rider facility, just follow the signs.
Contact: r.wills12 @ comcast . net (no spaces).
Nine West Aviation
Website: www.angelfire.com/fl/ninewestaviation
Location: Naples.
Northwest Florida Modelers, Inc.
Website: www.nfmi.org
Location: Fritz Field at the end of Jamesville Road in Beulah. GPS: N30° 31.079 W087° 20.691.
Osceola Flyers
Website: www.facebook.com/osceolaflyers
Location: Reaves Road Fire Station, Kissimmee.
Ormond Beach Radio Control Club
Website: n/a
Location: 440 Nova Road Ormond beach Fla. 32174.
Contact: Jerry Zito - jerryzito18 @ gmail . com (no spaces).
Oviedo Model Airplane Club
Website: n/a
Location: P.O.B 621515, Oviedo FL 32762.
Contact: Robert Fehr 407-416-7371.
Palm Beach Radio Control Association
Website: www.palmbeachrc.com
Location: 10875 Atlantic Ave., Delray Beach.
PEAR Park Pilots
Website: https://sites.google.com/site/electricrcflyers/Home
Location: PEAR Park, Leesburg.
RC Bush Pilots
Website: www.rcbushpilots.com
Location: Dyer Park, Haverhill Blvd. and Dyer Rd., West Palm Beach, Palm Beach County.
R/C Fliers of Venice
Website: www.venicerc.com
Location: Venice.
Remote Control Association of Central Florida
Website: www.rcacf.com
Location: Orlando.
Sarasota R/C Squadron
Website: www.sarasotarc.com
Location: Sarasota.
Sarasota Silent Flyers
Website: www.sarasotasilentflyers.com
Location: Parrish.
Seminole R/C Club
Website: http://seminolerc.com
Location: Tallahasee.
Sky Pirates RC
Website: www.facebook.com/pages/Sky-Pirates-Rc-Club/218439041633448
Location: 9083 SE 110th Street Road, Bellview.
SPARKS
Website: www.sparksrc.org
Location: St.Petersburg.
Southern Eagle Squadron
Website: www.southerneaglesquadron.com
Location: Lady Lake.
Sundancers RC Club
Website: www.sundancersrc.org
Location: Port Saint Lucie.
SWFL MultiRotor
Website: www.facebook.com/groups/284816828576951/
Location: Naples to Fort Myers.
Tampa Radio Control Aircraft Club
Website: www.trac_tampa.homestead.com/index.html
Location: 7208 Taylor Road, Seffner, Hillsborough County.
The Orlando Radio Control Helicopter Society
Website: www.torchs.org
Location: Orlando Speed World on Route 50 in Bithlo.
The Ridge Barnstormers of Lake Wales
Website: http://theridgebarnstormers.com/
Location: Camp Mack Road, Lake Wales.
Tri-County R/C
Website: www.tricountyrcclub.homestead.com/Index.html
Location: Dunnellon.
Triple Creek RC Club
Website: www.triplecreekrc.com
Location: Balm Riverview Road, Balm / Tampa.
West Pasco Model Pilots Association
Website: www.wpmpa.com
Location: Tampa Bay.

Use the AMA club search for more Florida rc airplane clubs...

Is your FL Club not listed? Submit it here.

Return to rc airplane clubs directory index.