New to RC flying? Get my popular ebook today, to help you on your way!

Georgia RC airplane clubs
and flying fields
Approximate field locations have been given for these rc airplane clubs of Georgia (GA), just to help you identify a club in your area.
For more detailed locations and directions, times and addresses of club meetings and for membership details, please visit the club's website by clicking on the active link.
If you know of an rc airplane club or flying field in Georgia that isn't listed here, please take a couple of minutes to submit the details using the submission form, and help us build a bigger and better rc club directory!
If you find a dead or broken link while using this page, please report it here - thank you very much.
---
Map of Georgia
Click the image to open GA in Google Maps.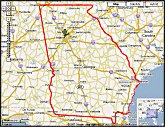 Georgia clubs:
Atlanta Radio Control Club
Website: www.atlrcclub.org
Location: 1600 Constitution Rd SE, Atlanta, GA 30316.
Bartow County Aviation
Website: http://bcmarc.com
Location: Paga Mine Rd SE, Cartersville, 30120.
Big Sky RC Club
Website: www.bigskyrc.org
Location: Sunnydale Road, Menlo. Look for flying field sign.
Coastal Planes RC Club
Website: www.coastalplanesrcclub.com
Location: 2 miles north of Darien on Hwy 17.
Columbus-Ft. Benning Radio Control Flyers, Inc.
Website: www.amaclub217.org
Location: Columbus. Flying Field GPS Coordinates: N32 32 11.80 W84 35 55.15.
Dixie Aeromasters, Inc.
Website: www.dixieaeromasters.com
Location: Overland Way, Gray.
Douglas County Aero Modelers
Website: http://dcamrc.com/
Location: Across from the Douglas County landfill.
Emerald City Flyers
Website: n/a
Location: 3330 Hwy 80 West, Dublin.
Contact: Travis Spivey - blondspi @ bellsouth . net (no spaces).
Fayette Flyers of Georgia
Website: www.fayetteflyers.com
Location: Atlanta.
Georgia Aircraft Modelers Association
Website: http://gamarc.com
Location: Vinson Road, Fort Valley.
Georgia Jets
Website: www.georgiajets.org
Location: 1443 Lillie Patrick Road, Gay, GA 30218.
Georgia Mountain R/C Club
Website: www.gamtnrc.org
Location: 5728 Brookton Lula Road, Gainesville, Georgia 30506.
Hartwell Tailspinners
Website: www.hartwelltailspinners.com
Location: Landfill Rd., Hartwell.
Henry County R/C Club
Website: www.henrycountyrcclub.com
Location: McDonough.
Hill Top Flyers
Website: www.hilltopflyers.com
Location: Loganville.
Ingles Rogue Site
Website: n/a
Location: 1211 Auburn Rd, Dacula, GA 30019 (There's a large open space to the right of the parking lot)
Contact: Injaznito Hines - injaznito @ yahoo . com (no spaces).
Liberty County Blazing Angles
Website: n/a
Location: Air Port Road, Hinnesville. N 31 46 46, W 81 38 04
Contact: Robert Warner: 912-756-8055/robbieshobbies[at]comcast[dot]net.
Newton County R/C Flyers
Website: www.ncrcf.org
Location: Varner Field - Lackey Rd., Covington (The Old Newton County Dump).
North Georgia Model Aviators
Website: https://ngmarc.com/
Location: 553 Geirrein Rd., Dawsonville.
Rose City Aero Modelers
Website: www.rosecityrcclub.com
Location: Thomasville Regional Airport.
Scenic RC Flyers
Website: http://scenicrc.us/
Location: Wall Road, Stratham.
Southwest GA Xtreme RC Club
Website: www.swgxrc.com
Location: Suber Farm in Coolidge, GA. Five miles from Moultrie airport (KMGR.).
Stone Mountain Radio Control Flyers
Website: www.smrcf.com
Location: east side of Stone Mountain at the old Stone Mountain Airport.
Taildraggers RC Club
Website: www.taildraggersrc.com
Location: Adams Chapel Road, Cartersville.
The Flying Griffins
Website: www.flyinggriffins.org
Location: 423 Ward Rd., Williamson GA 30292.
Valdosta Rc Flyers
Website: n/a
Location: Oris Blackburn Memorial Park - Highway 31, Valdosta Georgia.
Contact: Josh Brown, paintballman2424 @ yahoo . com (no spaces)

Use the AMA club search for more Georgia rc airplane clubs.

Is your GA Club not listed? Submit it here.

Return to rc airplane clubs directory index.