Indiana RC airplane clubs
and flying fields
Approximate field locations have been given for these rc airplane clubs of Indiana (IN), just to help you identify a club in your area.
For more detailed locations and directions, times and addresses of club meetings and for membership details, please visit the club's website by clicking on the active link.
If you know of an rc airplane club or flying field in Indiana that isn't listed here, please take a couple of minutes to submit the details using the simple submission form, and help us build a bigger and better rc club directory.
If you find a dead or broken link while using this page, please report it here - thank you very much!
---
Map of Indiana
Click the image to open IN in Google Maps.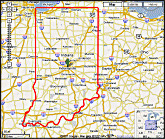 Indiana clubs:
Bartholomew County Radio Control Fliers
Website: www.bcrcfliers.org
Location: 3.5 miles East on 25th St. at the closed Petersville Landfill, Columbus.
Black Sheep Squadron R/C Model Club
Website: www.blacksheepclub.org
Location: on the West Side of Indianapolis in the Danville area.
Daviess-Martin RC Club
Website: n/a
Location: West Boggs Park, Loogootee.
Contact: Steve Stoll - sstoll60 @ gmail . com (no spaces).
Dekalb Flying Models Club 282
Website: http://dekalbflyingmodelsclub.com
Location: 7699 Co Rd 12, Butler.
Fort Wayne Flying Circuits
Website: www.flyingcircuits.org
Location: Jefferson Township Park, Fort Wayne.
Huntington County Modelers
Website: facebook.com/HuntingtonCountyModelers
Location: 1340 W 800 N, Uniondale Indiana 46791.
Indianapolis R/C Modelers
Website: www.indyrcmodelers.com
Location: 1 miles West of Morristown on Blue River Road South.
Indianapolis RC South
Website: www.indyrcsouth.org
Location: 3200 E 750 N (Worthsville Rd), Greenwood.
Indianapolis Westside RC Club
Website: www.facebook.com/groups/783043335055099
Location: Zionsville.
Jasper R/C Flyers
Website: facebook.com/jasperrcflyers/
Location: Jasper.
Johnson County Radio Control Flyers
Website: www.jcrcf.net
Location: Tracee Field, Johnson County Park across from Camp Atterbury, Latitude 39.36391 Longitude -86.04003, Edinburgh.
Lafayette Cloud Jockeys
Website: http://lafayettecloudjockeys.us/
Location: 801 Golfview Drive, Lafayette.
Michiana SkyRaiders
Website: www.michianaskyraiders.com
Location: on the east side of Snowberry Road (55600 Snowberry Road) between US 20 and State Road 2 in New Carlisle, approx. 1/2 mile southeast of I/N Tek, I/N Kote .
Midwest Sundowners
Website: www.midwestsundowners.com
Location: Wheeler. North of 30, south of 130, east of 51.
Northeast Side Taildraggers
Website: www.nest-rc.com
Location: 15251 Olio Road, Noblesville, IN 46060.
Richmond PropBusters
Website: http://richmondpropbusters.wix.com/propbusters
Location: Richmond.
Screaming Eagles R/C Club
Website: http://winshiprc.tripod.com/screaming_eagles_r_c_club.htm
Location: on the West edge of Plainfield, off of US 40.
South Bend Radio Control Club
Website: www.southbendrc.org
Location: 19350 Quinn Road, Lakeville, South Bend.
Terre Haute R/C Club
Website: facebook.com/TerreHauteRCClub
Location: Terre Haute.
Viehe RC Fliers
Website: www.rcflightdeck.com/club.cfm?id=1348&members
Location: 3881 North 1000 East Sheridan IN 46069.

Use the AMA club search for more Indiana rc airplane clubs.

Is your IN Club not listed? Submit it here.

Return to rc airplane clubs directory index.