Kansas RC airplane clubs
and flying fields
Approximate field locations have been given for these rc airplane clubs of Kansas (KS), just to help you identify a club in your area.
For more detailed locations and directions, times and addresses of club meetings and for membership details, please visit the club's website by clicking on the active link.
If you know of an rc airplane club or flying field in Kansas that isn't listed here, please take a couple of minutes to submit the details using the submission form, and help us build a bigger and better rc club directory.
If you find a dead or broken link while using this page, please report it here - thank you very much.
---
Map of Kansas
Click the image to open KS in Google Maps.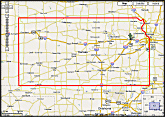 Kansas clubs:
95th St. Group
Website: www.95thstgroup.org
Location: 7425 Gardner Road, Desoto, Kansas.
Capital City RC Club
Website: www.facebook.com/CCRCCInc/
Location: Base of the dam at Lake Perry, 9897 Spillway Rd Perry, KS 66073.
Derby Radio Control Club
Website: www.facebook.com/groups/DerbyRadioControl
Foundation for Aeronautical Education
Website: http://faetopeka.net/
Location: 599 NE Sardou Ave., Topeka, KS 66608
Harvey County Radio Control Club
Website: www.facebook.com/Harvey-County-Radio-Control-Club
Location: Harvey County East Lake R/C park, Newton.
Hutch Bunch RC Club Inc
Website: www.rcflightdeck.com/club.cfm?id=1220
Location: 82nd & Sallee Road., Hutchinson.
Jayhawk Model Masters
Website: www.jayhawkmodelmasters.com
Location: Below Clinton Dam or 1144 N 1100 Rd., Lawrence.
Model Association of Central Kansas
Website: www.mackrc.net
Location: 114 SW 20th Ave - south of the intersection of hwy 56 and Railroad Avenue, Southwest corner of Great Bend.
RC Barnstormers
Website: www.rcbarnstormers.info
Location: just south of the dam at Hillsdale Lake in the Hillsdale State Park.
Riley County Fliers
Website: www.rileycountyfliers.com
Location: Below Tuttle Creek Lake overflow gates on River Pond Road. See website for details.
Shawnee Mission Radio Control Club
Website: flysmrcc.org
Location: Shawnee Mission Park, Lenexa.
Smoky Hill Model Flying Club
Website: www.smokyhillrc.org
Location: East Schilling road. East of Ohio.
Wichita Radio Control Club
Website: www.wichitaradiocontrolclub.org
Location: On Hydraulic between MacArthur and the Arkansas River, Wichita. (Enter through the large double gates on the east side of Hydraulic. Chapin Park was previously knows as the Chapin Landfil).

Use the AMA club search for more Kansas rc airplane clubs.

Is your KS Club not listed? Submit it here.

Return to rc airplane clubs directory index.