Massachusetts RC airplane clubs
and flying fields
Approximate field locations have been given for these rc airplane clubs of Massachusetts (MA), just to help you identify a club in your area.
For more detailed locations and directions, times and addresses of club meetings and for membership details, please visit the club's website by clicking on the active link.
If you know of an rc airplane club or flying field in Massachusetts that isn't listed here, please take a couple of minutes to submit the details using the submission form, and help us build a bigger and better rc club directory.
If you find a dead or broken link while using this page, please report it here - thank you very much!
---
Map of Massachusetts
Click the image to open MA in Google Maps.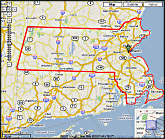 Massachusetts clubs:
107th RC Flyers
Website: www.107thrc.com
Location: Southbound Rt. 107 between Lynn and Revere, Saugus.
The Bogs Hog RC Club
Website: www.theboghogsrc.com
Location: 85 High Street on the back bog, Rochester.
Burlington R/C Flyers
Website: www.burlington-rc.com
Location: Burlington, Massachusetts (about two miles from the Burlington Mall), adjacent to Blanchard Road.
Cape Ann RC Model Club
Website: www.carcmc.org
Location: Long Hill Farm on Rt. 113 in West Newbury, about 35 miles north of Boston.
Central Mass Radio Control Modelers
Website: www.cmrcm.org
Location: Lyman St.,approx.1.5 mi. North of Rt.9., Northborough.
Charles River Radio Controllers
Website: www.charlesriverrc.org
Location: various fields, see website for details.
Discover Flying R/C Club
Website: www.discoverflying.org
Location: Marston Mills flying field on the Cape Cod Airport.
Franklin County Radio Control Club
Website: www.franklinrc.com
Location: 110 Industrial Blvd at the Turners Falls Airport.
Goddard Airport R/C Flyers
Website: n/a
Location: 1020 North Broadway, Haverhill.
Contact: Robert Goddard - robertgoddard1020 @ comcast . net (no spaces).
Hampshire County Radio Controllers
Website: www.hampshirecountyrc.org
Location: Hadley.
MA Model Aircraft Assoc.
Website: n/a
Location: Crescent Farm, Bradford.
Contact: John J. Benincasa - jairjart @ comcast . net (no spaces).
Middlesex County R-C Fliers
Website: www.mcrcf.org
Location: Treble Cove Road, in Billerica.
Millis Model Aircraft Club
Website: www.millismodelaircraftclub.com
Location: Charles River Reservation, Medfield.
NorthEast RC Club
Website: www.nrcmc.org/nrcmc
Location: Elmwood St., Salisbury.
Otis Model Aero Club
Website: www.otismodelaeroclub.org
Location: Crane Fish Wildlife Mgmt Area, Rt. 151, E. Falmouth.
Quinapoxet Model Flying Club
Website: www.qmfc.org
Location: off Rt. 110 in Lancaster.
South Shore Radio Control Club
Website: www.ssrcc.org
Location: Bridgewater.
Wachusett RC Flyers
Website: www.wachusettrcflyers.org
Location: Sterling.
495th R/C Squadron
Website: www.495thsquadron.org
Location: Tewksbury and Groton.

Use the AMA club search for more Massachusetts rc airplane clubs.

Is your MA Club not listed? Submit it here.

Return to rc airplane clubs directory index.