New to RC flying? Get my popular ebook today, to help you on your way!

Michigan RC airplane clubs
and flying fields
Approximate field locations have been given for these rc airplane clubs of Michigan (MI), just to help you identify a club in your area.
For more detailed locations and directions, times and addresses of club meetings and for membership details, please visit the club's website by clicking on the active link.
If you know of an rc airplane club or flying field in Michigan that isn't listed here, please take a couple of minutes to submit the details using the submission form, and help us build a bigger and better rc club directory.
If you find a dead or broken link while using this page, please report it here - thank you very much!
---
Map of Michigan
Click the image to open MI in Google Maps.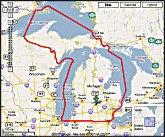 Michigan clubs:
9C2
Website: www.facebook.com/pages/9C2Crash-and-Burn-Hobbycom/129730410428273
Location: 20 minutes South of Fire Keepers Casino, Athens.
Aero R/C Club
Website: http://aerorcclub.com
Location: 2039 Sheridan Rd. (M-13) just south of Corunna Rd. (M-21), north of the town of Lennon, between Flint and Owosso.
Aerobatic Aces
Website: n/a
Location: Hovias Dr., Three Rivers.
Contact: Mel Pamment - mpamment @ gmail . com (no spaces)
Air Raiders
Website: n/a
Location: West Branch.
Contact: Rodney - Rodo1800 @ gmail . com (no spaces)
BAM (Buckley Aero Modelers)
Website: n/a
Location: Old Engine Show parking area 2-1/2 mile road and county road 633, Buckley.
Battle Creek Balsa Bees
Website: n/a
Location: D-drive north, Battle Creek.
Contact: Dan Buckner - Flyman260 @ comcast . net (no spaces).
Big Rapids Prop Busters
Website: n/a
Contact: Lester Hutchinson: mrwrenchus[at]hotmail[dot]com
Location: Robinhood airport, at South end of North-South runway, Big Rapids.
Cadillac Area Modelers Society
Website: www.cadillacrc.org
Location: 501 S. Neilson st. Tustin. 131 to exit 168, east to Blinker, south to field.
Capital Area Radio Drone Squadron
Website: www.cardsrc.com
Location: 8328 Otto Road Grand Ledge, Lansing.
Cass City RC
Website: http://casscityrc.club/
Location: South Crawford Rd., Deford, MI.
Charlevoix Area BUFFS R/C Club
Website: n/a
Contact: Dave Kendall: 231-547-4956
Location: 1000 ft. south of Ferry Rd. on Sequonota Rd., Charlevoix MI.
Down River Aeromoddelers
Website: https://sites.google.com/site/dramodelers/
Location: 4235 E. Sigler Rd., South Rockwood.
East Wings
Website: n/a
Contact: Bruce Sturm 586-913-5158
Location: 1601 Kinney Rd(M-19), Memphis, MI.
Flying Aces R/C Club
Website: www.facebook.com/rcflyingaces/
Location: 7330 Corunna RD between Elms and Morrish RD's., Swartz Creek.
Flying Eagles Inc.
Website: www.flyingeaglesinc.org
Location: The Farm airstrip located on the South West corner of Salzburg and Mackinaw Rd., Bay.
Flying Pilgrims
Website: www.flyingpilgrims.com
Location: The field is located in the eastern part of Superior Township, Canton. Access from Ridge Rd. just North of Geddes.
Forest Aviators
Website: n/a
Contact: Ed Warren - tandewarren @ yahoo . com (no spaces).
Location: Farrand Rd. 1-1/4 mile west of state hwy. M-15, 2 miles north of Ottisville, MI.
Frankenmuth Aeromodelers
Website: www.flyfrankenmuth.com
Location: Birch Run, four miles South of Frankenmuth.
Great Lakes Signal Aces
Website: http://flymikado.webs.com
Location: 3345 S. Barlow Rd(about 2 mi southeast of Mikado, MI)(about 6 mi northwest of Oscoda).
Grand Haven RC Flying Club
Website: facebook.com/groups/366085070920525
Location: Grand Haven Memorial Airport, Grand Haven MI, K3GM.
Hilltoppers of Sumpter
Website: n/a
Location: Waster Mnmnt Hill, Willow and Sumpter Rd., Sumpter
Contact: E-mail Steve; hillbillyexpress[at]aol[dot]com.
Ionia County Model Aircraft Club
Website: www.walterrcpark.com/?page_id=12
Location: 8548 Morrison Lake Rd, Saranac.
Jackson Radio Control Club
Website: www.jacksonrc.com
Location: Intersection of Dalton Rd and McGill Rd..
Kalamazoo Thunderbirds
Website: http://kazoothunderbirds.com/
Location: Kalamazoo/Portage.
Lapeer County RC Wing Nuts
Website: www.lapeercountyrcwingnuts.com
Location: Next door to the Mayfield Twp. Road Commission, Lapeer.
Livingston County RC Club
Website: www.lcrcc.org
Location: Access Located on Pingree Rd. in Howell.
Michigan Signal Seekers
Website: www.michigansignalseekers.org
Location: The field is located between Merriman Rd. and Henry Ruff just south of Michigan Ave. (entrance off of Henry Ruff), Westland.
Monroe Area Cloudbusters
Website: www.facebook.com/Monroe-Area-Cloudbusters
Location: Nike Park - Newport road west of Telegraph.
Old Iron Wingnuts
Website: n/a
Location: 16531 Muskrat Road, 49093.
Contact: Rick - frnkenstien14 @ yahoo . com.
Pontiac Miniature Aircraft Club
Website: www.pmac.us
Location: White Lake Rd, just East of Teggerdine in Pontiac Lake Recreation Area.
Radio Control Club of Detroit
Website: www.rccd.org
Location: Wetzel State Park, Lennox Township.
Skymasters RC Club of Michigan
Website: www.skymasters.org
Location: in the Bald Mountain Recreation Area on Scripps Road, between M24 and Joslyn Road, 5 miles north of the Palace at Auburn Hills.
Thrust FPV
Website: www.facebook.com/groups/1812818785673646/
Location: 3619 W Saginaw, Lansing MI 48906.
Traverse Area Model Pilots Society
Website: www.traversemodelpilots.com
Location: Rennie School Road & Interlochen, Traverse City.
Tulip City Airforce
Website: www.tulipcityairforce.com
Location: Between 50th and 52nd off of 146th street, Holland.
United Flying Organisation
Website: http://unitedflying.org
Location: Our site is within the Highland Recreation Area. Access to the site is via Teeple Lake Road, just east of Duck Lake Road and about 1 mile south of Highland Road (M-59), Highland.
Warped Wings RC Club
Website: http://www.warpedwings.club/
Location: 5717 Alger St. Allendale, MI.
Western Michigan Radio Aircraft Flyers
Website: http://wmraf.org
Location: Grand Rapids, MI.
White Cloud Area Tail Twisters
Website: www.tailtwisters.com
Location: We fly at the White Cloud Airport north M-37 at the edge of town.
Wolverine Sky Hawks
Website: www.facebook.com/WolverineSkyhawks
Location: Alpine Ave and 1/2 mile west on 13 Mile Road. Just west of Sparta at the old rodeo grounds.

Use the AMA club search for more Michigan rc airplane clubs.

Is your MI Club not listed? Submit it here.

Return to rc airplane clubs directory index.