New to RC flying? Get my popular ebook today, to help you on your way!

Nebraska RC airplane clubs
and flying fields
Approximate field locations have been given for these rc airplane clubs of Nebraska (NE), just to help you identify a club in your area.
For more detailed locations and directions, times and addresses of club meetings and for membership details, please visit the club's website by clicking on the active link.
If you know of an rc airplane club or flying field in Nebraska that isn't listed here, please take a couple of minutes to submit the details using the submission form, and help us build a bigger and better rc club directory!
If you find a dead or broken link while using this page, please report it here - thank you very much.
---
Map of Nebraska
Click the image to open NE in Google Maps.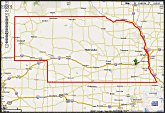 Nebraska clubs:
Fort Sidney Fliers
Website: Find us on Facebook at Fort Sidney Fliers RC Club
Contact: Leland Webb - fortsidneyfliers[at]gmail[dot]com
Location: Just north of the Cheyenne County Fair Grounds, Sidney.
Grand Island Modelers
Website: www.gimodelers.club
Location: At the former Cornhusker Army Ammunition plant, Huskker Hiway and Alda Road, Grand Island.
Hastings Skylarks
Website: www.hastingsrc.org
Location: Take Highway 6 east of Hastings to Maxon Avenue. Maxon Avenue is the first intersection east of the railroad tracks. Go south on Maxon Avenue 2.3 miles to Cornhusker Avenue. Go straight west (don't turn) until you come to the field.
Lincoln Black Sheep RC
Website: n/a
Contact: stuntpilot51 @ gmail . com (no spaces)
Location: South of Yankee Hill Wildlife Management Area, Lincoln.
Lincoln Sky Knights
Website: www.lincolnskyknights.org
Location: 11061 N 134th St, Waverly, NE 68462.
Midwest Performance Flyers
Website: www.performanceflyers.com
Location: Omaha.
Norfalcon
Website: n/a
Contact: Robert Cochrane on 402-379-9242
Location: Norfolk.
Omahawks R/C Club, Inc
Website: www.omahawks.org
Location: Standing Bear Lake 38th and Fort Street, Omaha.

Use the AMA club search for more Nebraska rc airplane clubs.

Is your NE Club not listed? Submit it here.

Return to rc airplane clubs directory index.