New to RC flying? Get my popular ebook today, to help you on your way!

Nevada RC airplane clubs
and flying fields
Approximate field locations have been given for these rc airplane clubs of Nevada (NV), just to help you identify a club in your area.
For more detailed locations and directions, times and addresses of club meetings and for membership details, please visit the club's website by clicking on the active link.
If you know of an rc airplane club or flying field in Nevada that isn't listed here, please take a couple of minutes to submit the details using the submission form, and help us build a bigger and better rc club directory.
If you find a dead or broken link while using this page, please report it here - thank you very much.
---
Map of Nevada
Click the image to open Nevada in Google Maps...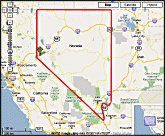 Nevada clubs:
Elko Radio Control Club
Website: www.elkoradiocontrolclub.com
Location: Bullion Rd near water treatment ponds, Elko.
Las Vegas Circle Burners
Website: https://lasvegascircleburners.weebly.com/
Location: 6800 E Russell Rd., Henderson.
Las Vegas Radio Controlled Club (LVRC)
Website: www.lvrc.club
Location: William Bennett Radio Control Airfield, Las Vegas.
PropNuts R/C Club
Website: www.propnuts.org
Location: Willie McCool Memorial Model Air Park, 4400 Horse Dr., North Las Vegas, NV 89084.
Reno Radio Control Club
Website: www.renorcclub.org
Location: Reno.
Sierra Silent Soarers
Website: www.sierrasilentsoarers.com
Location: Washoe Valley, Reno area.

Use the AMA club search for more Nevada rc airplane clubs.

Is your NV Club not listed? Submit it here.

Return to rc airplane clubs directory index.