New to RC flying? Get my popular ebook today, to help you on your way!

New Hampshire RC airplane clubs
and flying fields
Approximate field locations have been given for these rc airplane clubs of New Hampshire (NH), just to help you identify a club in your area.
For more detailed locations and directions, times and addresses of club meetings and for membership details, please visit the club's website by clicking on the active link.
If you know of an rc airplane club or flying field in New Hampshire that isn't listed here, please take a couple of minutes to submit the details using the submission form, and help us build a bigger and better rc club directory.
If you find a dead or broken link while using this page, please report it here - thank you very much!
---
Map of New Hampshire
Click the image to open NH in Google Maps.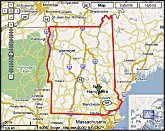 New Hampshire clubs:
Albuquerque Soaring Association
Website: www.soarabq.org
Location: Gardner Turfgrass Farms, Moriarty; Albuquerque Balloon Fiesta Park, Albuquerque and other sites.
Ashuelot Valley Flyers
Website: n/a
Location: Surry.
Contact: Scott Blair - 603-756-4011.
Concord Skyhawks
Website: www.concordskyhawks.com
Location: Locke Road, Concorde.
Fremont Flyers
Website: http://fremontflyers.com/
Location: Fremont/ Epping.
NH Flying Misfits R/C Club
Website: www.nhflyingmisfits.org
Location: 156 Eaton Hill Rd, Auburn.
New Hampshire Flying Tigers
Website: http://nhflyingtigers.com/pls/apex/f?p=rc:home:0
Location: Derry.
Mount Washington Valley RC Club
Website: http://mwvrcc.com
Location: Route 16, Conway.
Ragged Mountain Flyers
Website: n/a
Contact: Raggedmtnflyers[at]Hughesnet[dot]com
Location: 63 Lyle Gale Road, Alexandria.
RC Aces
Website: www.rcaces.org
Location: off Rt 111 behind Joe's Meat Mkt., Rockingham.
Rochester Modelers Club
Website: www.rochestermodelersclub.org
Location: Waste management site, Rochester.
Shermans Flyers
Website: https://plus.google.com/u/0/b/109865701065016611686/+ShermansFlyers
Location: 38 Quincy Bog Rd., Rumney.
Southern NH Flying Eagles RC Club
Website: www.snhflyingeagles.org
Location: less than one mile from Exit 11 off the Everett Turnpike, Merrimack.
The Southern New Hampshire R/C Club
Website: www.snhrcc.org
Location: Old Landfill Road in Hudson.
Winnipesaukee Radio Controllers
Website: http://wrcnh.org/
Location: Belknap County Fair Grounds, Laconia.

Use the AMA club search for more New Hampshire rc airplane clubs.

Is your NH Club not listed? Submit it here.

Return to rc airplane clubs directory index.