New York State RC airplane clubs
and flying fields
For more detailed locations and directions, times and addresses of club meetings and for membership details, please visit the club's website by clicking on the active link.
If you know of an rc airplane club or flying field in New York State that isn't listed here, please take a couple of minutes to submit the details using the submission form, and help us build a bigger and better rc club directory.
If you find a dead or broken link while using this page, please report it here - thank you very much.
---
Map of New York State
Click the image to open NY State in Google Maps.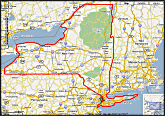 New York State clubs:
Aeroguidance Society
Website: www.agsny.org
Location: 147 Warrick Road in Endicott.
Balsa Dusters Niagara County Radio Controlled Flying Club
Website: www.balsadusters.com
Location: Day Road and High Street, Lockport.
Batavia Radio Controlled Flying Club, Inc.
Website: www.facebook.com/Batavia-radio-controlled-flying-club-324291371029585/
Location: 6684 Randall Road, Leroy, NY 14482 (GPS - N43° 00.352, W078° 02.312).
Black Dirt Squadron
Website: www.blackdirtsquadron.org
Location: Goshen.
Brookfield RC Flying Club
Website: www.brookfieldrc.com
Location: 8690 Roll road, Clarence Center, New York.
Canandaigua CHIEFS R/C Flying Club
Website: www.gregcovey.com/chiefs.htm
Location: Gehan Rd., off Rtes.5&20 Hopewell, Canandaigua.
Chenango County RC Club
Website: www.chenangorc.net/Index.htm
Location: Rte. 25, top of the hill just East of Columbus.
Dutchess R/C
Website: www.dutchessrcclub.com
Location: Shunpike, (County Rt 56), Millbrook.
Edgewood Flyers
Website: www.edgewoodflyers.com
Location: Edgewood Oak Brush Plains - Commack Rd, 1/2 mile north of Nicolls Rd, Deer Park, NY 11729.
Finger Lakes Air Pirates
Website: www.flapsrc.com
Location: Carter Road, near NorthSide Fire Hall, Geneva.
Flying Knights RC Club
Website: www.flyingknights.com
Location: Troy.
Hempstead Harbor Aero Modelers Society
Website: http://hhams.org
Location: Hempstead Harbor Model Aerodrome in Port Washington.
Hudson Valley Radio Contol Club
Website: www.hvrcc.com
Location: Beach Road Landfill Facility, West Haverstraw.
Ithaca Radio Control Society
Website: www.ithaca-rc.org
Location: The IRCS field is about 4 miles west of downtown Ithaca in the town of Enfield.
Lake Ontario RC Flyers
Website: http://lakeontarioflyers.com/
Location: Krull Park, Olcott.
Long Island Flying Eagles
Website: www.flyingeaglesrc.com
Location: Manorville.
Mohawk Valley Firebirds
Website: www.mvfirebirds.com
Location: Frankfort Highland Airport in the town of Frankfort just a few miles south east of Utica.
N-CRASH
Website: n/a
Contact: Robert Lawrence - robert @ lawrencesweb . com (no spaces)
Location: Rt 77, just a few miles outside of Adams, NY.
Oneida Lake Flyers
Website: http://oneidalakeflyers.x10.mx/
Location: 1154 State route 49 Constantia NY 13044.
Orange County Rotors and Planks (OCRAP)
Website: under construction...
Location: Lake Osiris Road, Walden, NY 12586
Contact: tptweet[at]frontiernet[dot]net.
Plattsburgh Radio Aeromodelers
Website: www.pramrc.org
Location: 185 Rooney Road, Beekmantown, NY 12901.
Steuben Red Barons
Website: www.ourrcclub.org
Location: Hinman Road, Barneveld.
Radio Control Club of Rochester
Website: www.rccr1957.com/hangartalk/
Location: Monroe County Northampton Park, Hasman Flying Field.
Radio Control Society of Marine Park
Website: www.rcsmp.com
Location: Brooklyn.
Rockland County Radio Control Club
Website: http://rcrcc.com/
Location: Clarkstown Transfer Station 166 S Route 303.
Schoharie Valley Cropdusters
Website: n/a
Location: Bridge Street, Schoharie
Contact: E-mail Gerald Haverly - shaverly[at]midtel[dot]net.
Sky Rovers
Website: n/a
Location: Ford Field, off Mcburney Road, Phelps. Field is right next to US90 between exit 42 and exit 43.
Contact: Carl carlharris[at]hotmail[dot]com.
Steuben Valley R/C Model Aviation Club
Website: n/a
Location: West Hinman road, Holland Patent.
Contact: Jim Quenneville - proproptools[at]gmail[dot]com.
Suffolk Aeromodelers
Website: http://suffolk-aeromodelers.org/
Location: Heckscher State Park Field # 9, Town of Islip.
The Flying Knights of Hamburg
Website: www.theflyingknights.com
Location: Nike Recreational Area, Lake View Road, Hamburg, NY 14075.
Tri-County Eagles
Website: www.tricountyeagles.org
Location: 40 Baldwin Place Road Mahopac NY, Mahopac Farm, Behind Mobil Mart.
Tulloch Flyers
Website: n/a
Location: 577 Kelly Station Road thru railroad tunnel off rt 7, Duanesburg
Contact: John Hackert - jhackert @ local . net (no spaces, of course!)
Western New York Sailplane and Electric Flyers
Website: www.wnysef.org
Location: Erie Community College South Campus, Southeast Athletic Field, Orchard Park.
Wooden Bones Flying
Website: www.facebook.com/wooden.bones.3?fref=ts
Location: Golf Middle school soccer fields, East Green Bush.

Use the AMA club search for more New York State rc airplane clubs.

Is your NY Club not listed? Submit it here.

Return to rc airplane clubs directory index.