New to RC flying? Get my popular ebook today, to help you on your way!

Ohio RC airplane clubs
and flying fields
Approximate field locations have been given for these rc airplane clubs of Ohio (OH), just to help you identify a club in your area.
For more detailed locations and directions, times and addresses of club meetings and for membership details, please visit the club's website by clicking on the active link.
If you know of an rc airplane club or flying field in Ohio that isn't listed here, please take a couple of minutes to submit the details using the submission form, and help us build a bigger and better rc club directory.
If you find a dead or broken link while using this page, please report it here - thank you very much!
---
Map of Ohio
Click the image to open OH in Google Maps.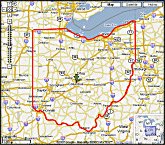 Ohio clubs:
Air Masters RC Flying Club
Website: www.airmasters.info
Location: 10611 Mt.Nebo Rd., Cleves.
Alliance Balsa Bees
Website: www.alliancebalsabees.com
Location: Barber Airport, Alliance, OH 44601.
Anderson Flyers
Website: www.andersonflyers.org
Location: Newtown, Cincinnati.
Ashland Cloud Chasers
Website: n/a
Location: 865 N. St. Rt. 42, Ashland.
Contact: Dennis McKay (dmckay@bright.net).
Blennerhassett Area R/C Club
Website: www.barcc.us
Location: just off County road 212 near Belpre.
Canton R/C Club
Website: cantonrcclub.wordpress.com/
Location: 3400 Beldon Avenue, Canton 44707.
Centaurs RC
Website: http://centaur-rc.org/
Location: 8473 County Home road, Lisbon Ohio.
Cincinnati Aermodelers
Website: http://sites.google.com/site/cincinnatiaeromodelers
Location: Harrison Cincinnati.
Cincinnati Silent Flyers
Website: www.electricflyers.com
Location: 10920 Mill Road, Cincinnati, OH 45240.
Cleveland Radio Control Club
Website: www.facebook.com/ClevelandRadioControlClub
Location: 5407 Turney Road, Garfield Hts, OH 44125.
Clinton Model Aviators
Website: www.clintonmodelaviators.com
Location: Hollister Field, 1700 Texas Rd., Wilmington
Corsair Model Aircraft Club
Website: www.cmac.org
Location: Tallmadge.
Dayton Wingmasters
Website: www.wingmasters.org
Location: at the back of Wegerzyn Garden Center.
Doylestown Barnstormers
Website: www.doylestownbarnstormers.com
Location: Porr Rd., Doylestown.
Eagle Squadron RC
Website: www.eaglesquadronrc.com
Location: Crestline.
Fairborn Flying Aces
Website: https://fairbornflyingaces.weebly.com
Location: 3670 Byron Rd Fairborn, Ohio.
Fairfield Ohio Radio Kontrol Society
Website: www.flying-forks.com
Location: Republic Services Pinegrove Landfill, 5131 Drinkle Rd., Amanda, OH 43102-9001.
Flying Aeros
Website: facebook.com/Flying-Aeros-Association
Location: Warren/Cortland, Trumbull County.
Geauga Radio Controlaires
Website: http://geaugarc.com/
Location: Fisher and Osmand Rd., Burton.
Contact: E-mail Stan Keeney - sdkeeney @ windstream . net (no spaces).
Greater Cincinnati R/C Club
Website: www.gcrcc.net
Location: flying site is on Cinergy property at the Woodsdale power plant, Cincinnati.
H.A.W.K.S. (Hamilton Area Wireless Kontrol Society)
Website: www.hawksrc.org
Location: 254 Joe Nuxhall Way, Fairfield, Ohio 45014.
Huriott Sport Flyers Association Club
Website: www.huriottrc.com
Location: Plum Brook NASA, Sandusky.
Licking County Radio Control Club
Website: http://lcrccohio.com/
Location: Ecology Row, Newark OH.
LZRC
Website: http://lzrcclub.com
Location: 12501 Thompson Rd., Vermilion.
Lima Area Radio Kontrol Society
Website: www.larksclub.homestead.com
Location: Lima.
Lorain County R/C Club
Website: www.lcrc.org
Location: Murry Ridge Road, Elyria.
Loveland Propbusters RCC
Website: www.lovelandpropbusters.org
Location: Eastfork State Park - William H. Harsha Damn and Lake area, Cincinnati.
Mad River Flying Association
Website: www.flyurbana.com
Location: Urbana.
Mahoning County Model Club
Website: www.mcmodelclub.org
Location: near Youngstown.
Marion Airfoils
Website: http://marionairfoils.com
Location: Herr Road, Marion.
Mentor Aera Radio Control Society
Website: http://mentorrc.com/
Location: Next to North Ridge Yamaha, RT 20 Geneva, Ohio.
Miami RC
Website: http://mrcflyer.org/
Location: Xenia, Ohio.
Miami Valley Radio Control Club
Website: www.mvrcc.org
Location: Lebanon.
Mid Ohio Soaring Society (MOSS)
Website: http://midohiosoaring.com/
Location: Powell, Mt. Sterling,Westerville & Hilliard, Ohio.
Nighthawks RC Club
Website: www.nighthawksrc.com
Location: 9551 Gibson Road, North Jackson.
North Canton Hawks
Website: www.ncrchawks.com
Location: at the Corner of St. Peters Church Rd NE and State Street Northeast Louisville, OH 44641.
Northeast Ohio Radio Flyers Club
Website: n/a
Location: 63 Parrish Rd., Conneaut.
Ohio Indoor RC Flyers
Website: www.ohioelectricfly.com
Location: Spire Institute(Geneva) and Univ of Akron (Akron), Burton.
Old Town Valley Flyers
Website: www.oldtownvalleyflyers.org
Location: 4371 Hardy Ridge Road, NW Dundee Oh 44624.
Ravenna Thunderbirds R/C Club
Website: www.ravennathunderbirds.com
Location: Jetway airport, Peck rd., Diamond Park, Ravenna.
Recker RC Club
Website: www.reckerrcclub.org
Location: 22680 Fostoria Road.
Ross Ohio Radio Kontrol Society (RORKS)
Website: http://rorks.co
Location: Kellenberger Rd., Chillicothe, OH 45601.
Southern Ohio RC Flyers
Website: https://sites.google.com/site/southernohiorcflyers/
Location: behind Earl Thomas Conley, Riverside Park, West Portsmouth.
Springfield Model Airplane Club
Website: http://smacoh.blogspot.co.uk/
Location: North Spence Road off State Route 41, Springfield.
Tailspinners of Central Ohio
Website: http://tailspinners.org/
Location: SW corner Morse Rd. and Mink Rd. East of Columbus, Pataskala.
Thompson Propbusters
Website: www.thompsonpropbusters.com
Location: 8233 Sidley Road, Thompson, Ohio.
Tiffin Ohio R/C Modelers
Website: www.facebook.com/TiffinOhioRCModelers
Location: Seneca Co. Rd. 38 - between Rte 101 & Rte 19, Tiffin.
The Ohio Radio Kontrol Society (TORKS)
Website: www.torks.com
Location: Mount Sterling - Deer Creek State Park (Near beach area on south side of park).
Tri State Helicopter Club
Website: www.tshc.org
Location: Cincinnati.
Upper Valley Fun Fliers
Website: www.facebook.com/UpperValleyFunFliers
Location: I-75 North of Dayton, Exit 82, 1 mile East on Rt 36 to Troy - Sidney Rd. North 1/2 mile on right, Piqua.
Vienna Sky Sharks MAC, Inc.
Website: www.viennaskysharks.org
Location: 675 Hendershot Road, Waterford, Ohio.
Wayne County RC Club
Website: http://sites.google.com/site/waynecountyrc/
Location: Thompson Rd., Smithville, Wooster.
Westlake RC Club
Website: www.westlakerc.org
Location: Amvet's Post 32, Middle Avenue, Elyria, Ohio
WORKS RC Club
Website: www.worksrcclub.net
Location: Hummel Airport, 10491 Carlisle Pike (RT 123), Germantown, Ohio 45327.
ZARKS
Website: http://zarks.org/
Location: Vickers Hill Road about a mile off of SR146 in Muskingum County.

Use the AMA club search for more Ohio rc airplane clubs.

Is your OH Club not listed? Submit it here.

Return to rc airplane clubs directory index.