Pennsylvania RC airplane clubs
and flying fields
Approximate field locations have been given for these rc airplane clubs of Pennsylvania (PA), just to help you identify a club in your area.
For more detailed locations and directions, times and addresses of club meetings and for membership details, please visit the club's website by clicking on the active link.
If you know of an rc airplane club or flying field in Pennsylvania that isn't listed here, please take a couple of minutes to submit the details using the simple submission form, and help us build a bigger and better rc club directory.
If you find a dead or broken link while using this page, please report it here - thank you very much!
---
Map of Pennsylvania
Click the image to open Pennsylvania in Google Maps...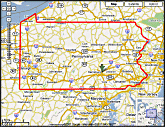 Pennsylvania clubs:
Altoona R/C Club
Website: www.facebook.com/groups/
111220838888809/?fref=ts
Location: Duncansville.
Bams
Website: http://thebams.net
Location: 315 Mack rd, West Sunbury.
Beaver County Model Airplane Club
Website: www.beavercountymac.org
Location: Rt 168, between Darlington and New Galilee.
Berks County Barnstormers
Website: facebook.com/berkscountybarnstormers
Location: 50 Palm Rd, Robesonia.
Briar Creek R/C Flyers
Website: http://slus1.com/
Location: Briar Creek Lake Berwick, PA. 18635.
Buc-Le Aerosportsmen
Website: www.buc-le.org
Location: 1930 Kumry Rd, Quakertown, PA 18951-3712.
Buck Radio Control Club
Website: www.facebook.com/Bucks-County-Radio-Control-Club-129654790436261
Location: Just south of Lancaster on Friendly Drive in Buck.
Capitol Area Flyers
Website: https://foursquare.com/v/capitol-area-rc-plane-flyers/4c30b09fa0ced13a767b126e
Location: Mechanicsburg.
Carlisle Aeromodelers
Website: www.carlisleaeromodelers.com
Location: 125 Potato Road, Carlisle, Pa 17015.
Chester County Radio Control Club
Website: www.chestercountyrc.com
Location: 1 mile West of Strasburg Road in Embreeville, also at Coatesville.
Cloud Kings RC Club
Website: www.cloudkingsrc.org
Location: Oxford.
Conneaut Lake RC Controllaires
Website: n/a
Location: Route 6 just outside of Conneaut Lake on the right side.
Contact: Mark Zimmerman - weflyem @ zoominternet . net (no spaces).
Delaware R/C Club
Website: www.delawarerc.org
Location: Lums Pond State Park in Kirkwood.
Exeter R/C Eagles
Website: www.exeterrceagles.com
Location: 111 Barto Road, Barto.
Farview R/C Flyers
Website: www.farviewflyers.net
Location: 375 Farview Road, Hamburg.
Greater Pittsburgh ARCS
Website: www.facebook.com/GPARCS
Location: Hillman State Park, 80 Model Airport Rd, Burgetstown PA 15021.
Keystone Clippers
Website: www.keystoneclippers.com
Location: about 1.5 miles from Rillton, Pa., which is near the town of Irwin.
Keystone Radio Control Society
Website: www.krcs-rc.org
Location: N. Union St. Middletown, PA.
Lancaster County Radio Control Club (LCRCC)
Website: www.lcrcc.club
Location: 265 Geist Road, Lancaster, PA 17601.
Laurel Highlands Model Airplane Club
Website: www.lhmac.org
Location: Mammoth Park, Westmoreland County, Klaka Rd., Mount Pleasant, PA.
Lebanon County RC Club
Website: On RCGroups.com
Location: Annville.
MonValley RC Club
Website: www.monvalleyrc.com
Location: Cedar Creek Park in Rostraver Township, PA.
Murrysville Area Radio Control Society
Website: facebook.com/MARCSPGH
Location: Ridge Road, Bell Township, PA.
Mount Joy R/C Club
Website: http://www.mountjoyrc.com/
Location: Mount Joy. GPS coordinates: 40.089933,-76.489305.
Northeast Philadelphia Radio Control Club
Website: www.neprcc.com
Location: Benjamin Rush State Park, which is located in the far Northeast section of Philadelphia.
Northeast Valley RC Club
Website: www.nevrc.org
Location: 306 west county Rd., Sugarloaf, Drums.
Seneca Highlands Aeroplane Radio Kontrol Society
Website: www.facebook.com/SenecaHighlandsAeroRadioKontrolSociety/
Location: Eldred.
Sky Pirates RC Club
Website: www.skypirates.org
Location: Plumsteadville, Bucks Cty.
Spring Hollow R/C Flyers
Website: www.shrcflyers.org
Location: Armory Drive, adjacent to the Pennhurst National Guard Armory, Spring City.
State College Radio Control Model Aircraft Club
Website: www.scrc-club.com
Location: State College, 3 miles east of the town of Pleasant Gap.
Susquehanna Valley Modelers
Website: n/a
Location: Kaboodle Hollow Rd., Elysburg.
Contact: William Smeltz - 570 473 0527 / rcbill80@ptd.net.
Swamp Creek Radio Control Modelers
Website: swampcreekrc.com
Location: 3179 Reifsnyder Rd., Gilbertsville.
Thermal "G" RC Club
Website: www.thermalgrcclub.org
Location: 9001 Hamot Road, Waterford, Erie PA 16441.
Tri-County Wing Snappers
Website: www.tcws.org
Location: Hamburg.
Tuscarora R/C Club
Website: http://tuscarorarcflyingclub.com
Location: Tuscarora State Park across from the White Birch Golf Club, Barnesville.
Valley Forge Signal Seekers
Website: www.vfss.org
Location: Valley Forge National Historic Park, located 18 miles northwest of Philadelphia.
Valley Radio Control Model Club
Website: http://valleyrcpa.com/
Location: Sayre.
Warminster Glenside R/C Club
Website: www.wgrcclub.com
Location: Turk Park, off Almshouse Road. Look for the windsock. Doylestown.
Washington County Model Aviation Association
Website: www.wcmaa-rc.com
Location: Mingo Creek State Park, Finleyville, Pittsburgh.
West End Wings
Website: www.westendwings.com
Location: Mayfield Dr and Effort-Neola Rd., Brodheadsville.
Wyoming Valley R/C Flyers
Website: www.wyomingvalleyrcflyers.com
Location: Moon Lake County Park located in Plymouth Township PA, about 10 miles north of Wilkes-Barre.
York Area Radio Control Club
Website: www.yorkrc.org
Location: York, PA.
York Model Aviators
Website: yorkfly.wix.com/rcplanes
Location: 4540 West Canal Rd., York, PA.

Use the AMA club search for more Pennsylvania rc airplane clubs.

Is your PA Club not listed? Submit it here.

Return to rc airplane clubs directory index.