**Are You new to RC? Get "The Beginner's Guide To Flying RC Airplanes" ebook for the flying start you need!**
Quebec RC airplane clubs
and flying fields
Approximate field locations have been given for these rc airplane clubs of Quebec, just to help you identify a club in your area.
For more detailed locations and directions, times and addresses of club meetings and for membership details, please visit the club's website by clicking on the active link.
If you know of an rc airplane club or flying field in Quebec that isn't listed here, please take a couple of minutes to submit the details using the submission form, and help us build a bigger and better rc club directory.
If you find a dead or broken link while using this page, please report it here - thank you very much.
---
Map of Quebec
Click the image to open Quebec in Google Maps...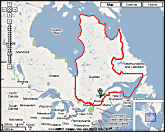 Quebec clubs:
BrossAir
Website: www.brossair.com
Location: Brossard.
Club Aéromodéliste Repentigny
Website: www.angelfire.com/ar/aeromodelisme
Location: Repentigny.
Club Aigles de Valleyfield
Website: www.rocler.qc.ca/pjoannet
Location: Salaberry-de-Valleyfield.
Club Amidair
Website: www.amidair-rc.com/
Location: Mirabel.
Club C.R.A.S.H.
Website: www.clubcrash.freeservers.com
Location: St-Augustin de Mirabel.
Club Escadron du Richelieu
Website: http://sites.google.com/site/escadrondurichelieu/
Location: Chemin Champagne, Sorel-Tracy.
Club Les Ailes de l'Aigle Montmagny l'Islet
Website: http://bironr.tripod.com/index.htm
Location: Montmagny.
Club Mars
Website: http://clubmars.org
Location: Lachenaie.
Club Mini-Rabel
Website: www.facebook.com/mini.rabel.9?fref=ts
Location: 809 Rte de l'aeroport, Amos.
Club Modélistes de Sainte-Foy
Website: www.clubmodelistes.com
Location: Sainte-Foy.
Club Modelistes Sol-Air de Victoriaville
Website: www.clubsolair.com
Location: Victoriaville.
Joyeux Aeromodelistes Gatinois JAG
Website: https://sites.google.com/site/clubjagrc/home
Location: Fogarty road, Gatineau.
Le Club Avion Radio Controle de Trois-Rivieres
Website: www.carctr.net
Location: Trois-Rivieres.
Les Modelistes Anti-Gravité
Website: www.anti-gravite.com
Location: Ste Julie.
Montreal Area Thermal Soarers
Website: www.matsclub.org
Location: Montreal.
West Island Model Aeronautics Club
Website: www.wimac.ca
Location: Rue Pilon, Pierrefonds.

Submit your Quebec rc airplane club here.

Return to rc airplane clubs directory index.