**November Offer** Get "The Beginner's Guide To Flying RC Airplanes" ebook for just $15 this month!**
RC model aero clubs in
Queensland
Approximate field locations have been given for these rc airplane clubs of Queensland, just to help you identify a club in your area.
For more detailed locations and directions, times and addresses of club meetings and for membership details, please visit the club's website by clicking on the active link.
If you know of an rc airplane club or flying field in Queensland that isn't listed here, please take a couple of minutes to submit the details using the simple submission form, and help us build a bigger and better rc club directory.
If you find a dead or broken link while using this page, please report it here - thank you very much!
---
---
Map of Queensland
Click the image to open QLD in Google Maps.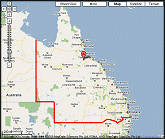 Queensland clubs:
Australian Large Scale Models
Website: https://en-gb.facebook.com/groups/354808707981734/
Location: Inglewood Airport.
Bowen Aero Club
Website: www.facebook.com/Bowen-Aero-Club-model-flyers
Location: Bowen Airport.
Contact: bowenaeroclubmodelflyers @ gmail . com
Bundaberg Aeromodellers
Website: http://bundabergaeromodellers.weebly.com/
Location: 99 Golchert Drive, Coonarr.
Dalby Model Aero Club Inc.
Website: www.dalbymodelaeroclub.com
Location: Cecil Plains Road, Dalby.
Gladstone Model Aero Club
Website: www.facebook.com/gladstonemodelaeroclub/
Location: Corner of Guerassimoff Rd and Landing Rd - Gladstone 4680, Queensland.
Gold Coast Model Flying Club
Website: www.gcmfc.com.au
Location: several sites along the Gold Coast, QLD. See website for details.
Gympie Model Flyers
Website: www.facebook.com/GympieModelFlyersClub
Location: Amamoor St., Amamoor.
Kingaroy Aeromodellers Society
Website: http://eladesom.com.au/~kams/
Location: 5klms outside of the town of Kingaroy.
LARCS - Loganholme Aeromodellers Radio Control Society
Website: www.larcs.com.au
Location: Brisbane.
Phoenix Model Aviators
Website: www.phoenixmodelaviators.com
Location: End of Malones Road, Forest Glen.
Rockhampton Model Aero Club
Website: https://sites.google.com/site/rockhamptonmodelaeroclub
Location: River Road, Rockhampton.
Sports Aeromodellers Association Moreton Bay Region Inc. (SAAMBR)
Website: www.saambr.asn.au/joomla15
Location: north side of Brisbane at the end of Elizabeth Road, Griffin.
Suncoast Model Flyers
Website: www.coolumflyers.com
Location: Coolum, Sunshine Coast.
Tingalpa Model Aero Club
Website: www.tmac.asn.au
Location: 10 km from the Brisbane GPO within the Minippi Parkland.
Toowoomba Amateur Radio Model Aero Club
Website: http://eladesom.com.au/~tarmac
Location: Toowoomba area.
Townsville Aero Modellers Society
Website: www.townsvilleaeromodellers.com.au
Location: Lot 1, Valley Drive, Oak Valley 4811.
Townsville Radio Aeronautical Control Society (TRACS)
Website: www.facebook.com/trac.soc/info/?tab=overview
Location: Racecourse Rd CLUDEN - Near the Purification plant.
Warwick Aero Modellers
Website: http://wamqld.com/
Location: Morgan Park, Warwick.

Submit your rc model aero club of Queensland here.

Return to rc airplane clubs directory index.