RC flying e-books.
No, these aren't e-books that fly! Now there's an idea...
But seriously, listed below are a handful of the most comprehensive and easy to understand ebooks currently available.
Each contains a lot of essential info on their respective topics, and I can personally recommend each one, having read each one and written two of them! Each book contains all you need to know on the subject, and is a very small price to pay for everything contained within.
All these e-books are available for instant download, and the transaction is securely made through Paypal.
Just click each image or text link to find out more about that ebook.

The Beginner's Guide To Flying RC Airplanes, by Yours Truly, covers all the essential 'getting started' information that you need as a newcomer to flying radio control airplanes, and walks you step-by-step all the way from understanding RC systems and airplane controls, to choosing and buying your first rc plane, to your first flights. The book focuses on electric RTF planes but the fundamental topics are good for IC planes too!
---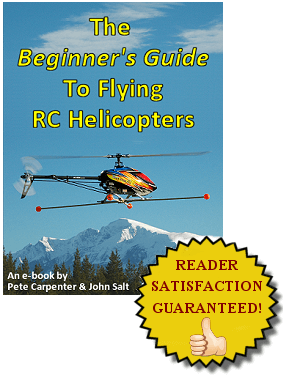 The Beginner's Guide To Flying RC Helicopters, also by Yours Truly. Complimenting the above e-book, this one has been co-written by myself and rc heli guru John Salt of www.rchelicopterfun.com. Taking you safely through the stages of learning to fly an rc helicopter, it's an essential read for anyone entering the radio control helicopter sector of RC flying. Like the airplane guide, this e-book will save you time, money and aggravation.
---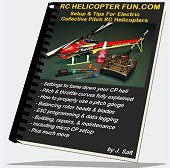 Setup & Tips For Electric Collective Pitch RC Helicopters, by John Salt, is essential for anyone getting in to electric CP (Collective Pitch) rc helicopters. This fantastic e-book will take you through the setup process for flying your 3D heli confidently as a trainer, as well as covering many other aspects of electric rc helicopter flying, including those inevitable 'heavy landings'!
---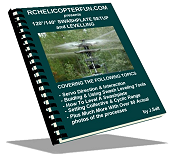 120 & 140 Degree Swashplate Setup & Levelling, also by John Salt, follows on from the above e-book and takes you step-by-step to break down the potentially overwhelming procedure of swashplate setup on your 400 size helicopter. Highly recommended!
---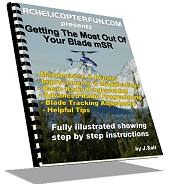 Getting the most out of your Blade mSR covers all the tips and tricks you need to know to take full advantage of this amazing little heli. Essential reading for anyone who's had one of these for Christmas!
Related pages

RC helicopter ebooks - quality ebooks from John Salt.

RC airplane magazines and books - non-downloadable titles for the bookshelf.
More popular RC Airplane World articles: