**Are You new to RC? Get "The Beginner's Guide To Flying RC Airplanes" ebook for the flying start you need!**
South Carolina RC airplane clubs
and flying fields
Approximate field locations have been given for these rc airplane clubs of South Carolina (SC), just to help you identify a club in your area.
For more detailed locations and directions, times and addresses of club meetings and for membership details, please visit the club's website by clicking on the active link.
If you know of an rc airplane club or flying field in South Carolina that isn't listed here, please take a couple of minutes to submit the details using the submission form, and help us build a bigger and better rc club directory.
If you find a dead or broken link while using this page, please report it here - thank you very much!
---
Map of South Carolina
Click the image to open SC in Google Maps.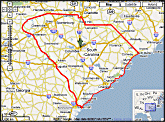 South Carolina clubs:
Aiken Radio Control Society
Website: www.aikenrc.com
Location: Aiken.
Black Sheep RC Club
Website: www.bsrcc.com
Location: Lockaby Rd., Anderson County.
Blue Ridge RC
Website: www.blueridgerc.com
Location: 190 Owens Road, Piedmont.
Campobello Flyers RC Club
Website: https://www.facebook.com/pages/TNT-Foothill-Flyers-R-C-Flying-Club/243454475822716
Location: 1475 Roddy Rd., Campobello, SC.
Charleston R/C Society
Website: http://charlestonrcsociety.org/
Location: Flying field is located in Ridgeville, SC on I-27 just outside of Ridgeville.
Congaree Flyers
Website: www.congareeflyer.com
Location: 697 Cassidy Rd., Gaston, SC 29053.
Curry's Lake Flyers
Website: www.facebook.com/curryslakeflyerssc
Location: 1420 Currys Lake Rd., Gray Court, SC 29645.
Firetower Flyers Radio Control Airplane Club Inc.
Website: www.firetowerflyers.com
Location: (contact): PO Box 2492 Easley, 29641 - 02492.
Flying Tigers R/C Club
Website: www.flyingtigersrcinc.com
Location: 1400 Mcknight Rd., Scranton 29583, Lake City.
Gooney Birds
Website: www.gooneybirdsrc.com
Location: 2660 Papermill Road, Florence.
Lake Murray Regional RC Flyers
Website: n/a
Location: Firetower Rd., Prosperity, SC.
Contact: G. Smith - glsmith101 @ earthlink . net (no spaces).
Larks
Website: www.larksrc.com
Location: 1800 Ben Franklin Rd., Leesville.
Lancaster County Flyers
Website: https://lancasterscflyingclub.com/
Location: Landfill Rd, Lancaster SC.
Low Country RC Flyers
Website: lowcountryflyers.wixsite.com/mysite
Location: Blackground Rd., Johns Island, SC 29455.
Skymasters RC Flyers
Website: n/a
Location: 121 Wilkins Way, Cowpens.
Contact: Leonard Gallman - tukandad @ gmail . com (no spaces).
Tri-County R/C Flyers
Website: www.tri-countyrc.org
Location: 5826 Airport Road, Anderson.
Raptors RC
Website: http://bigjim5050.wixsite.com/raptors-rc
Location: 458-460 Pumpkintown Rd., Highway 288, Marietta, SC 29661.
York County Flyers
Website: www.yorkcountyflyers.com
Location: SC Hwy 5 and Langrum Branch Road, York.

Use the AMA club search for more South Carolina rc airplane clubs.

Is your SC Club not listed? Submit it here.

Return to rc airplane clubs directory index.