**November Offer** Get "The Beginner's Guide To Flying RC Airplanes" ebook for just $15 this month!**
Tennessee RC airplane clubs
and flying fields
Approximate field locations have been given for these rc airplane clubs of Tennessee (TN), just to help you identify a club in your area.
For more detailed locations and directions, times and addresses of club meetings and for membership details, please visit the club's website by clicking on the active link.
If you know of an rc airplane club or flying field in Tennessee that isn't listed here, please take a couple of minutes to submit the details using the simple submission form, and help us build a bigger and better rc club directory.
If you find a dead or broken link while using this page, please report it here - thank you very much!
---
Map of Tennessee
Click the image to open TN in Google Maps.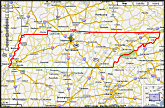 Tennessee clubs:
Blount County Modeler's Association
Website: www.fly-bcma.com
Location: Blount County Landfill, Maryville.
Cherokee R/C Flyers
Website: www.cherokeercflyers.com
Location: 1621 Resource Dr Morristown TN 37813.
Coffee Airfoilers
Website: www.coffeeairfoilers.com
Location: Arnold Airforce Base, Tullahoma.
Columbia R/C Flying Modelers
Website: www.facebook.com/Columbia-RC-Flying-Modelers-100106226737524/timeline/
Location: Columbia.
Cumberland County RC Flyers
Website: www.cumberlandcountyrc.com
Location: Crossville, Cumberland Co.
Edwin Warner Model Aviators
Website: https://ewma.club/
Location: Edwin Warner Park, Nashville.
Hendersonville R/C Club
Website: http://fly-hrcc.org
Location: Hendersonville.
Hickman County Model Aviators
Website: http://hcmafield.tripod.com/oldindex.htm
Location: Highway 46, Bon Aqua. Directly behind the Bon Aqua post office.
HouseMountainRC
Website: http://housemountainrc.com
Location: Corryton.
Johnson City Radio Controllers
Website: www.flyjcrc.com
Location: Johnson City.
Knox County Radio Control Society
Website: www.kcrctn.com
Location: Williams Bend Road, just east of Melton Hill Park, Knoxville.
Magic Valley Air Force
Website: facebook.com/MagicValleyAirforce
Location: Old Jackson Road, Henderson.
McMinn County Radio Control Association
Website: www.facebook.com/McMinn-County-Radio-Control-Association-411913822570/?fref=ts
Location: Harry Morgan Farm, 126 Co.Rd. 876, Etowah, TN 37331.
Memphis Propbusters
Website: facebook.com/propbustersrc
Location: Memphis.
Middlepoint RC Flyers
Website: www.mprcf.com
Location: Murfreesboro.
Millington Barnstormers R/C Flying Club
Website: millingtonbarnstormers.com
Location: 4236 Sykes Rd., Millington, TN 38053.
Music City Aviators
Website: www.musiccityaviators.org
Location: Peeler Park, Neeley's Bend Rd, Madison, TN.
Red Tails R/C Flying Club
Website: n/a
Contact:
Location: Richie - 423 331-2803 / richcaanan @ yahoo . com (no spaces).
Skyblazers R/C Club, Inc.
Website: http://skyblazersairpark.tripod.com
Location: 2 Miles West of Savannah, TN & TN River Bridge on Hwy 64, Savannah.
Smoky Mountain Aero Club
Website: facebook.com/groups/496768773695425/about
Location: On Rainbow Road across the road from the landfill, Sevierville.
Tennessee Eagles R/C Club
Website: http://tneagles.com/
Location: Fiske Heights Rd., Harriman.
Upper Cumberland Radio Control Society
Website: www.ucrcs.com
Location: on the old Putnam Co. Airport, Cookeville.
Volunteer AeroModelers
Website: www.volunteeraeromodelers.org
Location: Lutrel Road, Knoxville.
Volunteer State Model Aviators
Website: https://volunteerstate.wordpress.com
Location: 4.5 miles from interstate 24 at exit 19 In Cedar Hill.
Watauga Valley Aviators
Website: n/a
Location: Carter Valley Landfill, Elizabethton.
Contact: Terry Norris Phone: 423-895-2641.
West Tennessee RC Flyers
Website: facebook.com/groups/wtrcf
Location: Jackson. 148 Deloach, behind Sewer Treatment Plant.

Use the AMA club search for more Tennessee rc airplane clubs.

Is your TN Club not listed? Submit it here.

Return to rc airplane clubs directory index.