New to RC flying? Get my popular ebook today, to help you on your way!

Texas RC airplane clubs
and flying fields
Approximate field locations have been given for these rc airplane clubs of Texas (TX), just to help you identify a club in your area.
For more detailed locations and directions, times and addresses of club meetings and for membership details, please visit the club's website by clicking on the active link.
If you know of an rc airplane club or flying field in Texas that isn't listed here, please take a couple of minutes to submit the details using the submission form, and help us build a bigger and better rc club directory.
If you find a dead or broken link while using this page, please report it here - thank you very much!
---
Map of Texas
Click the image to open TX in Google Maps.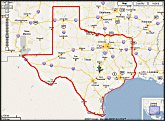 Texas clubs:
114th Aero Squadron
Website: www.114thrc.org
Location: 3099 Midway Rd., Grapevine, TX 76092.
Aggieland RC
Website: www.aggielandrc.com
Location: Located 4 miles from Tabor Rd out Hwy 2223, located at the end of the Fisher land dev., Bryan.
Alamo Radio Control Society
Website: www.alamorcs.org
Location: San Antonio.
Alvin RC Modelers
Website: http://alvinrc.club/
Location: 2444 CR 180, Alvin, Texas 77511.
Amarillo Radio Kontrol Society (ARKS)
Website: www.arksclub.org
Location: South of Randall County Feedyard, Amarillo.
Angelo R/C Club
Website: www.angelorc.com
Location: Arden Rd., San Angelo.
Austin Radio Control Association
Website: www.austinrc.org
Location: near Walter E Long Municipal Park and the Exposition Center, off Decker Lane on the East side of Austin. Address is 8705 Lindell Ln.
Backyard Flyers Club
Website: n/a
Contact: Edward Solis 409-497-9881 / ezap[at]live[dot]com
Location: 4806 Ike Franks Rd, Arcadia 77517.
BAMS (Boerne Area Model Society)
Website: www.boernerc.org
Location: Joshua Springs Park (Kendall Count), Boerne.
Bayou City Flyers
Website: http://bayoucityflyersrc.com
Location: Dick Scobee Memorial Airfields, Houston.
Beaumont Radio Control Club
Website: www.brcc.club
Location: 6300 Folsom Dr, Beaumont, TX 77706.
Brazos Valley R/C
Website: www.flybvrc.club
Location: 999 FM2776 Wixon Valley, Texas.
CorMac
Website: n/a
Location: Northwest section of Lake Halbert Park, Corsicana.
Contact: Robert Isbell.
D.E.A.F (Dallas Electric Aircraft Flyers)
Website: www.deaf-rc.org
Location: Eastfield Community College, Dallas.
Del Rio Dirt Fliers (DRDF)
Website: www.facebook.com/Del-Rio-Dirt-Fliers-1440983539461237/
Location: Melagro Lane, Del Rio.
East Texas Aero Modelers
Website: www.easttexasaeromodelers.com
Location: South end of Cherokee St., Longview.
Fort Bend RC Club
Website: www.fortbendrc.com
Location: 1135 Spur 529, Rosenberg, TX 77471.
Gerbers Air Farm
Website: n/a
Location: 5070 county road 2047, Odam
Contact: Jerry, 361-368-3704.
Greater Southwest Aero Modelers
Website: www.flygsw.org
Location: 2 exits north of US highway 30, on the north side of Randol Mill Road, 0.4 mile east of loop 820 Fort Worth, Texas 76112.
Georgetown Aero Modelers Association, Inc.
Website: http://gamarc.org/
Location: Georgetown.
Gulf Coast Radio Control Club
Website: http://gulfcoastrc.com
Location: 5760 Genoa Red-bluff, Pasadena.
Harris County RC Club
Website: n/a
Location: Katy.
Heart of Texas Miniature Aircraft Club
Website: www.hotmac.org
Location: Hwy. 6 west across Lake Waco, first exit and then left to Overflow Rd. Turn right follow signs for approx. 1/2 miles. Waco.
Hill Country AeroModelers
Website: www.hcamonline.org
Location: Mary Moore Searight Municipal Park, Austin.
Jetero R/C Club
Website: www.jetero.com
Location: Huffman.
Kitty Hawkers R/C Flying Club
Website: n/a
Contact: Secretary: Larry Schmotzer larschmotz[at]aol[dot]com / 713-208-6795
Location: Huffman.
Lauderdale Airpark R/C Model Club
Website: n/a
Location: CR 112, Caldwell
Contact: 979-535-8031.
Look Out RC Flying Field
Website: n/a
Location: 4806 Ike Frank Rd., Arcadia.
Contact: Edward Solis: 409-739-0528 / Ezap @ live . com.
Livingston ARF RC
Website: www.livingstonrc.com
Location: Livingstone. North from 390 on FM 350 about 4 miles, field on west side.
M.A.C. Magnolia Aeromodel Club
Website: n/a
Location: Nichols-Sawmill and Arnold Rd., Magnolia
Contact: Jim on 281-460-5218.
North Dallas Radio Control Club
Website: www.ndrcc.com
Location: 2 fields, see website for maps.
North East Texas Flying Club
Website: n/a
Location: Bob Sandlin Lake, Mt.Pleasant.
Contact: Wayne Worthy - wayneworthy @ gmail . com (no spaces)
North Texas Aeromodelers
Website: www.northtexasaeromodelers.com
Location: North Lakes Park, Windsor Dr at Hinkle Dr Denton, Texas.
North West Houston R/C Club
Website: www.nwrcc.com
Location: Northwest Houston near Hockley. See website for map.
Paris RC Association
Website: www.parisrcassociation.com
Location: Sumner (just outside of Paris).
Permian Basin Model Aircraft Club
Website: n/a
Location: @3 Miles South of IH-20 on Dixie, Left Side of Road, Odessa,Tx.
Contact: David Shubert - daveshubert5 @ aol . com (no spaces).
Richardson Radio Control Club
Website: http://rrcc.org
Location: Bratonia Park Located at Lake Lavon, Lucas.
RioGrande RC Flyers
Website: www.rgflyers.org
Location: Bell Properties, on 23rd St. 1 mile north of US 83, Penitas.
Rowlett RC Club
Website: www.rowlettrcclub.com
Location: Springfield Park ( North end of park ), Rowlett.
San Antonio Propbusters
Website: www.propbusters.org
Location: Somerset, San Antonio.
Sky High RC Club
Website: n/a
Location: Erwin Park, Mckinney.
Contact: Doug Darby - dldarby418 @ gmail . com (no spaces).
Small Model Aircraft Society of Harlingen
Website: www.smashrc.com
Location: Harlingen.
South Texas RC Flyers
Website: n/a
Location: located just off expressway US 83 in the community of San Juan, 2.7 miles south on Stewart Rd. in the Arroyo Colorado floodway
Contact: Jim Marshall (956) 984-9474 / JMarshQ52[at]aol[dot]com.
Space City R/C
Website: www.spacecityrc.com
Location: northern Katy.
Spring Area Radio Kontrol Society (SPARKS)
Website: www.sparksrc.com
Location: Dyess Park, 16822 Kitzman Rd, Cypress, TX 77429.
Tejas Radio Control Association
Website: http://tejasrcassociation.org/
Location: Lower Rio Grande Valley (McAllen-Mission).
Texas Model Aeronautics Foundation
Website: http://tmaf.homestead.com
Location: 1 mile off of Patton Rd. and HWY 6 North 4 miles from Valley Mills, Waco.
Texas RC Indoor Club
Website: www.tricsa.org
Location: Gym at Our Lady of Perpetual Help Catholic School in Selma.
Thunderbirds
Website: www.fwthunderbirds.org
Location: 4300 Winscott Plover Rd. Fort Worth, TX.
Tri-City Flyers
Website: www.tricityflyers.com
Location: 190 Pershing Lane, Kingsbury, San Antonio.
Tri County Barnstormers R/C Club
Website: www.tri-countybarnstormers.com
Location: New Waverly.
Tyler Modelers Club
Website: www.tylermodelers.com
Location: Northside Park (N32d1.145' / W095d19.643'), Tyler.
Weatherford Aeromodeling Society
Website: www.wamsrc.com
Location: 3891 Tin Top Road, Weatherford, TX 76087.
Whitney Area Miniature Aircraft Club
Website: www.wamac.org
Location: Lake Whitney State Park.

Use the AMA club search for more Texas rc airplane clubs.

Is your TX Club not listed? Submit it here.

Return to rc airplane clubs directory index.