**Are You new to RC? Get "The Beginner's Guide To Flying RC Airplanes" ebook for the flying start you need!**
Vermont RC airplane clubs
and flying fields
Approximate field locations have been given for these rc airplane clubs of Vermont (VT), just to help you identify a club in your area.
For more detailed locations and directions, times and addresses of club meetings and for membership details, please visit the club's website by clicking on the active link.
If you know of an rc airplane club or flying field in Vermont that isn't listed here, please take a couple of minutes to submit the details using the simple submission form, and help us build a bigger and better rc club directory!
If you find a dead or broken link while using this page, please report it here - thank you very much!
---
Map of Vermont
Click the image to open VT in Google Maps.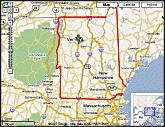 Vermont clubs:
Brattleboro Area Flyers Club
Website: facebook.com/Brattleboro-Area-Flyers-Club-1405456893096643
Location: 2 fields at Old Ferry Road and Old Guilford Road, adjacent to Exit 1 of Interstate 91.
Green Mountain RC Club
Website: www.facebook.com/Green-Mountain-RC-Club-288227988100/
Location: Essex Junction.
Guildhall fun flyers
Website: https://en-gb.facebook.com/groups/854567844894105/
Location: Guildhall VT., approx 1 mile north of the NH / VT bridge over the CT River.
Rutland County R/C Flyers
Website: https://sites.google.com/site/rcrcf3090/home
Location: Fair Haven Airport and Hateful Hill Field, Rutland.
Vermont Modelers' Club
Website: www.vermontbarnstormers.org
Location: 201 Airport Road, Barre.

Use the AMA club search for more Vermont rc airplane clubs.

Is your VT Club not listed? Submit it here.

Return to rc airplane clubs directory index.