New to RC flying? Get my popular ebook today, to help you on your way!

Washington RC airplane clubs
and flying fields
Approximate field locations have been given for these rc airplane clubs of Washington (WA), just to help you identify a club in your area.
For more detailed locations and directions, times and addresses of club meetings and for membership details, please visit the club's website by clicking on the active link.
If you know of an rc airplane club or flying field in Washington that isn't listed here, please take a couple of minutes to submit the details using the simple submission form, and help us build a bigger and better rc club directory.
If you find a dead or broken link while using this page, please report it here - thanks!
---
Map of Washington
Click the image to open WA in Google Maps.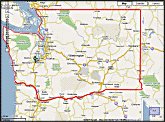 Washington clubs:
Arlington Eagles RC Flyers
Website: www.aercf.org
Location: 249th and highway 530, Arlington.
Contact: Joe Goffin: jpgoffin[at]comcast[dot]net.
Barnyard Buzzards Model Airplane Club
Website: www.bbmac.net
Location: 25600 Monroe Camp Rd., Snohomish, WA.
Bell-Air R/C Flyers
Website: www.bellairrcflyers.com
Location: 3004 South Red River Road, Bellingham, WA. 98226.
Clark County Radio Control Society
Website: http://ccrcs.club/
Location: 17200 NE Delfel Road, Ridgefield.
Evergreen Radio Modelers Assn.
Website: http://ermarc.net
Location: 11200 - 67th Ave NE., Marysville.
Fern Prairie Modelers
Website: www.fpmc.org
Location: Grove Field in Camas.
Flaming Geyser Flyers
Website: www.geyserflyers.org
Location: 23700 SW Flaming Geyser Rd., (inside Flaming Geyser State Park), Auburn.
Kitsap ARCS
Website: http://kitsaparcs.org/
Location: Port Orchard.
Lake Sawyer Hawks
Website: www.lakesawyerhawks.org
Location: 24041 276th SE, Hobart, WA 98038.
Lewis County Radio Controllers
Website: https://lewiscountyradiocontrollersblog.wordpress.com/
Location: Buckley Road, Toledo.
Marymoor RC Club
Website: http://mar-c.org/
Location: Marymoor Park, Redmond.
Miniature Aircraft Association
Website: www.my2wings.com
Location: Horn Rapids Park - off State Route 225 to Benton City, Richland.
Mount Rainier Radio Control Society
Website: www.mrrcs.org
Location: 1516 Harts Lake Loop Road, about 20 miles south of Tacoma.
Ocean Shores Radio Control Flyers
Website: n/a
Location: 801 Minard Ave. N.W., Ocean Shores Municipal Airport 98569.
Contact: ): Gino DiGangi - OSRCF @ coastaccess . com (no spaces).
Olympic Radio Control Association (ORCA)
Website: www.flyorca.com
Location: 0.25 miles south of Port Gamble on Highway 104.
Olympic RC Modelers
Website: www.olympicrcmodelers.com
Location: Port Angeles.
Pacific County RC Flyers
Website: n/a
Location: Willapa Harbor Airport near Raymond.
Palouse Ridge Runner's R/C Club
Website: http://users.colfax.com/dhart/prr
Location: Located in eastern Washington state, Pullman is about 75 miles south of Spokane. Moscow is 8 miles east of Pullman, just across the Washington-Idaho border.
Puget Sound Silent Flyers
Website: www.pugetsoundsilentflyers.com
Location: Near Lister Rd NE and 22nd Way NE Olympia, WA 98506.
Radio Aero Modelers of Seattle
Website: http://seattlerams.org/
Location: West Valley Hwy, Sumner.
Red Apple Flyers
Website: www.redappleflyers.org
Location: 5201 4th St SE, East Wenatchee.
San Jaun Slope Soarers
Website: www.homestead.com/djlar/mysoaringsite.html
Location: San Juan.
Sanderson Field R/C Flyers
Website: http://sfrcf.quintex.com/
Location: 21 W Sanderson Way, Shelton, Washington 98584.
Sequim RC Aeronauts
Website: http://sequimrcaeronauts.org/
Location: North Towne Road, Sequim.
Serenity Flyers RC Club
Website: www.serenityflyers.org
Location: 10 minutes from Interstate 5, Exit 16, just 7 miles north of Vancouver, WA.
Skagit Valley R/C Club
Website: www.skagitcountyrcclub.com
Location: Sedro Woolley.
Snohomish Radio Aero Club
Website: www.sracinc.org
Location: 4932 Machias Road, Shohomish, WA.
Thurston County Miniature Aircraft Association
Website: http://tcmaa.net
Location: Little Rock, Thurston Cty.
Tri-Area RC Flyers
Website: www.triarearc.org
Location: Chimacum, Port Townsend.
Tri City RC Modelers
Website: www.facebook.com/TriCityRCModelers
Location: WA ORV Park off Highway 240, Richland.
Walla Walla Valley Prop Twisters
Website: www.facebook.com/Proptwisters
Location: Fort Walla Walla Park, Walla Walla.

Use the AMA club search for more Washington rc airplane clubs.

Is your WA Club not listed? Submit it here.

Return to rc airplane clubs directory index.