**Are You new to RC? Get "The Beginner's Guide To Flying RC Airplanes" ebook for the flying start you need!**
West Virginia RC airplane clubs
and flying fields
Approximate field locations have been given for these rc airplane clubs of West Virginia, just to help you identify a club in your area.
For more detailed locations and directions, times and addresses of club meetings and for membership details, please visit the club's website by clicking on the active link.
If you know of an rc airplane club or flying field in West Virginia that isn't listed here, please take a couple of minutes to submit the details using the submission form, and help us build a bigger and better rc club directory.
If you find a dead or broken link while using this page, please report it here - thank you!
---
Map of West Virginia
Click the image to open WV in Google Maps.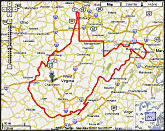 West Virginia clubs:
Clarksburg Model Aviation Club
Website: www.cmac1193.com
Location: Clarksburg.
Fairmont Flyers
Website: http://fairmontflyers.org
Location: Fairmont.
Flying Hillbillies R/C Club
Website: http://flyinghillbillies.wixsite.com/fhrcc
Location: Route 35, Wetlands of Winfield.
Flying Wingnutz
Website: www.flyingwingnutz.org
Location: Rt.2 north of St. Marys across from state prison, Saint Marys.
Mountaineer RC Club
Website: http://mountaineer-rc-club.com/
Location: South of St. Albans.
Pirates of The Sky
Website: www.piratesoftheskyrc.org
Location: 547 Kale Road, Rock, Princeton. 37.384642, -81.183746; N37*23.07852, W081*11.02476.
Propbusters Radio Control Airplane Club
Website: www.propbusters.com
Location: Michaels Farms Airport in Glengary, WV.
R.A.C.E. RC Modelers Club
Website: www.racercmodlers.freeservers.com
Location: Racine Locks and Dam route 62 south, Letart.
Teter Airfield
Website: http://www.teterairfield.com/
Location: Buckhannon.

Use the AMA club search for more West Virginia rc airplane clubs.

Is your WV Club not listed? Submit it here.

Return to rc airplane clubs directory index.