Wisconsin RC airplane clubs
and flying fields
Approximate field locations have been given for these rc airplane clubs of Wisconsin, just to help you identify a club in your area.
For more detailed locations and directions, times and addresses of club meetings and for membership details, please visit the club's website by clicking on the active link.
If you know of an rc airplane club or flying field in Wisconsin that isn't listed here, please take a couple of minutes to submit the details using the submission form, and help us build a bigger and better rc club directory.
If you find a dead or broken link while using this page, please report it here - thank you very much!
---
Map of Wisconsin
Click the image to open WI in Google Maps.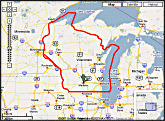 Wisconsin clubs:
ABC R/C Flyers
Website: n/a
Location: Willow Glen and DR, Concord.
Contact: E-mail Todd Bauer at tjbauer313[at]live[dot]com.
Astrowings of Wisconsin
Website: www.astrowings.com
Location: Grafton.
Calumet Flyers
Website: www.calumetflyers.com
Location: W 2324 Ott Rd., Hilbert WI 54129.
Flying Electrons
Website: www.flyingelectrons.com
Location: N61 W17000 Kohler Lane, Menomonee Falls.
Fond du Lac Aeromodeler Association
Website: www.fdlaa.com
Location: N4841 Hickory Road, Fond du Lac, WI 54935.
Four Seasons RC Flyers
Website: n/a
Location: Townsend WI. Past Hillcrest club on Nicolet Rd.
Contact: Wally Yunk - wiyunk @ centurylink . net (no spaces)
Green Bay Model Airplane Club
Website: facebook.com/greenbaymodelairplaneclubama663
Location: Nicolet Airport on Humboldt Road, Green Bay.
Hobbyland Fliers
Website: http://jaymak10.wix.com/hobbyland-fliers
Location: Medford - CTH A south on Rosebud Ave 1/2 mile Abbotsford.
Indianhead RC Club
Website: www.indianhead-rc.org
Location: Hwy 93 and Cty HH, Eau Claire.
Interstate Flyers R/C Aviation
Website: www.interstateflyers.org
Location: Tomah.
Lakeland Loon's R/C Airplane Club
Website: www.facebook.com/groups/292236108323250/
Location: Minocqua.
Lodi Area Radio Control Club
Website: www.larcc.com
Location: Lodi.
Manitwo Flyers Inc
Website: www.manitwoflyers.com
Location: 3716 East Hillcrest Road, West of Hwy 42 and East of Hwy 147. GPS: N44 12.043 W87 35.554. Manitowoc County, Wisconsin.
MARCS - Madison Area Radio Control Society
Website: www.marcswi.org
Location: entrance near 2305 Uphoff Rd., Cottage Grove. 43°03'55.1"N 89°11'05.5"W.
Merrill R/C Flyers
Website: www.members.tripod.com/merrillflyers/main.htm
Location: 1 mile east of Merrill on Highway 64.
Monroe R/C Modelers
Website: n/a
Location: Field is located at the Forest Prairie City Park.
Contact: Greg Bondele - gkbondele @ wekz . net (no spaces)
Northwoods RC Flyers
Website: https://sites.google.com/site/northwoodsrcpilots
Location: 6040 Forest Ln., Rhinelander.
Platteville Area Modelers
Website: facebook.com/Plattevilleareamodelers
Location: 1531 Airport Rd. Platteville, Wisconsin 53818.
Racine R/C Club
Website: www.racinercclub.com
Location: north off of Highway 20 and west of Highway H in the village of Mt. Pleasant, just West of Racine.
Reedsburg Area Flyers
Website: www.facebook.com/reedsburgflyers
Location: 5 miles east of Reedsburg, WI at E8784A State Road 23.
Rice Lake Model Airplane Club
Website: www.facebook.com/ricelakemodelairplane
Location: Rice Lake, north of Barron.
River City Radio Controlled Modelers
Website: www.facebook.com/River-City-Radio-Control-Modelers
Location: 1 mile west of West Salem or 4 miles east of LaCrosse on hwy 16, turn on Gills Coulee RD, drive 1 mile on right, Leroy Weibel Memorial Field.
River Valley Flyers
Website: www.rivervalleyflyers.org
Location: Intersection of county road F and W, 2nd driveway on the left east of intersection, Wisconsin Rapids.
Rock River Aero Modeling Society
Website: www.rrams.net
Location: Belding Road in Turtle Township (see maps at website), Janesville.
Rubicon Area Flyers
Website: http://rubiconareaflyers.com
Location: 1.2 miles west of Rubicon on Hwy N. North side of the road.
SHARKS Sheboygan Area Radio Kontrol Society
Website: www.sharksrc.com
Location: W4318 County Road C, Sheboygan Falls.
Sky Ranch Flyers
Website: www.skyranchflyers.com
Location: 1.5 miles east of Kohlsville, or 6 miles west of West Bend on Hwy D.
Southfork Flyers
Website: www.marshallrc.com/southfork_fliers.html
Location: N14347 Fisher Ave., Thorp.
Sparta Area Model Club
Website: n/a
Location: South east of Sparta about 2 miles
Contact: Howard Von Ruden - hvruden[at]centurytel[dot]net.
SWARM
Website: www.swarmheli.com
Location: 7000 W. Oakwood Rd., Franklin.
Valley Aero Modelers
Website: www.flyvam.com
Location: Quarry Field, Quarry Rd., Appleton. Approx 1/4 mile south of CTH O. Left side look for VAM sign on gate.
Watertown Aeromodelers R/C Club
Website: www.warcc.com
Location: a couple of miles west of Watertown.
Wausau R/C Sportsmen
Website: www.wausaurcsportsmen.com
Location: Wausau.
Whitewater RC Club
Website: whitewaterrc.forumotion.com/
Location: 581 North Jefferson Street, Whitewater.

Use the AMA club search for more Wisconsin rc airplane clubs.

Is your WI Club not listed? Submit it here.

Return to rc airplane clubs directory index.