Home ➤
Beginner's Guide printed edition
Beginner's Guide To Flying RC Airplanes
- Printed Edition
Update: Currently Unavailable.
Not everyone likes reading electronically, so from time to time my Beginner's Guide To Flying RC Airplanes can also be purchased in hard copy.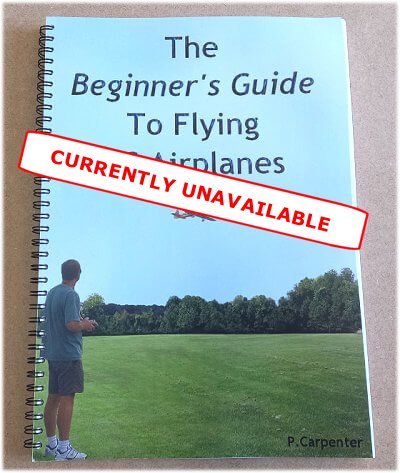 Please Be Aware...
Although this is a professionally printed and spiral bound edition, it is still a printed version of a PDF ebook.
In other words, the images that I originally created were never meant to be printed - they were only ever intended to be for the ebook, which means they are fairly low resolution.
As any printer will tell you, images need to be high resolution to print well.
So as a result, the printed images in the book are not high quality. 95% of the images are good, but several did not print at all well. Below is one such example...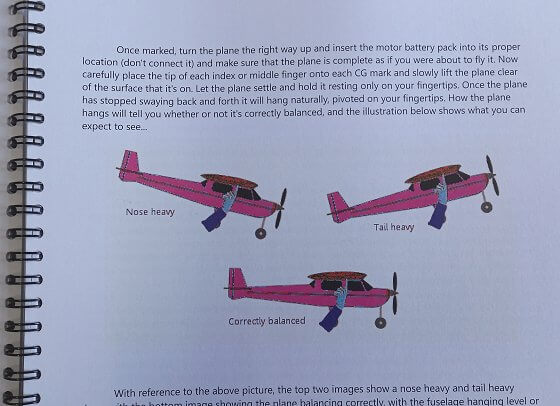 When the original version as seen in the ebook is...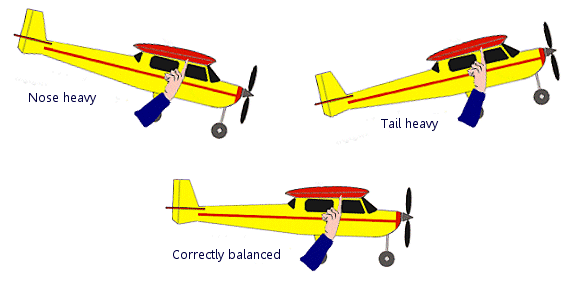 Somewhat different!
This has only happened in a few cases, and it's my fault for not checking the printers' requirements beforehand.
With hindsight, I should have just had the images printed in black and white, but we live and learn, right?
So why am I telling you this?
Because I like to sleep at night and I'm not someone who can sell something that isn't up to scratch, without letting the buyer know that it isn't!
But with all that said, The Beginner's Guide To Flying RC Airplanes printed edition is still a darn good read, if I say so myself, and the majority of images are just fine for their purpose. I'm 99% certain that you won't be disappointed.
One happy reader emailed me with this, after reading the book...
"I don't want to brag, I am just making a point to explain my feelings. I have always been a do it yourself person. From reading books written by experts, in 1976 I built my own house, laid brick, did plumbing, electrical as well as all woodwork myself. The point is all this by reading I must congratulate you as you have written the best do it yourself book I have ever seen in my 80 years . You covered every point in simple understanding wording . Thank you."
No, thank you Carl
Price and Postage
Given that 90% of my website visitors are in the US and UK, the prices are:
United States - book USD$27, postage USD$17
= USD$44 total cost.
United Kingdom - book £20, postage £5
= £25 total cost.
Other countries - contact me for a postage quote.
To Buy The Beginner's Guide To Flying RC Airplanes Printed Edition
Payment can be made securely through Paypal, just use either of the payment buttons below (US or UK).
STATUS: CURRENTLY UNAVAILABLE, SORRY.
Contact me if you have questions or concerns about buying The Beginner's Guide To Flying RC Airplanes printed edition from this page, or if you need a postage quote to another country.
Related Pages

The Beginner's Guide To Flying RC Airplanes ebook - buy the ebook version, and see more details about what's in my Guide.

The Beginner's Guide To Flying RC Helicopters ebook.

RC Airplanes & Helicopters ebook combo deal.

The Beginner's Guide To Flying RC Airplanes free download.

Beginner RC airplanes.