**Are You new to RC? Get "The Beginner's Guide To Flying RC Airplanes" ebook for the flying start you need!**
RTF RC helicopters
- what to expect
Ready To Fly rc helicopters have been responsible for bringing huge numbers of people in to the radio control flying hobby, over the last decade or so. Before RTF helis were developed, having an rc helicopter meant having to build one from a kit - a very involved process indeed.
The little Ikarus ECO Piccolo was the first mass-produced RTF electric rc helicopter to hit the shops, back around 1999. Its immediate success was a clear sign that an electric RTF helicopter that could be flown indoors was very marketable. Other rc manufacturers soon began to follow suit, and since then electric RTF rc helicopters have continued to swamp our hobby and even toy stores.
In that same amount of time, there has been a huge electronic revolution; radio control technology has advanced an incredible amount - electric motors, battery packs, servos, receivers, gyros, and ESCs have all been dramatically reduced in size and weight, allowing RTF helicopters to become smaller, cheaper, more widely available and easier to fly than ever before.
How Ready To Fly are RTF rc helicopters?
Ready To Fly radio control helicopters come in many shapes and sizes these days, and it is fair to say that some are more RTF than others.
It's a very serious point, because a beginner pilot who is none the wiser could end up having a very nasty experience with a so-called RTF helicopter that in fact needs some degree of setting up before flight.
Of course, the term Ready To Fly does refer to the fact that the aircraft, whether helicopter or airplane, doesn't require any assembly work, and the motor and radio gear is fully installed and set up at the factory. RTF by definition, therefore, is a very fair description.
But the reality is that many rc aircraft are sold with the slogan "Flies straight out the box" attached to them, and this is rarely the case. It's not such a critical issue with RTF rc airplanes, but helicopters have spinning blades that can do a lot of damage in inexperienced hands.
So, the letters RTF should never be interpreted as "Flies straight out the box" when it comes to rc helicopters. Maybe a new labeling of 'FSOTB' should be created, just to clarify things...
As an example, my first RTF helicopter was a Walkera Dragonfly 4 helicopter - one of many 4-channel, fixed pitch (FP) electric RTF rc helicopters sold in their heyday. Similar ones included the Venom Night Ranger and EF Sabre: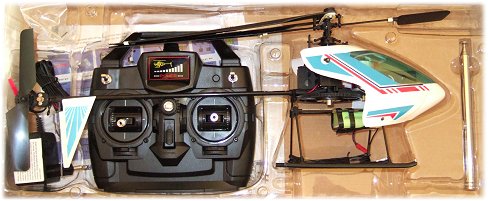 Above: the Walkera Dragonfly 4 as purchased - RTF, but definitely not 'FSOTB'!
It's sold as an RTF rc helicopter, and indeed everything that you need is in the box (other than transmitter batteries) but there are certain things that need doing to it pre-flight to ensure a safer experience. Things like balancing the rotor blades and setting the blade tension, that kind of thing.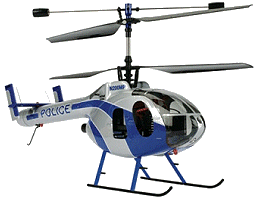 But with that said, there are some RTF helicopters that don't need much doing to them, and there are a handful around that are literally 'FSOTB'. The better quality coaxial electric rc helicopters are very flier-friendly straight from the box, and this has made such helis very popular with beginners to the hobby.
Coaxial (dual rotor) RTF electric helicopters are a lot easier to fly than single rotor ones; they are more stable and can be controlled much easier - even on a first flight.
Good hobby-grade helicopters like these have amassed a huge number of sales globally, contributing greatly to a large influx of new rc pilots into the hobby of radio control flying. The gentle flying characteristics and affordable prices of such RTF rc helicopters have been the two big selling points.
Of course, the supply of electric RTF helicopters isn't limited to 4-channel Fixed Pitch or coaxial models. Proper 6-channel 3D-capable Collective Pitch ('CP') electric helicopters such as the Blade 400, pictured below, also make up a large chunk of the radio control helicopter market.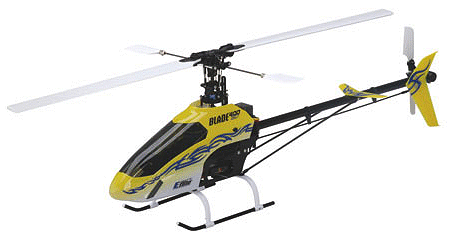 Above: the E-flite Blade 400 was a great CP RTF heli in its day.
IC powered RTF RC helicopters
Internal combustion (IC) powered RTF rc helicopters are several steps above and beyond smaller electric helis, in terms of size, cost, amount of extras needed and learning curve.
They are, of course, ultimately very rewarding but you do need to be very aware of what's involved with IC rc helicopters, and equally sure that you want to take up this ultra-exhilarating section of the hobby before you start flexing your credit card!
Having said that, helicopters like the popular Thunder Tiger Raptor RTF are a good place to start if you don't want to work your way up through the electric helicopter ranks. In fact the Raptor is one of the most popular entry level IC helicopters around, and has been for many years.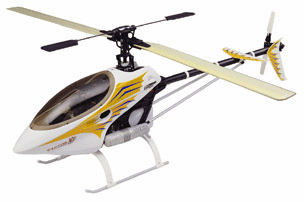 The Raptor RTF package includes all the necessary bits, but getting it checked over and set up correctly by an experienced model helicopter pilot is of paramount importance, and learning to fly such a heli is a serious process that really should include an rc flight simulator, or an rc helicopter instructor, or both.
The difficulty with IC RTF helicopters comes with their availability these days. Electric powered helis have all but taken over, and just finding an IC RTF one, like the Raptor, is a job in itself. You'll probably have more luck buying one second-hand.
Whichever type of RTF rc helicopter you do choose, you can be certain of one thing - you are entering a very exciting and rewarding sector of the radio control flying hobby. But do bear in mind that buying an RTF rc helicopter probably doesn't mean an easy first flight!
Related pages

Electric rc helicopters.

Coaxial rc helicopters.

RC flight simulators.

RTF planes.