Beginner RC helicopters
- just how 'newbie-safe' are they?!
Not too long ago there were no such things as beginner rc helicopters; buying and flying a radio control helicopter was an expensive and involved hobby indeed, and simple electric helicopters just weren't around.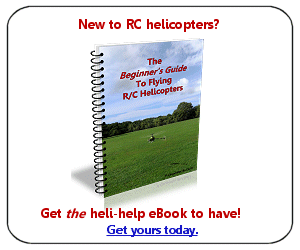 In the late 1990s the Ikarus Piccolo started to appear in hobby shops and was the first 'affordable' mass-produced electric Ready To Fly helicopter, being a 4 channel fixed pitch (FP) model.
The Piccolo set a trend and immediately identified a massive marketing opportunity - there were lots of wannabe rc helicopter pilots out there who weren't prepared to justify spending all their cash and spare time on an expensive glow plug powered helicopter, but would be very happy to buy a simpler RTF electric one!
Since then electric rc helicopters have taken the radio control hobby by storm and finding a suitable beginner rc helicopter isn't at all difficult, in fact most toy shops even sell them these days! And prices have fallen drastically compared to the early Piccolo days.

Beginner rc helicopters are available here.

Beginner heli types
The majority of beginner rc helicopters are of the coaxial variety, that's to say that they have two sets of main rotors, one mounted above the other. The rotors turn in opposite directions to one another and cancel out any reactive torque (a natural force created by a spinning object) otherwise produced by a single main rotor. If there is no torque then no tail rotor is needed on the helicopter, and that makes learning to fly the thing easier.
Coaxial rc helicopters are inherently very stable machines and the learning curve is very small - in fact it's pretty flat!
Single rotor rc helicopters are, conversely, a lot harder to master. Of course, the attraction of single rotor helis over coaxial ones is that single rotor helicopters, er, look like helicopters! Coaxials don't appeal to many beginners simply because of the 'look' of the dual rotors. Shallow? Perhaps, but you have to like the look of what you're flying!
The other big difference between the two types is that of flight performance and agility in the air. Although a coaxial heli is easy to fly, you can't do much with them compared to a single rotor helicopter, in terms of more advanced flying and aerobatics.
The E-flite brand of helicopters, all with the Blade prefix in their name, are some of the most popular beginner rc helicopters around; E-flite have really homed in on the market and have cornered it very well. Their helicopters range from the micro size Blade mCX coaxial helicopter to the advanced collective pitch (CP) Blade 450 - not a beginner's helicopter by any means but certainly an entry level aerobatic one.
Above: both extremes of the Blade helicopter range, the mCX and 450
(images © Horizon Hobby Inc.).
Generally speaking, flying a fully functional single rotor (i.e. not coaxial) radio control helicopter isn't easy; they have a steep learning curve and crashes are commonplace for the newcomer. Don't let that put you off though, because such helicopters - particularly collective pitch (CP) ones - are ultimately very rewarding to fly, but starting out with a beginner rc helicopter is a sensible and easy option these days.
You may or may not like the look of a coaxial rc helicopter but they are easy to fly and you need no prior rc helicopter experience to more or less have a successful first flight. And a micro-size coaxial like the Blade mCX / mCX2 that you can fly indoors in complete safety can be an excellent introduction to learning the primary helicopter controls, and even more importantly the more demanding skills such as nose-in hovering.
The video below shows my own mCX and just how stable these helis are in the air...
Between the coaxial helis and the CP helis are the fixed pitch (FP) helicopters (CP vs. FP differences) which are almost always marketed and sold as beginner rc helicopters. Be careful, though, because even these have a steep learning curve if you have no prior experience.
Such helicopters include the Walkera Dragonfly FP series, such as the 4#3 range, the Venom Night Ranger and the eSky Honeybee FP to name just a few. All of these are very reminiscent of the early Ikarus Piccolo and they all share the same basic design and component count.
Going back to E-flite, their Blade SR series consists of single rotor (hence the 'SR') beginner rc helicopters which are much easier to fly than most single rotor helis. The three helicopters (at the time of writing) are the palm-sized Blade mSR, slightly larger Blade 120 SR and the larger Blade SR, all shown below:
These three single rotor electric rc helicopters
have proved to be popular choices with the beginner. Images © Horizon Hobby Inc.
Beginner RC helicopter instruction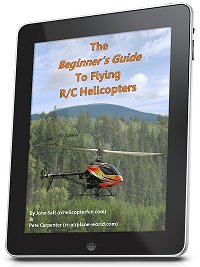 Obviously the type of beginner helicopter that you buy is going to determine how easy your life will be when learning to fly it; a coaxial helicopter will give you a very easy ride, whereas a CP model won't!
I've recently got together with John Salt (rchelicopterfun.com) and written The Beginner's Guide To Flying RC Helicopters, a comprehensive ebook that takes the complete newcomer through the process of choosing and learning to fly an electric radio control helicopter.
The ebook covers all the important topics that any beginner to the hobby should know, and has a complete flight school section to get you airborne safely. Just click the above link or the image for more info on this popular and well-received ebook.
If you are self-teaching and you've bought something other than an easy-to-fly coaxial helicopter, getting one-to one tuition or using a rc flight simulator such as the excellent Phoenix simulator are great ideas, indeed a flight sim is almost essential for safe learning with a more complex CP helicopter.
Phoenix is a high quality simulator and one I can highly recommend, indeed it features several beginner rc helicopters from the E-flite Blade range as well as the more complex aerobatic and 3D machines. Several Phoenix helis can be edited to take training gear (extended landing skids) and so the early lessons of the rc helicopter flight school chapters outlined in The Beginner's Guide To Flying RC Helicopters ebook, shown above, can actually be practised in complete safety on a Phoenix sim!
Should you fit training gear to your beginner RC helicopter?
In short, yes!
Training gear might look ugly but it's an essential part of your early rc helicopter days. Not only does it do its primary job of preventing the helicopter from tipping over and the main rotor blades striking the ground, but it also acts to stabilise the helicopter in the air.
For the sake of a few extra dollars (training gear is or you can even make your own).
Even easy-to-fly coaxial rc helicopters can be tipped over during a bouncy beginner's landing and training gear is very generic in that 'one size fits all'. Whatever type of heli you learn on, do yourself a big favour and fit training gear to it!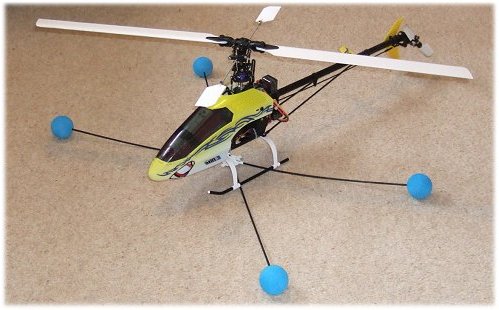 Above: rc heli training gear might not look too sexy, but it'll save you money!
Hopefully this page has given you an introduction to some of the beginner rc helicopters that are widely available, and what to look for.
I've concentrated on the E-flite Blade ones simply because they are some of the most popular hobby grade rc helicopters; they represent excellent value and are backed up by readily available spare and upgrade parts, and often good technical support should you need it.
And if you're seriously thinking of getting in to this exciting and exhilarating sector of radio control flying, do check out The Beginner's Guide To Flying RC Helicopters ebook shown above, and take your time in choosing a helicopter that's suited to your flying needs.

Beginner rc helicopters are available here.
Shopping? Free e-book & $5 discount offer
The block quoted links in the above text go to Red Rocket Hobbies because my website, RC Airplane World, is associated with that shop. If you buy a helicopter from the store through any of the links on this page, you qualify to receive my popular e-book The Beginner's Guide To Flying RC Helicopters for free!
To claim your ebook just e-mail me via my contact page and let me know your Red Rocket Hobbies order number. I'll verify the transaction with the store and send you the ebook, free of charge.
Furthermore, if you do shop at Red Rocket Hobbies via any of the links throughout this website you can save $5 off any purchase, just use coupon code RCAPW at the checkout.
Related pages

Coaxial rc helicopters.

Electric rc helicopters.

Micro rc helicopters.

RTF rc helicopters.

FP vs. CP.

RC flight simulators.

Beginner rc airplanes.

RC autogyros.

Go to the RC helicopters index page.