RC jets
- filling the need for speed
RC jets, whether gas turbine or electric ducted fan (EDF) powered, can provide the ultimate radio control flying experience if you're looking to fly faster model aircraft.
True gas turbine rc jets, however, are not for the beginner. They are very serious model aircraft that you have to work up to after gaining a large amount of radio control flying experience and an equally large amount of cash. They're serious business!
But the good news is that if you do like the idea of flying a radio control jet then there are plenty of options available these days; foam RTF (Ready To Fly) electric powered jets have become commonplace in recent years.
Although such jets aren't as easy to fly as a normal rc airplane, generally speaking, they can offer the intermediate rc pilot an accurate taste of model jet flying.
Electric Ducted Fan (EDF) jets
The best introduction to flying true rc jets (i.e. not pushed along by a propeller on the back!) are the electric ducted fan (EDF) models.
A ducted fan is a small but powerful unit (shown right) that houses a multi-bladed propeller, called an impeller, spinning at very high RPM (revs/minute). As the impeller spins, air is sucked in to a duct through one or more intakes in the fuselage of the jet, and then forced out the back of the jet pushing it through the air. A lot of thrust can be generated by an EDF although this is obviously going to vary from unit to unit.
Electric ducted fans are generally powered by high Kv brushless motors.
As previously mentioned, Ready To Fly foam EDF jets have really taken hold in recent times and the number of good quality RTF EDFs available has increased dramatically, to the point where it's as common to see such a jet on the flying field as it is a plane or helicopter - that wasn't the case a few years ago when rc jets were very specialised models.
One nice example of an entry level foam EDF is the original ParkZone Habu EDF which has since been replaced with the newer fibreglass version pictured:
Offered in PNP and BNF (Plug-N-Play and Bind-N-Fly respectively) versions, the Habu has proven to be a popular model indeed and has been a huge success as ParkZone's first venture in to this sector of the hobby.
Its good slow-speed flying characteristics make it a suitable entry level model for the beginner, while at the other end of the scale experienced model gas turbine jet pilots enjoy flying it to its maximum potential. A good 'all rounder' indeed then!
Of course, Ready To Fly jets aren't your only option. ARFs (Almost Ready To Fly) and kits are out there too, one ARF example being the E-flite F-15 Eagle, pictured below...
Above: the F-15 Eagle is a very popular scale subject for
rc jet fans and this ARF example is a nice introduction.
It's a good testament to the hobby that electric ducted fan rc jets have now become so widely available and affordable to the masses, in exactly the same way that electric rc helicopters have.
But with that said, it's important to know that starting out in the radio control flying hobby from scratch with an EDF jet isn't wise. Gaining flight experience with a conventional trainer airplane is the thing to do; the faster flying speeds of jets can catch out the beginner rc pilot who hasn't yet developed the reactions and co-ordination needed to fly any rc aircraft type.
Gas turbine RC jets
To many fliers an rc jet powered by a true model jet engine represents the pinnacle of radio control flying but, as mentioned earlier, such an rc jet like the F14 Tomcat in the following video is definitely best left alone until you have:
1] lots of confidence...
2] endless hours of rc flying experience and...
3] more importantly, lots of money!!
Here's the video (reproduced, copyright unknown)...
Even a smaller size model gas turbine unit can cost over a thousand dollars and that's before you've purchased the jet and radio gear. So a twin engine model, like the Tomcat in the video, is going to cost you a lot!
RC gas turbine jets are, however, the ultimate in radio control flying. Large scale jets look and sound amazingly realistic in the air and a properly built and well flown scale model is very impressive to watch in action. If you ever get a chance to see some of these on display, then do. RC events that feature such aircraft are becoming more and more common, and it's worth trying to locate one if you can.
Model RC jets on a simulator
There is, of course, a cheaper option if you want to try your hand at flying proper gas turbine powered rc jets...
The very realistic Phoenix rc flight simulator, for example, offers a few turbine models for your flying pleasure. The options that come with the standard package include a turbine powered BAE Hawk and an F-16. The realism of the Phoenix sim is very good and on a modern, fast computer the experience of flying these scale gas turbine rc jets is quite exhilarating!
A screenshot of the Hawk is shown below...
One advantage rc jets have - whether virtual or real - is that they are not so adversely affected by wind like many rc airplanes are, due to the higher airspeeds and sleeker aerodynamics. This is a big plus when you're flying, although obviously every model has its own limitations and flight characteristics.
A downside is that because of this speed they need extra airspace; a faster flying model requires much more space for turns and aerobatic maneuvers than a slower flying aircraft, and you need to remember this when flying one. This consequently brings in the problem of your jet being flown at a distance where it's not always easy to see exactly what it's doing; that in turn brings the serious risk of disorientation - a proven killer of rc aircraft of all types!
But flying any type of rc jet is always an adrenalin-filled experience and with radio control and electronic technology forever improving and reducing in cost, more and more rc jets will become available still, even for the lesser-experienced amongst us.
Propeller-powered RC jets
There is an alternative if flying an EDF or gas turbine jet is out of reach...
Model jets with a normal 2 stroke glow plug engine or an electric brushless motor are an option and many of these are flown by novice and intermediate pilots. Admittedly, the look and sound aren't truly realistic but the all-important flight characteristics often resemble a jet more than an airplane.
One 'entry-level' example, actually marketed as a gas trainer, is the Hanger 9 F-22 Raptor PTS Trainer, shown below...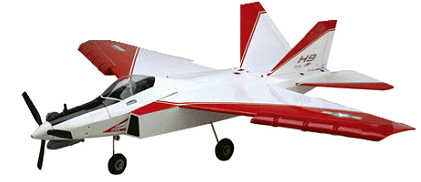 This package deal actually comes with the FS One rc flight simulator and the F-22 is RTF, supplied with the trusted Evolution engine and JR radio system.
So you can see that there are various options available to you for flying rc jets. If you are new to the hobby then take some time to do a bit of research and make sure you get a model that's not too much of a handful. Entry level jets are out there, so don't be tempted by the fastest thing in the shop!
RC jet reading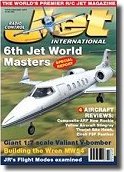 As with all aspects of radio control flying, subscribing to a magazine is one of the best ways of staying up to date.
Radio Control Jet International is the only magazine dedicated to rc jets, packed with lots of useful info, tips, reviews etc.

EDF rc jets are available here.
Related pages

Model jet engines.

RC flight simulators.

Art-Tech Alpha Jet.